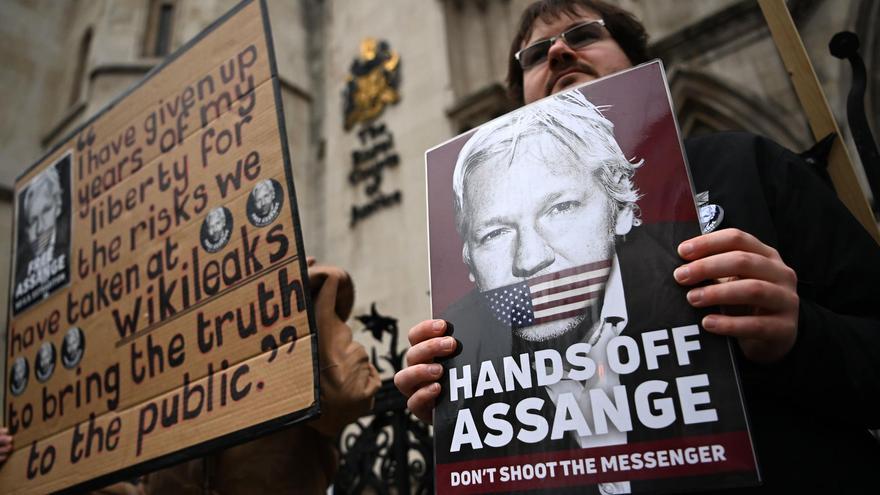 A UK court has ruled allow the founder of WikiLeaks, Julian Assange, to appeal to the Supreme Court for his extradition to U.S to be tried there for 18 crimes of espionage and computer intrusion.
The opinion of the Superior Court gives a term of 14 days for Assange to take his case to the Supreme Court, who will have to decide whether to admit it or not.
Superior Court judges Ian Burnett and Tim Holroyde, who on December 10 authorized the activist's surrender by upholding a US appeal in an appeal process, acknowledge in their ruling this Monday that there is a legal aspect that can deserve to be examined by the Supreme Court, the highest British court.
If the case is admitted, this court would have to analyze whether it is admissible that Washington presented during the appeal process last October, and not in the initial trial of first instance in January 2021, its guarantees about the treatment that the Australian will receive on American soil.
In their brief ruling this Monday, the judges consider that Assange's appeal should be denied, but given that the Supreme has never ruled on this specific legal point, they leave it up to you to decide if you want to examine it.
The defense of the WikiLeaks founder already complained in October that the United States had presented "out of time" the safeguards to protect your client. On December 10, the Superior Court agreed with Washington by accepting its appeal against the January ruling of Judge Vanessa Baraitser, who had denied Assange's extradition on the grounds that he presented a risk of suicide.
Burnett and Holroyde pointed out at that time that, before pronouncing his opinion, Baraitser should have informed the US Justice of his intentions, so that already then he could present guarantees on the penitentiary system that would be applied to the accused in order to minimize the risks to his health. The judges added that, in any case, the guarantees presented a posteriori before the Court of Appeal "are sufficient" and therefore authorized the delivery of the journalist.
During the trial on October 27 and 28, prosecutor James Lewis, representing the United States, guaranteed that if he is extradited Assange will not be subjected to "special administrative measures" (SAM, in English) such as having visits or correspondence banned, nor would he enter the ADX Florence prison -maximum security- in Colorado, unless he later did something to deserve it.
In addition, Washington pledged that while in custody, the computer programmer would receive appropriate psychological treatment and, if convicted, would be able to serve his sentence in his native Australia. The defense argued that these guarantees are "insufficient" and "nothing prevents" the United States from revoking them.