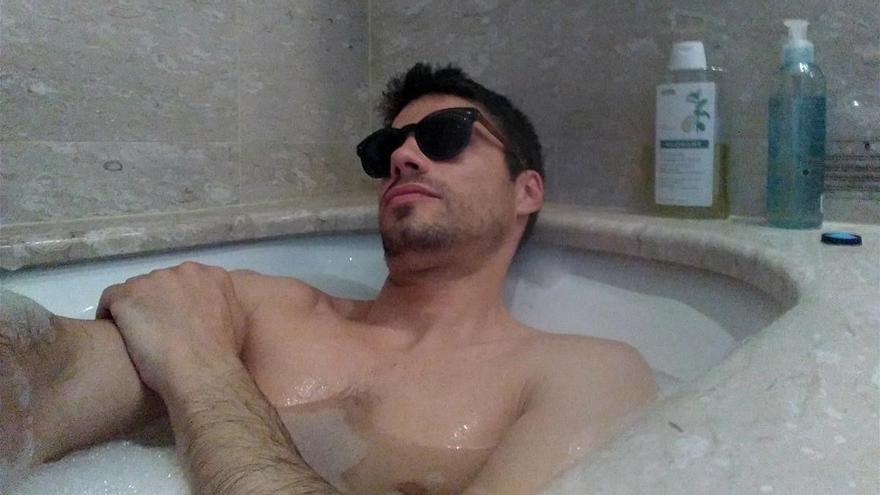 He had as many identities as women he managed to seduce online. It said to be called Alvaro, Pablo Angosto, Albert Planas… and, as he claimed on Tinder and Badoo, it was lawyer, businessman, stock investor and plastic surgeon. But actually, Albert Cavalle, the young man from Barcelona convicted of fraud on at least ten occasions, four of them with firm sentences totaling 3 years and nine months in prison, is a "trickster" of women, of whom he "takes advantage" to "obtain economic benefits", according to the prosecutor's letter to which CASE OPEN, an investigation channel and events of Prensa Ibérica, has had access.
Five of those women will sit him on the bench of the accused of the Barcelona Court, next February 23. Both the accusation and the public ministry ask for nine years and ten months in prison for him, the highest sentence to date, for a continued crime of fraud, another of theft and two crimes of obstruction of justice.
locked money
"I met him in May 2017 on Badoo. He introduced himself as a reputable surgeon, son of the owner of the Planas clinic in Barcelonaof cosmetic surgery. he told me he had accounts in Panama and made many trips to that country". With that profile, "to appear solvent", the so-called 'love scammer' managed to convince a Catalan girl, with whom he "began a false sentimental relationship", to lend him €51,000According to the prosecution's brief.
Cavallé only used "the typical tricks that are often found in dating applications to get intimate with as many women as possible," according to his lawyer.
Those months, the media reported on the scandal of 'the papals of Panama'. Cavallé persuaded the woman that he was one of those affected, affirming that "I had a large amount of money blocked in Panama" and needed cash.
"To give more credibility to his story," the young man showed him an email with information about "a supposed private flight" that he was going to carry out in the Central American country. He promised that he would return the money as soon as his accounts were unblocked and even signed a document acknowledging the debt to her.
Luxury hotels
The woman, deceived, gave 51,000 euros to what she thought was her boyfriend. An amount that, apparently, was insufficient for Cavallé, because "taking advantage of his stay at the victim's house, he also seized the VISA card and the mother's pin code of the complainant" and made purchases worth 3,496.51 euros, according to the prosecutor.
The lie of the Panama papers served the scammer to get another woman, whom he met in June 2017 and invited to spend a few nights at the Hotel Barcelona Princess to appear solvent, he will give him 10,500 euros.
500 euro bills
At the same time that he allegedly scammed these two women, Cavallé did the same with a third girl whom he met through the POF network of contacts and who he snatched €1,803.48, maintains the Public Ministry. Before that other victim, he said his name was Albert Planas, having Andorran nationality and being "son of a family of millionaires", owners of the aesthetic clinic.
To her, the young Catalan "made her believe that I had a lot of 500 euro bills, but I couldn't change them" and he asked for a thousand euros. When the woman gave them to him, Cavallé "showed him a screenshot of the supposed transfer that he said he had made with the return", but that he never did.
scrambled bag
A few days later, the woman discovered the deception. After having several meetings at his house with Cavallé, in the Barcelona neighborhood of Gracia, he missed 500 euros in cash and found her bag scrambled, with your ID and your credit card changed places. Then, he received an SMS on his mobile informing him that the Hotel BCN Montjuïc he had charged 303.48 euros to her account for the reservation of a room that she never enjoyed.
Using the card of another woman, who knew him by the name of Álvaro, Cavallé paid 202.42 euros for a room in the Hotel Catalonia Passeig de Gracia on June 22, 2017. The reservation, made in Booking, was made in the name of a certain Pablo Angosto Pallares, the name with which he was baptized to conquer his next girl.
in an irregular situation
The fifth woman who accuses him in this trial is a foreigner and was in an irregular situation in Spain when he met Cavallé on POF in November 2015. After several dates, the young man, who pretended to be a lawyer, being the son of the owner of Clínica Planas and a director of a branch of La Caixa, "He made him believe that he had friends in the Ministry of Madrid and would solve his problems".
The girl gave him 1,000 euros to open an account at her mother's bank and another 2,000 euros to get him the Spanish NIF. So, Cavallé blocked her on Whatsapp and she disappeared.
twenty women
As he has done in other trials (nearly twenty women have denounced him over the years), the young man admits having had relationships with the five complainants, but denies having defrauded them. According to his attorney's brief, David Sans, "Mr. Cavallé established a relationship with some of the complainants using the typical scams that often appear in dating applications in order to get intimate with as many women as possible".
After being denounced by his ex-girlfriends, Cavallé threatened one of them: "Every time I live closer to your house"
Cavallé assures that "during the development of those more or less stable relations, he obtained some delivery of money from them in an absolutely voluntary".
"In jail, my friends are waiting for you"
The young man is also accused of two crimes of obstruction of justice because he threatened two of his ex-partners when they denounced him and tried to have the accusation against him withdrawn: "Jajajjaja… cateta… pim pam pim pan… you're pestilence… and the judges don't believe you… Besides, they have put him in a minor crime… (…). In prison my friends are waiting for you… you have nothing, no transfers, nothing, all words, etc", he wrote on WhatsApp on November 24, 2018 to one of the girls.
A few days later, he showed up at another woman's house in Barcelona, ​​waited for her at the door and told her: "Tomorrow I have your trial. The truth is, I didn't expect you to report me. You could withdraw the complaint and I will pay you". She refused and then Cavallé "changed his tone and warned her": "Well, we'll see each other, every time I live closer to your house".