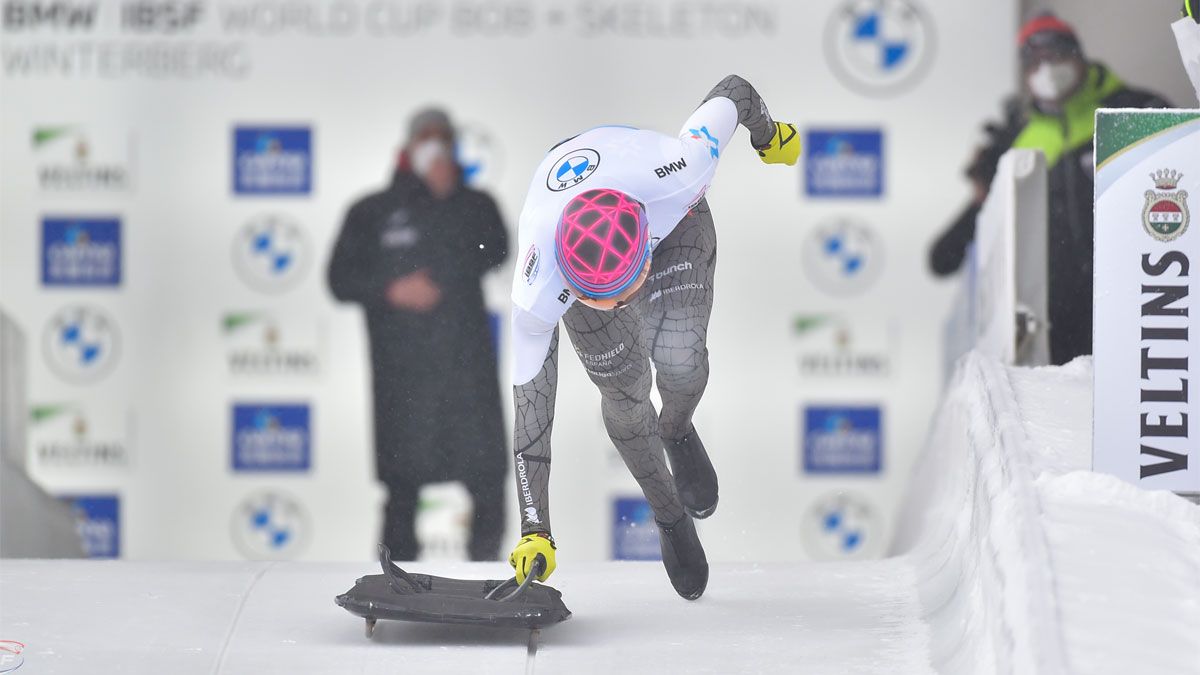 Ander Mirambell Vinas (Barcelona, ​​02-17-1983) is andl Marc Marquez of motorcycles or Fernando Alonso of F1, but he flies on ice instead of tarmac. Skeleton pioneer in Spainwill compete in Beijing on a sled at almost 140 km/h, starting next February 4, in its fourth olympics of winter.
Vancouver 2010, Sochi 2014, PyeongChang 2018… and in a few days Beijing 2022. Four Olympic Games in a row. Impressive!
The truth is, it is worthy of a Netflix series. I look at it and think 'Is this happening to me'. It seems that it is not real, really.
Have you suffered to get to the Chinese Olympics?
Much. We have done things very well, it has been the toughest Olympic classification in history, where only the best 25 went. I have suffered a lot, now we are there but there have been very hard moments.
Hasn't Covid made it easy for you either?
No, just after the Christmas break I spent it, I lost two kilos, physically it wore me out a lot but above all emotionally. You come after two months without being able to be with your family, isolated… It must be understood as part of one more test that life has put on us to achieve this dream.
What do you aspire to achieve in these Games?
Well, the first thing, to do the best race of the season and the best in the Games, that's my motivation. The second thing is to get to grips with the track mentally since we only have two days of descents and the third thing is to enjoy the Games. I like to enjoy competing but the last ones in 2018 in PyeongChang were not so good because my mother died of cancer and she was there with me, in Sochi I went sick and in the first ones in Vancouver I was nervous and not knowing where I was going. Now I would like to enjoy and with a smile on the descents.
A medal in Beijing is a pipe dream, but have you dreamed it?
I dream of it a lot and I will dream of it all my life. I consider myself a competitive animal, I am a 'killer', and although sometimes the results do not come out, I fight to do great things. For example, having achieved the historical top speed record in Saint Moritz is like a small medal.
It has been competing at a clear disadvantage with its rivals for 16 years, without the means, time and facilities they have, with the closest runway two hours away by plane… in short, endless adversity. Have you ever thought of giving it all up?
You do think about it, but happiness is not competing against them and feeling inferior, but rather achieving daily, weekly, monthly goals… those small victories, wars, that perhaps are not mediatic and cannot be explained but that fill me with hope. You can't compete for a World Cup title because you don't have their sled, their infrastructure, but you have two options: either you go home or you fight for your reality. It is the road that is worth…
Even so, despite all the vicissitudes, there he is, in the world elite of the skeleton…
Well, yes, and one more year, she is an animal and more living by the sea.
What does the skeleton have to risk its life literally descending at almost 140 kilometers per hour?
Many things, the first the decision-making that you make in each corner, in each segment of the circuit, the feeling of being in Formula 1 but on ice, has many similarities.
And when he hurtles down the ice slide like a meteor at those speeds, adrenaline pumping, what goes through his head?
Well, when I put on the helmet I don't hear the noise of the people, neither when there are 3,000 people nor when my family is with the trumpets. I only think about if the ice has grip, if the camber is very close to my head, the layout of one curve and another… It's amazing what goes through your head in thousandths of a second.
The most special moment in your career?
Buffff! Any of the hugs with my family when crossing the finish line. It is an individual sport but sharing it with the people you love dignifies the value of what you are doing.
He will turn 39 during the Games. And after Beijing, what?
It's the million dollar question. When I get back from Beijing I would like to meet with all my team, with the doctor to see how my body is doing, with my physical preparations, with the Federation to see what plans it has, with the builder to see if I can improve the sled… And then I will decide what the next step is, if we fight for the 2022 World Cup or for another project. Now I am not very clear about what will happen, I only think about the next few days in Beijing.
Since 2018 he has carried out a couple of castings, together with the Spanish Federation of Ice Sports, in search of skeleton pilots. Beyond you, do you see a future in the skeleton in Spain?
Yes, I imagine in a few years being on the sofa and putting on the TV and watching them come down. That would be the best medal one can have, leaving an inheritance along a well-marked path and for people to be able to follow a sport that didn't even exist in this country when I started in 2005.