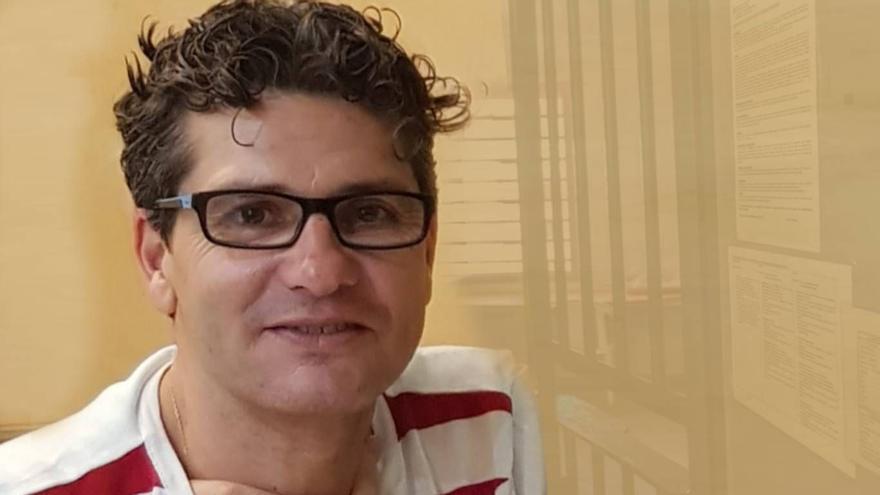 "Isidro Lozano is with you?" María del Mar Martí, Isidro's wife, will not forget that call. The Calvary one. The horror one. "Yes, he's with me, is something wrong?" They were shopping when the cell phone rang.
– "Is your husband there? We need him to come."
– "But is it something, shall we say, serious? Is it something that…?"
– "No, no. We need to talk to him."
They stopped buying, they came immediately. The call was made by an agent from the Malaga West District Police Station. When they entered, another agent addressed the woman: "Your husband is not going out. We are going to take him in the van". It was June 13, 2017. Isidro entered prison. He crossed the gates of the Alhaurín de la Torre Penitentiary Center that same day, as a prisoner, and spent 352 days inside. He was innocent. He yelled it, he yelled it.
Almost a year later, with twelve kilos less, anxiety, chronic depression, insomnia, phobias, hypothyroidism, pulmonary thromboembolism, atrial fibrillation and abundant medication, managed to prove his innocence. An assault, which he did not commit, took him to hell. A string of mistakes landed him in prison. The first, important, those of the lawyer who defended him; the seconds, bleeding, those of the judge who sentenced him.
A fight, 30 km from where Isidro was
Estepona, June 2008. Two people denounce an attack in the parking lot of the Hospital from Estepona. The complainants state, as stated in the court ruling to which they have had access OPEN CASE, that three people, "Isidro Lozano and his brothers Eduardo and Juan Carlos", approach his vehicle. That one of these is directed to the place occupied by the driver; the remaining two, to that of the co-pilot. That an aggression begins that only stops when one of the victims runs away to ask for help. They did not hesitate, their exposition was firm. Asked, they confirmed the names again, they gave three again: Juan Carlos, Eduardo and Isidro Lozano. The false complaint went ahead. There was no way to stop her. Isidro entered prison.
The facts: a squatted flat and a discussion
On June 21, 2008, at 9:00 am, Isidro leaves his house and meets his wife's cousin. they had a agitated conversation, legally it would be closed (and was closed) with a fine for minor offenses. "We wanted to buy a house and my cousin and his partner had gotten into it. Isidro asked him when they were going to leave. One of them grabbed my husband from behind and the other rebuked him." The neighbors, witnesses of everything, attested to what happened. "They hurt his neck and hand," recalls María del Mar. "We went to the Hospital in Marbella – thankfully – and they went to one in Estepona."
The visits of all those involved to the hospitals will be key. When Isidro was being treated in Marbella, his brothers, aware of what had happened, went to the Estepona Hospital car park and attacked them. Again, the couple enters the hospital to be treated. This time, one of them had more serious injuries. Eight days later a complaint is filed for a crime of injuries with the aggravation of treachery It happened in the hospital parking lot. They denounce that three people, Isidro, Juan Carlos and Eduardo, they attack them unexpectedly and take them out of the car. The judicial ordeal begins.
"A person cannot be in two places at the same time"
That morning, Isidro had argued with two of his wife's relatives and they ended up coming to blows. Isidro went to the hospital to treat his wounds. On the way to the doctor, he told his brothers what had happened and they attacked the relatives, in retaliation for what they had done to Isidro.
"Teleportation doesn't exist, a person cannot be in two places at the same time. We were calm, luckily we had gone to the hospital, "says Isidro's wife. She remembers that she and her husband just wanted the trial to come, forget everything and rest.
According to the documents to which CASE OPEN has had access, Isidro after the first discussion -closed with a fine for minor offenses- enters the medical center of Marbella at 11:23 a.m. and is not discharged until 1:06 p.m. At that time, a traumatologist sees him and they take X-rays. It is proven, and signed, that he was there, in that strip, that on June 21, 2008. The assault for which he is convicted, according to the doctor who treated one of those involved, happened around 12:00 in Estepona. The complainant was explored at 12:59 p.m., when the trauma "had been evolving for an hour".
His great asset, the medical document that placed him far from the facts, did not serve the court of the Malaga Court. He ignored it, despite being part of the documentary evidence during the judicial process from the beginning of the investigation phase.
There was an 'error' in the defense. The three brothers had a lawyer "little criminal expert" and what did it take the defenses of the three defendants: that of the guilty, who later admitted the attack, and that of Isidro, innocent. Jurist voices consider it important, but not decisive. Isidro should never have entered prison. In case it was decisive, his brothers, in a desperate attempt to do justice to Isidro, confessed to the attack and proclaimed his innocence through the newspaper SUR, which accompanied Isidro during the process.
"The authorship is accredited from the declaration of the injured parties."
"The authorship is accredited from the declaration of the injured parties." Said the sentence that sentenced him to four years in prison and kept him by the Supreme Court. The Judge, Enrique Peralta, gave the complainants absolute credibility. "I thought it was a nightmare. Could this be real?" lamented María del Mar. The magistrate considered the exhibition, "clear, resounding, permanent and without fissures". Which He did not see clearly it was the medical document that showed that Isidro was in another place when the events were committed.
"We do not know if the hours are approximate, real, if the machine puts them, if they are put in by hand & rdquor ;, questioned the judge, who gave for proven that Isidro left earlier than the doctor signs, "at 12:30 p.m.", gave him time to go to the parking lot and attack – he also adjusted the time of the event – "at 1:30 p.m." to those involved, "given the good communication by road".
Once the sentence was passed, panic and terror arrived. Also the resources. María del Mar accompanied Isidro on Calvary. I was holding him. He lived for years with the possibility of being convicted of a crime you did not commit.
a witness
They presented resources the sentence did not change. I do not change. "My husband is innocent, please," María del Mar begged the magistrate more than once.
All avenues were exhausted and Isidro went to prison. The magistrate, in addition to the voice of the victims, said he relied on that of a key witness, the receptionist who was in the ER when it all happened. In his statement, to which CASE OPEN has also had access, the woman states that "she did not physically see the aggressors and that she cannot specify how many or who was in the vehicle that fled after the aggression".
Despite everything, he was relentless: "I must condemn and condemn Isidro Lozano as criminally responsible author of a crime of injuries", sentenced on April 4, 2014. In 2017 he entered prison.
"The two nights that I didn't cry all year, it was due to exhaustion, because I was struck down by the medication"
"Every night I cried," recalls María del Mar. "The two nights I didn't cry all year, it was due to exhaustion, because I was struck down by the medication." He let off steam at sunset, he fought during the day. came to his life Jordi Ventura, the lawyer who defeated 'Goliath'. Isidro's "guardian angel". He didn't have all of them with him, but he fought.
"there were objective, material evidence that showed that Isidro could not be there. The judge, Enrique Peralta, signs the sentence resting all the evidence on the version offered by the two victims. They assure that it is very detailed, credible, that it has logic & mldr ;", explains Ventura. "He says that Isidro is assisted, but that he is discharged at 12:30 p.m., we do not know where he gets it from because he does not explain it in the sentence. And this is very, very important, because there is a duty to justify a judgment".
Twice they went to the Supreme Court, the door was not opened. The third time they achieved the impossible: overcome injustice, that the High Court, in an extraordinary appeal, recognize the error.
Confidence prisoner, anti-suicide
Jordi Ventura and María del Mar fought against the elements. Isidro faded. "Everything was dismissed," recalls María del Mar. A forensic report advised against Isidro's entry into prison. A pulmonary thromboembolism was added to the psychological part, the neuropsychiatric picture, "his life was in danger". The judge also ignored it.
Added to injustice was fear. "In each vis a vis, in each date with crystals, I felt that I was losing it"recalls his wife, who had to learn to move in prison. "I had never been in a place like this, not even in a trial."
Isidro lost 10 kilos inside. "They put a trusted prisoner on him, a surveillance prisoner, in case desperation made him fall." More than once he thought about it. "Ever thinner, very short, the world fell on me. I left there and said: we have to get him out. He encouraged me to continue fighting because I saw that my husband was leaving me."
nightmares and phobias
They made it. María del Mar fought, Jordi Ventura found the formula and Isidro held on. "Fernández Lozano, Isidro", was heard over the loudspeaker in Alhaurín de La Torre. Prisoners and officials celebrated the news. They applauded. They knew him innocent. 352 days had passed. They opened the cell door. He left.
Isidro regained his freedom, but not his life. I used to smile, not anymore. He used to play sports, now it's hard to encourage him to get up. He has nightmares, phobias and fear. His horror, with incurable consequences, including a disability of 51 percent, was settled with 3,000 euros in compensation and no forgiveness.
Judicially, it continues to fight, it has three fronts: the complaint for false accusation those who sank him mercilessly. That the State recognize the error, "they don't do it", they have compensated him for delay in the process (3,000 euros), but they do not see a judicial error, and "that the magistrate is disqualified. He passed sentence without giving reasons. He changed the hours, downplayed a medical report. He put an innocent man in prison. It cannot happen again," laments María del Mar. They also fight to recover. They were robbed for a year together, they have been walking hand in hand for 26. They did not let go, they do not let go, they had never separated before entering prison.