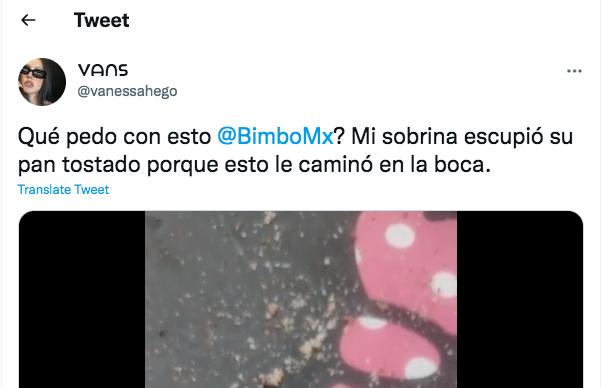 On Twitter, a complaint against Bimbo stands out for poor quality control in one of its flagship products: toasted bread.

According to what they report, an "extra ingredient" ruined the consumer's shopping experience and now warns about being careful with said product.

Bimbo is once again pointed out by its consumers, committing a serious mistake that, in fact, it has already made before.
Bimbo is in the sights of a consumer, who, Through Twitter, he claims that his toasted bread contained an extra ingredient that ruined the taste of said product.
On Twitter, the social network that has become the window for consumer complaints, a video circulates of a user, who assures that her niece almost ate a worm that was included in her Bimbo toast.
In terms of social networks, we live in a very diverse scenario and, therefore, since then we have seen how communication has changed between people who, on a daily basis, connect to their own platforms.
This, in short, has marked a before and after, a watershed, in the link between companies and their clients or consumers; today, in this booming scenario of social networks, communication between both entities is much more direct, without so many intermediaries.
If we stick to this script, we need to remember that the digital platforms currently on the market function as an important showcase for brandseither to publicize their offers, new releases, or even to address all kinds of complaints, claims and even suggestions from consumers.
"Extra ingredient" in Bimbo toast ruins flavor
Taking this as a starting point, Bimbo has once again been singled out for poor quality control of its products, even putting the life of a consumer at risk.
And it is that, according to what is reported on Twitter, the problem arose in a package of Bimbo toast in which a small "extra ingredient" was included, a worm, which a girl almost ate, as she writes the consumer of the brand.
What's wrong with this @BimboMx? My niece spit out her toasted bread because it got into her mouth. pic.twitter.com/IvYVk9K5Uz

— ???? (@vanessahego) May 13, 2022
However, in other tweets, the user assures that it is not the first time that something similar has happened to a close person, which is why she warns to be careful when consuming said product.
Of course, we are talking about serious neglect that could even affect the health of the consumer. Given this, on its portal, the Federal Consumer Attorney's Office (Profeco) and the Federal Commission for the Protection against Sanitary Risks (Cofepris)mentions that:
"Health complaints are intended to inform this authority of the facts, acts or omissions in health matters, which, according to the perspective of the complainant, represents a risk or causes damage to the health of the population."
Now, it stands out the fact that, through its Community Maganer, Grupo Bimbo seems to have taken the first step towards a solution to the reported complaint, although it is striking that these types of cases are often reported.
A few months ago, several cases arose in which consumers disclosed that their Medias Noches Bimbo packages also contained worms. This is how the tweeter reported it:
"I never upload these types of posts but this time I had to. Watch out for the #Midnights from @BimboMx!"he expressed.
I never upload these types of posts but this time I had to. Watch out for the #Midnights from @BimboMx! Today my sister was going to prepare a hot dog and she got this…? Gross! It was really unpleasant and I suppose dangerous for her health. #bimbo pic.twitter.com/YQ5fzbGLRw

— ????? ??????? (@_RubenHerrera) December 5, 2021
Another example can be seen in the complaint that a diner of Italianni's, who reported an unpleasant experience that he lived in said establishmentin Buenavista.
The Internet user claims "not to stop vomiting" due to his bitter experience in which, in his food bowl, he found some dead animals in his plate.
He even states that the branch manager preferred not to charge him for his food in order to avoid a lawsuit, which, incidentally, could generate a big problem for the brand, since we are talking about damage to the health of a consumer.
Today I got sick to my stomach @italiannismx @italianniswifi the manager did not "charge me for the food" to avoid a possible lawsuit, but I will continue with @Profeco because I have not stopped vomiting or my diarrhea because of their food with animals that poisoned me. pic.twitter.com/xA4eD9RQz0

— MGM Agust (@GracidaMarcos) January 20, 2022
In the end, this only reflects the opinion of the consumer and the conversation that it generates in the digital pulse, Therefore, Merca 2.0 requested the position of the brand in order to tell both versions of the story; however, so far it has not been received. The note will be updated in case of a response.
Now read: