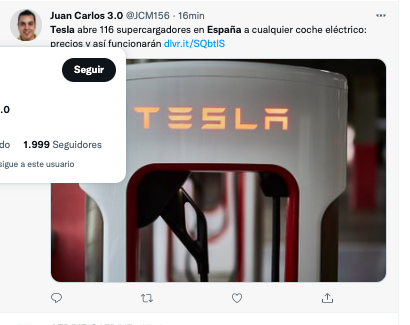 It is estimated that within the Spanish territory 13 Tesla superchargers will be opened in a first stage to become universal.

In order to access these superchargers, it is necessary to register within the Tesla App, which will have two forms of payment.

There are at least 43 service stations within Spain, which are expected to gradually increase to just over 116
About some months ago, Tesla superchargers have started to go universal, which means that the technology of electric cars has become increasingly popular and accessible, although the project has begun to take shape in various countries, it is now being extended to Spain.
Tesla has just made public that it opens its own chargers for other brands in Spain on a "test" basis. 13 supercharger stations and 116 posts in total. Monthly subscription price 12.99/month, 0.43 kWh. No monthly fee 0.64 kWh "on average". They are activated using the Tesla APP.

– JF Calero – Official (@JFCalero) May 18, 2022
Tesla opens universal superchargers in Spain
The opening of the Tesla superchargers is an aspect that has begun to take shape in countries such as Belgium, Sweden, Austria, the United Kingdom, and it is expected that this movement will be gradual, which is why it was initially announced, that there will be at least 13 the first service stations that will become universalsince to date the firm has at least 43 stations within Spanish territory, which suggests that at the end of the project there will be just over 116 new charging points, under the signature of Tesla, universal for any car.
You can now charge any electric car in some Tesla Superchargers in Spain https://t.co/VZrSMSZJra pic.twitter.com/RUNM74QEoq

– We are Electric (@maselectricos) May 18, 2022
As has happened before, in order to access this service, you will have to register within the Tesala application, which will allow them to activate the available stations, in the same way it has been announced by Specialized media that there will be at least two forms of payment, the first being pay per use or payment with subscription.
Tesla opens 116 superchargers in Spain to any electric car: prices and how they will work https://t.co/guQEw8LA4b pic.twitter.com/KPOhAKuLlB

– Juan Carlos 3.0 (@JCM156) May 18, 2022
How to use superchargers
As mentioned before, in order to use it, you must register within the Tesla app, wherehe payment for service is estimated at a cost per kWh of 0.64 euros, although this may vary depending on the place where the charge is made; However, if you opt for the subscription option, it will cost approximately 12.99 per month, which promises a cost per kWh, similar to what car owners access. Tesla. The first stations to provide this function are expected to be those located in
Albacete
Alcobendas
Almaraz
Douro Aranda
Cañavate Watchtower
Barbastro
Benavente
the ejido
Grenade
Sherry
La Seu d'Urgell
Rivabellosa
Seville
Tesla Opens 13 Supercharger stations in Spain for all brands. You have to install the Tesla application on your mobile and from your profile choose "Charge your non-Tesla vehicle"
— All Electric (@TodosElectricos) May 18, 2022
Now read:
DHL delivery man attacked with a firearm; shows risk of delivery in Mexico
He accuses the employee of Bodega Aurrerá of discrimination and thus exhibits her on Twitter
Networks send message to James Hetfield and appreciate musical career in Metallica
"That selling sweets was in the past"; school entrepreneurship is renewed