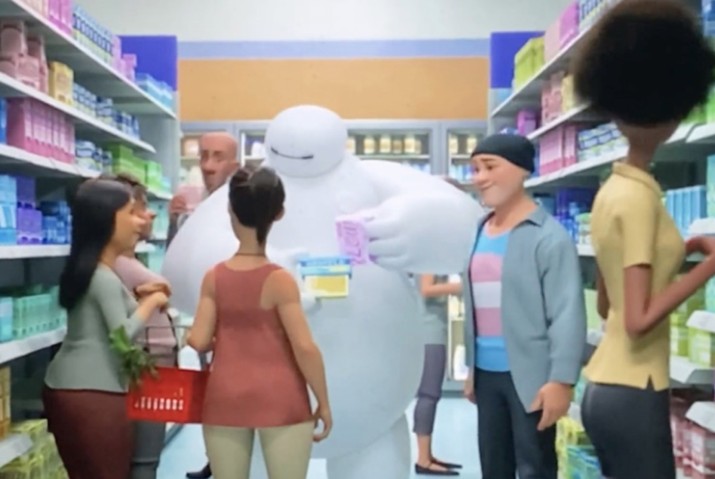 disney plus records 118.1 million subscribers worldwide.

The company recorded more than four million dollars in revenue from downloads of its app in January 2022.

Total streaming platform revenue rose 24.3 percent to $16.9 billion.
Although the criticism against Disney does not stop and its new projects continue to be strongly attacked, the company is strongly committed to inclusion and diversity; now, the new children's series that airs on Disney+ features a trans character who buys tampons in a supermarket.
In recent weeks, the entertainment company, directed by Bob Chapek, has been the target of criticism for its position in favor of the LGBTIQ+ community in its most recent film: Lightyear. But that has not been all that surrounds this company with the controversy against this community, Well, let's remember that in the past the company's failed response to Florida's "Don't Say Gay" bill was part of this impact it has recorded.
Disney Plus, is the streaming service that the Walt Disney Company launched in 2019 and, according to its data shared in your report at the end of the fourth quarter of 2021, had a total of 118.1 million subscribers worldwide, representing a growth of approximately 45 million compared to the same period of the previous year.
This platform has surprised its audience with its varied content, which includes famous productions from Disney+ Originals, Disney Studios, and Marvel. In the streaming industry there is a large ecosystem of platforms that are already presented in this format, but the leader in this sector is Netflix; it is estimated that in 2020, for the first time in history, the number of streaming video service subscribers exceeded pay TV subscribers, according to data from Digital TV Research.
The new Disney + series and its trans character
After a video of an episode of "Baymax!", the new children's show that will air on Disney Plus, was leaked, Conservatives have expressed outrage after a transgender man was seen shopping for tampons in a supermarket.
The criticism was started by Christopher Rufo, a scholar at the right-leaning think tank Manhattan Institute, who said there was "gotten a leaked video" on Tuesday of an upcoming episode of "Baymax!", which is a spinoff of six episodes of the successful film "big hero 6".
EXCLUSIVE: I've obtained leaked video from Disney's upcoming show "Baymax," which promotes the transgender flag and the idea that men can have periods to children as young as two years old.

It's all part of Disney's plan to re-engineer the discourse around kids and sexuality. pic.twitter.com/y1ATnKCEce

— Christopher F. Rufo ⚔️ (@realchrisrufo) June 28, 2022
What surprised the academic is that in the scene the protagonist, the Marvel Comics superhero nurse robot, Baymax, is in the aisle of a supermarket in the fictional city of San Fransokyo looking for feminine hygiene products.
Baymax is a character that serves as a "personal health care companion" for the residents of the city, and in the aforementioned scene he is trying to help a 12-year-old girl named Sofia, who in a previous chapter confided in her superhero friend that she was having her first period, reported the houston chronicle over the scene.
Also in the episode, Sofia told Baymax about her menstrual cycle during an intimate conversation in an all-gender bathroom, just before she was supposed to perform in a school talent show. Eager to help his friend, Baymax heads to the supermarket to pick up some feminine products.
The part that caused the most criticism before people is that among all the people who gave recommendations to the character there's a man wearing a t-shirt emblazoned with the transgender flag offering you his own product. "I always buy the ones with wings," the transgender man tells Baymax.
This new project comes after a Disney executive promised earlier this year that the company would produce more entertainment content featuring characters from underrepresented groups, such as racial minorities and the LGBTIQ+ community.
As well, there's the promise of Karey Burke, Disney's president of General Entertainment Content, who told employees in March that Disney is aiming for at least 50 percent of its regular characters to represent those from "underrepresented groups." .
Disney Plus is not the only streaming platform that has been heavily criticized for content where it shows the LGBTIQ+ community, let's remember the case of Netflix, that in November 2021 he faced a fine in Russia for 13,400 dollars, up to a temporary suspension for an alleged violation of the law for "gay propaganda".
This is how many brands in the world are using their platforms or products to make the most discriminated communities visible, as is the case of those belonging to LGBTIQ+.This path has been well received by part of the public, although other people do not see it necessary for this type of inclusion to reach global platforms, such as cinema or television, but it is a way of educating people that any human being deserves respect for all, regardless of gender, race, religion, social status, among others.
Now read:
Controversies do not move Disney's CEO; Bob Chapek stays 3 more years
Disney with Depp and Nike with Kaepernick: same crisis, but no solution
They support Lightyear: they show scenes that they do consider inappropriate from Disney and Pixar