We are facing a new week of perfect winter weather to take advantage of and prepare at home some of our favorite carnival sweets, pan delicacies where homemade tradition is the absolute queen. We also have Valentine's Day this week, which never hurts to use it as an excuse to share some more special menu at home, even with family or friends.
Of course, we complete the rest of the lunches and dinners with varied dishes in which we continue to bet on daily recipes, without ever forgetting spooning, a good amount of vegetables and welcoming the Norwegian cod that is already starting the season. Many of our proposals can be made in an air fryer, in the microwave or in the oven, and most are also perfect to take away in a lunch box.
To enjoy the kitchen at home that will soon be time to prepare for Lent. I almost smell the French toast on the horizon…
Monday
Meal. Macaroni with peas and zucchini for less than five euros at Mercadona.

Dinner. Chickpea cream with mushrooms and leek.
Tuesday
Meal. Stewed green lentils with bulgur and vegetables.

Dinner. Valentine's Day at home with a salad of strawberries, spinach and goat cheese for starters, a second of salmon glazed with orange and rosemary, a few glasses of raspberry mimosa and some cava and raspberry truffles to finish off.
Wednesday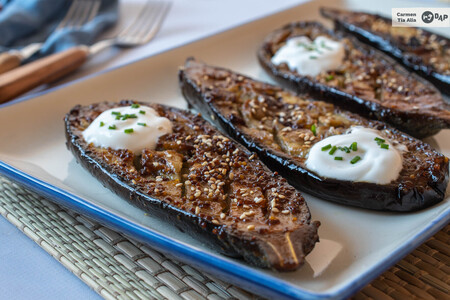 Meal. Glazed eggplants in the pan with quinoa garnish three delights.

Dinner. Air fryer ham stuffed mushrooms with some poached eggs.
Thursday
Meal. Rice cake and minced meat.

Dinner. Grilled swordfish with some artichokes in the pan.
Friday
Meal. Complete Galician broth with a single dish.

Dinner. Homemade Italian mortadella and arugula pizza.
Saturday
Meal. Skrei cod confit at low temperature with baked carrots and cheese garnish.

Dinner. Potato omelette and wild asparagus with endive salad.
Sunday
Meal. Galician roast ham with cachelos garnish.

Dinner. Artichoke cream with super crispy baked bacon garnish.
Appetizers and snacks
Fastenwähe, Swiss carnival pretzel

Scrambled potatoes with torreznos

Two-Ingredient Bagels in an Air Fryer
The best recipes of Direct to the palate (Cooking)
RRP at El Corte Inglés €18.95
Breakfasts, snacks and sweet treats
Italian Carnival Galani

Carnival ears

Traditional donuts of the carnival of Águilas

casadielles

cream teresitas
In DAP | 12 tricks to improve frozen pizzas and not look like supermarket
In DAP | Lalín stew: this is the typical Galician Entroido dish and this is the best restaurant to try it