Making a homemade pizza, preparing our own homemade pizza dough from scratch, is a pleasure incomparable to any precooked. We are not going to discuss that. But neither are we going to deny that pre-cooked pizzas they save us from more than one trouble. And there are more than decent ones, as long as one does not have such absurdly high expectations as hoping that they can be compared to a handmade pizzaiolo professional.
Of course, we can always go a step further and not just turn on the oven, open the carton and remove the plastic. Improving a frozen pizza is not complicated at all, and we can do it in many different ways, including improvising a bit on the progress. Instinct, in terms of gochez, does not usually fail, although we can err due to excessive adventurousness. Nor is it about creating an inedible monstrosity.
Starting from the fact that we choose a quality deep-frozen pizza, or, at least, let us know what we like or that it will be tolerable, you can always give it a personal touch, depending on how much we want to complicate ourselves. With adding a couple of things we can already achieve a improvement more than remarkable, creating our own pizza to taste. It is not necessary to be constrained to the offer limited by the brands.
Avoid refrigerated pizzas
This first advice seems unnecessary, since we start with pizzas deep-frozen. But since the refrigerated ones continue to occupy a good offer in the supermarkets, it seems relevant to us to highlight it.
We have never tried one of this category that is minimally decent. They are not inedible garbage -although there are brands that border on the limit-, but they are usually of very low quality. A kind of too fluffy dough, ingredients of poor qualityvery poor baking, strange aftertastes… It is better to prepare a fake pizza with a sliced ​​bread base or make a pizza.
Avoid pizzas with a lot of cheese, and add it yourself
The cheese on pre-cooked pizzas usually leaves a lot to be desired. Avoid varieties such as four cheeses or that highlight dairy in their box, and better select those with less quantity, but of higher quality, and you add the cheese at home, choosing the one you like.
Really almost any cheese is suitable for baking pizza, and of course they will be better the ones you scratch at the moment. Avoid fake cheeses such as "special product gratin/pizza" and prioritize quality ones that melt well and resist high temperatures, such as semi-cured or cured, Emmental, Gruyère, tetilla or San Simón da Costa, provolone, cheddar, havarti, some blue … and combine them however you want, without going overboard.
double ingredients
There are times when a supermarket pizza sins by default. They save on costs and they fall short in the amounts of ingredients. The solution is simple: double or triple your presence.
The most typical are cooked or roasted ham, bacon, chicken, prawns, pineapple, pepperoni, tuna, vegetables and greens… If the dough is poor, in addition, it is the ingredients that crown it that will have all the prominence. But you don't have to go too farNo one wants to fill up on two bites of pizza.
Add toppings
Without having to get too complicated, you can customize the pizza with one or two extra ingredients that give the product another personality. You can take advantage of things that you have to check out soonsuch as leftover roast chicken, or play with your favorite flavors.
Prioritize the ingredients that are flavor bombs and loaded with umamisuch as some tomatoes, dried tomato in oil, good olives or tapenade, anchovies, sardines, ham or other cured pork, salami, globs of sobrassada, foie gras or pâté, capers and gherkins, sausage meat or fresh sausage, fresh mushrooms and mushrooms or rehydrated, onion rings, garlic confit, black truffle, Iberian bacon, eggs, etc.
Give it an exotic point
Beyond the toppings more classic and Mediterranean, play with flavors and more exotic aromas that take us to Asia to experiment a bit and gain flavor. Kimchi, Japanese mayonnaise, soy or teriyaki sauce, fresh or flaked chili or chilli, spring onion rings, katsuobushi, sesame oil, shichimi togarashi, seaweed, fresh or pickled ginger, fresh coriander, bean sprouts, Thai sauce… Surely you have more than one of these ingredients in the pantry.
Japanese mayonnaise KEWPIE 500ml
Dress and sauce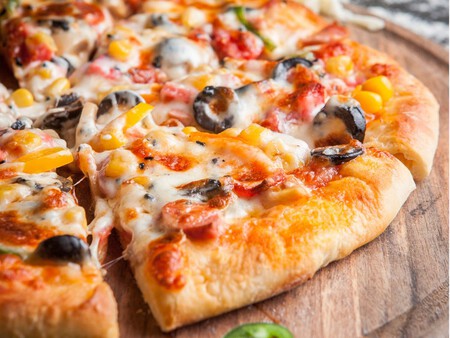 Almost everything in life improves with a splash of good extra virgin olive oil before serving. Use the best you have or a very aromatic variety, raw, or use some flavored oil, for example with herbs, chilli, garlic or citrus skins.
You can also make the herb oil at the moment by crushing it with a handful of basil, oregano, coriander, parsley, rosemary, thyme… or use leftover pesto sauce. Vinaigrettes and other salad dressings can also go very well, some sauce spicy such as mojo canario, sriracha or harissa, a few drops of Tabasco, some chimichurri… just make sure that the sauce is consistent with the flavor of pizza.
enriched with spices
also to add right out of the ovento prevent them from burning, add freshly ground black pepper, a little sweet or hot paprika, something more exotic like zataar or ras el hanout, a little garlic powder, ground cumin, etc.
Crown with mozzarella or burrata after baking
The Italian fresh cheeses par excellence they should not be added too soon in their purest form, especially not with a pre-frozen pizza. If you have bought authentic mozzarella or burrata, with certified PDO, you don't want them to burn in the oven. In a 100% handmade pizza, with a powerful oven, baking is very short and you can add the mozzarella over the sauce or after the first baking of the base, but in frozen ones we have it more difficult.
Strain the whey well and crumble the cheese chosen directly by hand right out of the oven, or when there is little cooking left, to give a very special point of flavor and presence to your frozen pizza.
Garnish with fresh (or dried) herbs
Another typical ingredient that should not be added before baking either; fresh herbs char with astonishing speed. The classic basil It does not fail, especially with a tomato base, but you can play with others that you like or combine them with each other, and even add sprouts such as rocket leaves, lamb's lettuce, chickweed, baby spinach, red or green lollo, etc.
Be careful, dry herbs also burn easily. The bottled oregano and its congeners, at the end.
Use a celsius stone or griddle, or the bottom of the oven
Ignore the instructions on the package and use, if you have, a baking stoneor one celsius type iron or any special oven utensil for bread and pizza dough. Cast iron will also be fabulous, and, of course, a special electric oven like the Smart Oven for pizzas or stone and wood, if you are one of the lucky ones who enjoys one on your terrace.
If you like very crispy pizza, bake it directly deep down, on the ground from the oven; just be careful not to spill cheese or sauce, or clean it up as soon as you can so it doesn't form a volcanic crust.
BURNHARD Rectangular Pizza Stone 38 x 30 x 1.5 cm with Stainless Steel Peel, for Gas Barbecue and Charcoal Barbecue for Making Bread and Pizza
Amazy Pizza Stone (38 x 30 x 1.5 cm) + Bamboo Peel + Reusable Baking Paper + Instructions – GIVE your Pizza the Original Italian Flavor from the Wood Oven.
Bake at very, very high temperatures
Take advantage of the potential of your oven by giving it more temperature than the one indicated on the box, preheating it well for as long as you need before -and doing the same with the baking stone or iron, if you use-. Except for rare cases, such as refrigerated or poor quality pizzas, any pizza will do much better to receive more heat intensity.
In the event that the dough has been made before the coverage is perfect, or it lacks that melting, golden and melting touch, raise the pizza to the upper level and connect the gratin a few moments.
buy just the dough
Granted, it requires a bit more work and investment than simply improving an entire pizza, but this option shouldn't be ruled out. There are more than decent pre-cooked doughs on the market, and there are many bakeries and artisan ovens They also offer them. Raw or precooked -better the first option-, you only have to add the base and the other ingredients to your liking.
Photos | timolina – suksao – KamranAydinov – 8photo – pressahotkey – timolina – Freepik – master1035 – Marco Verch – Natham Dumlao
In DAP | How the eight most common types of pizza differ: from Neapolitan to pinsa, passing through New York
In DAP | The best way to reheat pizza so it's great the next day (and how to store it correctly)