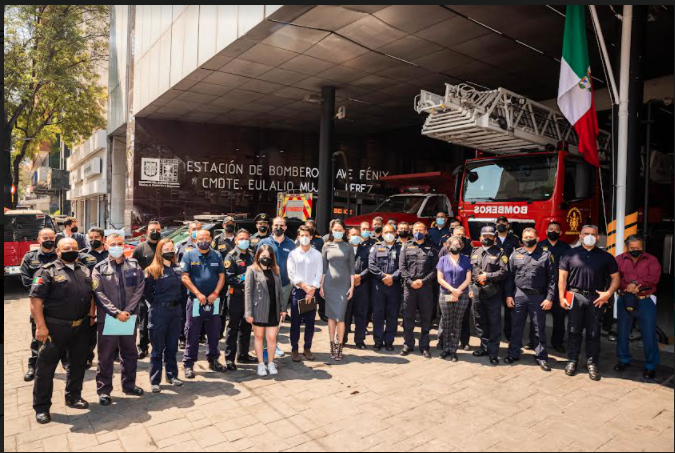 Mexico
Banco Santander México and Soriana Organization have joined forces to offer the Soriana paGO G Mini payment solution, which, with Getnet technology, seeks to boost sales for entrepreneurs and SMEs, with a handheld device that allows payment with credit cards, debit , QR codes and wallets.
The governor of Nuevo León, Samuel García, spoke about the march of 8M and commented that he would assume the expenses for the repair of the Government Palace in Monterrey. On the one hand, this decision was harshly criticized, however, it received a lot of support from other sectors due to its "capacity for empathy", as they point out.
VEMO, a Mexican technology company with an integrated and innovative model, committed to accelerating clean mobility in Mexico and Latin America, has strengthened institutional ties with the Heroic Fire Department of the Mexican capital through a technical talk offered on Thursday, March 3 to controls and elements of the different stations, thanks to the collaboration established with the general director of the institution, First Superintendent Lic. Juan Manuel Pérez Cova.

As part of International Women's Day, Lolita Ayala launched her first collection of NFTs in order to raise funds for her foundation and, with these, promote activities and benefits for low-income and vulnerable women.
The Home Depot Mexico, was recognized with the Orange Distinction for Equality in Companies 2022-2023 due to the best practices that the orange apron company has developed over its more than 20 years in the country.
United States
Ryan Coogler, director of Black Panther, was mistaken for a bank robber, but, in the end, it was a "mistake" made by the financial institution. According to information published by The Hollywood Reporter, Ryan was "briefly handcuffed", but it was not until one of the policemen realized the mistake that was being made that the director of Black Panther was released.
It has been announced that at least six shareholders of Activision Blizzard have filed lawsuits, which indicate that the Stock Market Law has been violated. Kyle Watson was the first employee to formally file one of the lawsuits, in which he stipulates that Microsoft's purchase of Activision is "unfair for a number of reasons."
Users of HBO Max, one of the most popular streaming services today, accuse the platform of allegedly sharing private information with Facebook, in the so-called "streaming war."
During special dates such as Christmas, New Year, Day of the Dead, or celebrations that require citizens to move more frequently, it is common for the travel rates of the various transport options per application to increase, so that a user share how with a simple hack it is possible to lower the cost of the rates.
Russia
The war against Ukraine has generated a strong economic impact on Russia, bringing with it a business exodus never before seen in history, with sanctions and moral positions that have forced the big brands to make their request for peace clear. Virtually all sectors have been hit by Vladimir Putin's decision, from textiles and energy, to technology, finance, automotive, food and entertainment, among others.
Following the line that has been marked against the invasion in Ukraine, Amazon announced that it will suspend shipments in that country, but not only that, but also access to its Prime Video platform has been blocked and users cannot look at the contents. This decision will affect not only Russia, but also Belarus.
As of today, Russia overtook Iran on the list of the most sanctioned countries in history. The Asian country had 3,616 active sanctions by the United States, the United Nations Organization (UN), the European Union (EU), as well as by Australia, Canada, India and Israel. Today, that number has already been surpassed due to the invasion in Ukraine.
Olive Allen, an artist originally from Russia but living in the United States, decides to burn her video passport and auction it off as NFT; she explains that she sells this item as part of a fundraiser for victims in the Ukraine.
Ukraine
Girikumar Patil, a doctor from India who lives in the Ukraine, has been locked up for several days with a jaguar, a black panther and three dogs. This due to the invasion of the Russians in Ukrainian territory. In a BBC investigation, the man reports that these animals are his pets, and that he does not plan to abandon them despite being in constant danger.
Now read:
Cornershop delivery man finds unknown license and subsequent action raises the mark
Activision Blizzard is sued by shareholders; They accuse the purchasing process of being "unfair"
They confuse the director of 'Black Panther' with a bank robber; This is what happened
Users in the US accuse HBO Max; the platform would have shared your data with Facebook