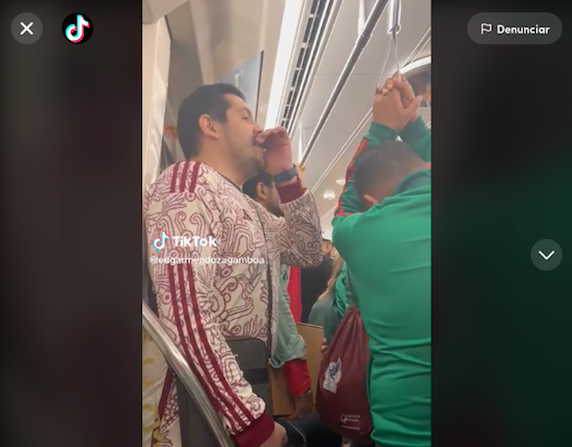 For the World Cup in Qatar, the visit of 80,000 Mexican fans who will support the tricolor team is planned.

In Mexico, the Metro Collective Transportation System (STC) transports 2.1 million people daily.

In 2020, the year of the pandemic, there were nearly seven thousand victims of robbery on public roads or on public transport.
A video posted on TikTok is going viral after a "Tri" fan relived in Qatar the terror of several Mexicans who use public transport daily.
In cities as busy as the Mexican capital, which, according to data from the National Institute of Statistics and Geography (INEGI), it has more than nine million inhabitantsthe use of public transport is a constant struggle on the part of users.
Starting from this premise, in the same way, INEGI data indicate that 2021, Nearly 100 million people were transported using the public urban passenger transport system. In relation to the previous month, 2.8 percent more people moved (May); when making the comparison with the same month of 2020, an increase of 58.6 percent was observed.
However, what is clear is that public transport in large cities will continue to be of vital importance for people, despite the fact that, in recent years, the presence of Uber, DiDi and other platforms has grown considerably.
On the other hand, we are talking about the fact that, in Mexico City, one of the most widely used public transportation services is the Metro Collective Transportation System (STC), which, according to official figures, transports daily to 2.1 million peoplemaintaining a strange love-hate relationship between users.
Taking these data into account, it is not surprising that the contents that most views They generate are those that show what public transport is like in other countries and at the time of the World Cup, the Qatar Metro has surprised several Internet users.
They revive terror of Mexicans in Qatar: "They already know it, wallets and cell phones"
On TikTok, a video is drawing powerful attention for reliving one of the greatest terrors suffered by Mexicans who use public transportation on a daily basis.
As has been said on previous occasions, 80,000 Mexican fans are scheduled to visit the World Cup in Qatar, and one of them decided to play a joke in the middle of the Qatar Metro, a video that has already collected more than six million views. .
According to what is seen in the images, a Mexican launched a "typical" cry of public transport in Mexico: "You already know it, neighborhood, wallets and cell phones". The reaction of the other users was immediate and the video can already be considered viral.
Although it is true that it is a joke and that it even managed to have a positive response from both Internet users and Mexicans seen in the recording, reality dictates that said "alert" has become a nightmare for thousands of Mexicans
According to the National Survey of Victimization and Perception of Public Safety (ENVIPE)only in 2020, the year of the pandemic, there were close to seven thousand victims of robbery on public roads or public transport for every 100,000 inhabitants.
Let's remember that, a few days ago, the case of some foreign youtubers who, in the streets of CDMX, were assaulted, recounting their experience on their channel, went viral.
Now read: