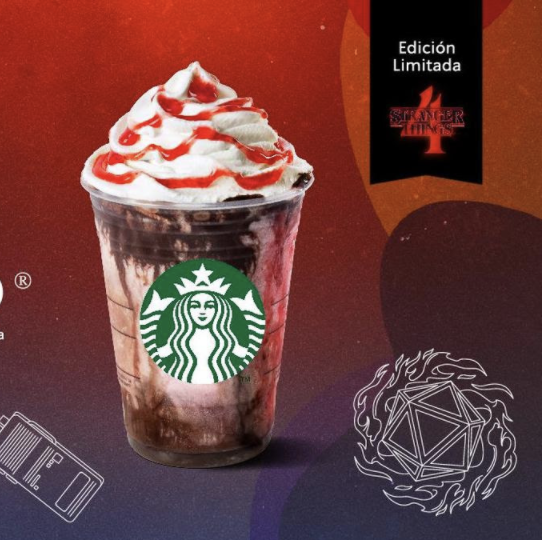 One of Alsea's most successful brands is going to revolutionize Netflix advertising this weekend, as part of the launch of the streaming series Stranger Things. starbucks launches a new drink in Chile, Argentina and Uruguay: the Strange Frappuccino.
Although it is not yet expected to be prepared in Mexico, this product seeks to celebrate the successful filming of the streaming giant with a limited edition in the largest cafeteria in the world. From May 27 to June 10, consumers in these Latin American countries of the Southern Cone will be able to enjoy the innovation and creativity in this advertising campaign.
Strange Frappuccino
Today is the second day of activation at Starbucks South American locations, where together with Netflix it celebrates the premiere of the fourth and penultimate season of Stranger Things, one of the most popular Netflix series worldwide since its launch in 2016.
The Stranger Frappuccino will be limited edition con to delight customers and deliver a unique look and taste as they return to the fictional town of Hawkins to unravel the mysteries of this sci-fi horror drama series.
This drink, according to the Alsea brand, will be made up of layers of strawberries over chocolate and a final touch of whipped cream and strawberry drizzle, as well as a liquid chocolate spiral on the side of the glass, making it a fun element that will take customers to the Upside Down in search of answers.
"We are very excited to continue our partnership with Netflix with the launch of the Stranger Frappuccino, an exquisite beverage that pays homage to the 'supernatural' that this hit series is so admired for."

"At Starbucks, we strive to offer new experiences to our customers and we look forward to continuing our partnership with Netflix to bring the best content and most delicious beverages to Starbucks customers in Chile, Argentina and Uruguay," said Soledad Fantuzzi, Marketing Manager. for Starbucks Southern Cone.
This release is a continuation of the Starbucks collaboration with the Bridgerton series launched in Chile and Argentina in April 2022 and is part of the global alliance that was formed over months between the brand and Netflix to boost the "Southern Cone" of Latin America in 2o23 with new advertising strategies.
"Through this partnership, Starbucks seeks to create unique and unforgettable experiences to connect partners (employees) and customers. Activations will include pop-up events, drink launches and other unique contests related to upcoming releases of the popular streaming service. streaming and company production", exposes the brand in the writing.
Season four of Stranger Things will be divided into two parts, the first will be released on May 27 and the second on July 1, so customers in stores in Chile, Argentina and Uruguay can scan a QR code to find recommendations. exclusive Netflix series and movies designed for Starbucks customers.
Now read:
They denounce Flink recruitment, but users come out in defense of the startup
Ukrainian businessman to sue Putin for millionaire losses
TikTok has a new marketing ally; Huggies launches new products in LATAM