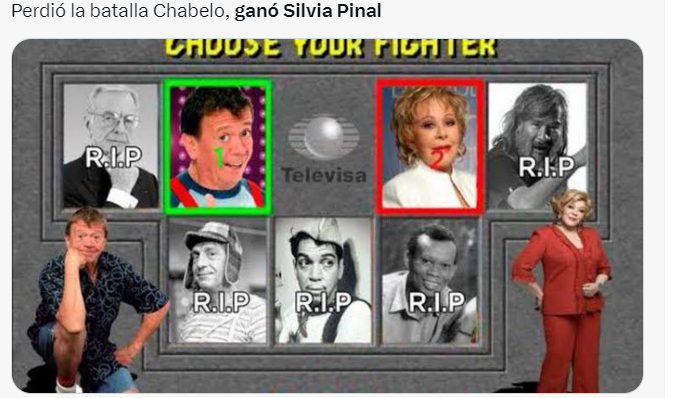 Xavier López, better known as "Chabelo", passed away at the age of 88.

One of the main reasons that placed Chabelo in the digital environment was the comical speculation about the supposed immortality of the actor.

Derived from the death of Xavier López, Silvia Pinal has been named by Internet users as the great winner of one of the most popular digital competitions today.
Within the national popular culture there are characters who have managed to transcend from generation to generation, positioning themselves as pillars of entertainment for young and old, such is the case of singers like Juan Gabriel or Vicente Fernández and actors like Tin Tan, Roberto Gómez Bolaños or Chabelo, who recently lost his life at the age of 88, leaving one of the most important rivalries generated by Internet users, Well, with the death of the driver and actor, the digital community has named Silvia Pinal as the winner for her longevity within the entertainment industry today.
The Sumerian God Chabelo, that Anunnaki who, contributing his own genes, accelerated the evolution from Neanderthal to homo sapiens through genetic engineering, with nostalgia we learn of his return to his planet Nibiru.
😢 pic.twitter.com/9DIwhVi7g1

— Lewis of Arabia (@LewisdeArabia) March 25, 2023
"Silvia Pinal won", digital conversation around the death of Chabelo
Within the popular conversation, it became a recurring theme every time the sensitive death of a celebrity such as Queen Elizabeth II, Vicente Fernández or Xavier López Tarso was presented.automatically the character played by Xavier López "Chabelo" became a trend in networks for his 'immortality'because for many his character as a "child" was a reason to speculate in a comical way about the actor and the null passage of time in his being.
Situation that generated, on more than one occasion, that the name and character of the driver and actor born in the United States was placed as a trend in the different digital platforms, achieving a wide conversation, especially generating all kinds of content in a comical way. .
Silvia Pinal won the race…

RIP Xavier López Chabelo… pic.twitter.com/OcNtjBZkyc

– Bachelor Yagami  (@NegritoTuiter0) March 25, 2023
Chabelo lost the battle, Silvia Pinal won pic.twitter.com/KYzRcDOMe4

— Omar Guajardo (@omarguajardoo) March 25, 2023
How did Silvia Pinal win? It's like Cruz Azul that this season was left for dead and is also going to be champion.
My Chabelo: for me you will always be alive. pic.twitter.com/QJJnu5W2Cz

— Luis'No is 💙 (@AyOjits) March 25, 2023
Rivalries within the network
At present, social networks are one of the main means of communication, which allows almost anyone in the world to express their option and generate conversation, a reason that has allowed disputes and rivalries to be generated between fans or followers of a celebrity or a brand, aspect with which they obtain invaluable and viral organic publicity, some of the most famous rivalries being Pepsi and Coca-Cola or Xbox and PlayStation.
Now read:
Receives cake from Karely Ruiz on her wedding day; the best promotion of the influencer
Bride demands 12 thousand pesos from her cousin for not going to her wedding and demand goes viral
Wedding planner scams the bride and groom and guests come to the rescue of the wedding
Amazon-themed wedding goes viral on LinkedIn and gives new use to the network