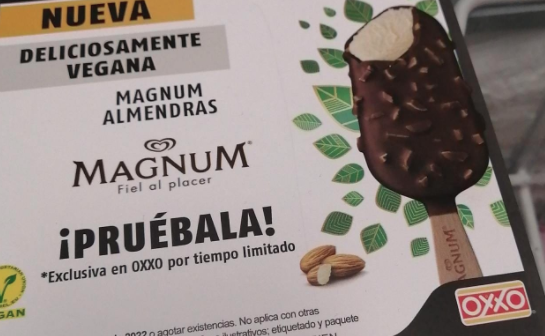 "Veganism" came to Oxxo with the exclusive sale of the Vegan Magnum palette, a product that has conquered a consumer on Twitter.
Times have changed and, with it, consumer habits are different. In addition, in times of Covid-19 and the pandemic, the importance of eating a balanced diet has become more relevant.
For a few years now, consumers of vegan food have earned multiple criticisms, yes, but they have also highlighted the importance of opening up to a new market for brands.
According to data from Statista, in some countries the number of people who have decided to follow a vegan diet has begun to increase.
According to the macro survey Statista's Global Consumer Survey, in regions such as India, China, the United States, the United Kingdom, Germany and Mexico, among others, is where the preference of consumers for plant-based products has increased the most.
Taking this into account, brands such as Burger King, McDonald's, KFC, among others, are already opening up to this market, given the growth it has experienced in recent years.
Since yesterday, through Twitter, an Oxxo consumer has been looking for the new Vegan Magnum palette, an exclusive product of the store and that, apparently, will begin to conquer a market that, as we mentioned, has grown every day more.
Reviewing Oxxo's advertising, the Vegan Magnum palette is, yes, an exclusive product of the store and, in addition, it will be on sale for a limited time.
@Tiendas_OXXO In Guadalajara, where can I find this Vegan Magnum palette? pic.twitter.com/9qH7mPq2bL

— Top (@Top43) January 12, 2022
No, it is not fake advertising, but a reality, because, even, the Community Manager of the companies responded to the user's tweet @top43.
Hi Top. The availability of our products varies depending on the branch, we ask you to send us a DM to @OXXO_Listen to solve your doubt. Thanks!

— OXXO Stores (@Tiendas_OXXO) January 12, 2022
The importance of the vegan niche for brands
Oxxo, as we already mentioned, is not the only one that is opening up to this market, since months ago, brands such as Burger King and McDonald's (to name a few), have also done so.
Thus, in collaboration with Beyond Meat, a company dedicated to the production of meat substitute foods, McDonald's created the new McPlant, a vegetable burger, made with sesame bread and accompanied by vegan cheese, vegan sauce, among other ingredients, although the company itself has assured that it looks and tastes like meat.
"We are very pleased to finally launch McPlant in the UK and Ireland. As with all McDonald's offerings, we take our time to ensure it meets the highest standards and is something all of our customers will enjoy." said Michelle Graham-Clare, director of marketing for McDonald's in the United Kingdom and Ireland.
On the other hand, Burger King announced a few months ago that it would open a new vegan restaurant, and announced it with a major campaign through social networks.
"We want to reach both people who base their diet on vegetable products and those who eat meat but who want to reduce their consumption", said Borja Hernández de Alba, General Director of Restaurant Brands Iberia Spain and Portugal, in a statement.
Without a doubt, the vegan market has gradually conquered consumers; According to the latest industry forecasts, the market value of products based on vegetable protein as an alternative to those of animal origin will increase fivefold in the coming years, going from 29.4 billion dollars in 2020 to approximately 162 billion in 2030.
Now read: