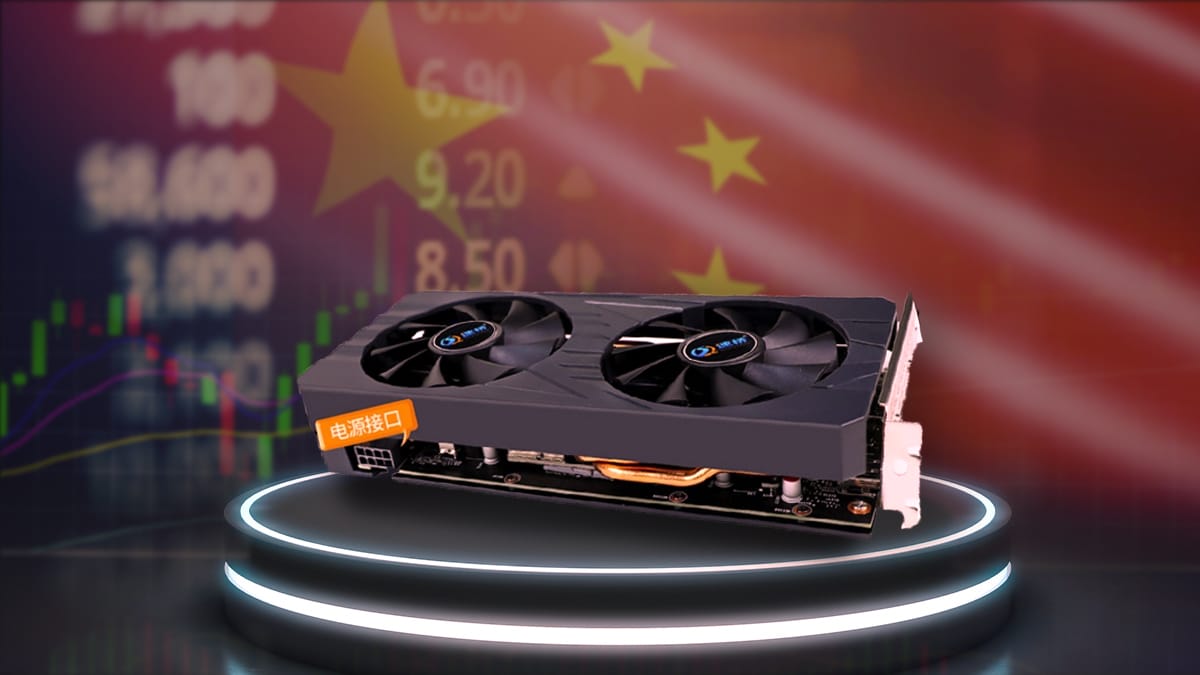 When China banned the mining of Bitcoin (BTC) and other cryptocurrencies, it seemed that there would never be any more commercial-mining activity in that country. But it seems that it is not. In recent days, a repowered video card (GPU) has begun to be sold, ready for Ethereum (ETH) mining.
In the marketplace website called Taobao, based in China, is for sale an Nvidia RTX 3070 Mobile (designed for laptops), refurbished to work on desktop and with which you can mine the second most important cryptocurrency by valuation with a considerable hashrate. It is known as the RTX 3070M.
According to the information provided by @I_Leak_VN on Twitter, the refurbished GPU retails for around 3,800 yuan or $560. As a modification of its original pair, the performance of this card for gaming use would not be of the highest quality. The case is not the same for cryptocurrency mining, as these laptop GPUs do not have the hashrate restriction (LHR) that Nvidia imposed on some of its products.
The fact is that, according to information from specialists in the area, the RTX 3070M will have a hashrate of 65 MH/s. They also propose energy efficiency, which is good for miners who have their operations based where electricity service is expensive.
A late fix?
The presence of the RTX 3070M in the virtual markets of China occurs after the arrival of a bypass that bypasses the LHR restriction, as well as new, more powerful and more expensive mining equipment. In addition, arriving at a market that is close to seeing a noticeable decline in miner profitability.
The bypass was proposed by NiceHash, the mining software, and promises to 100% unlock cards with LHR, which are mostly from the RTX 30 series. While this is happening, Nvidia is already offering its latest model, the RTX 3090 Ti, which does not have any kind of restriction to mine and reaches a hashrate of 135 MH/s. It is followed by AMD, which recently launched three new GPUs, already available for sale.
And the "merger" of Ethereum is on the doorstep, whose prelude is the explosion of the difficulty bomb, which will make GPU mining impossible, directly affecting the profitability of operators. This is scheduled for June 29, 2022.
That is why there is a question as to whether this pirated video card from Nvidia, intended for mining, is a late solution. This, because a lot of uncertainty is perceived within Ethereum miners, despite the fact that there are other cryptocurrency options in which they can invest their hashrates.
China still a hub for mining
As we said at the beginning, almost a year after the Chinese ban, after the decision it was believed that trade and everything related to mining activity would perish. Nevertheless, the Asian giant continues to be a key country for the industry.
As we reviewed in CriptoNoticias a few days ago, China maintains 21.11% of the global Bitcoin hashrate, even though the government of that country promised to persecute the operators, alleging alleged environmental damage and threats to its financial system.
The presence of Bitcoin miners and an industry playing a game of cat and mouse with the Chinese government makes it possible to believe that the mining of other cryptocurrencies, with other specialized hardware, is also able to persevere in that countrywhich coincidentally is one of the most important producers of microchips, essential for the manufacture of these computer parts.
Although, in all fairness, the mining-industrial monopoly of China's entrepreneurs seems to be unraveling, to the extent that more companies are joining the activity, growing more and more.