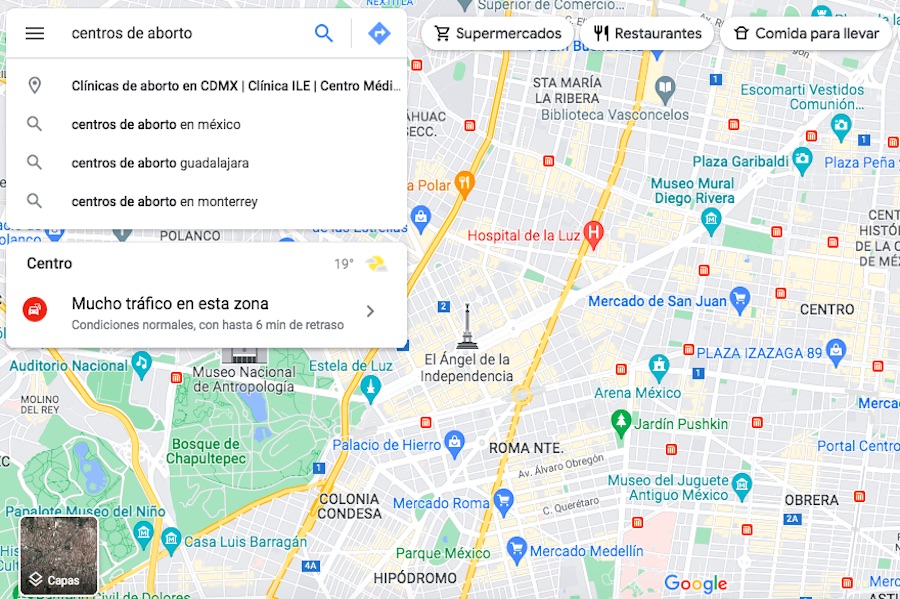 Google updated its privacy policies and will now delete your location histories if you go to medical centers such as an abortion or taking care of your overweight.

Both treating the overweight and undergoing an abortion motivate the search for centers and also generate a history of locations in the extensive ecosystem of apps that Google has.
Google announced an important update in its privacy policies, regarding the health of the people who use its platform. In the last of the announced measures, the famous Internet search engine changed the privacy rules, updating the related terms and conditions that concern very sensitive issues such as health such as location history when you go to specialized centers to treat an overweight person, consult about an abortion or dealing with addictions.
The senior vice president of key systems and experiences at Google, Jen Fitzpatrick, confirmed the changes that Google made in its privacy policies for patients interested in abortion and the measure was extended to other patients such as people who resort to specialized centers for weight control or to treat addictions. All this is explained in detail in a post of the company.
This occurs in the United States with new policies announced, where the federal measure that legalized abortion was abolished. The setting that Google does remember a study of Eurostat, where he compared the growth in searches within this search engine, related to medical and health issues; The result described in this Whitepaper is overwhelming, because in the face of the patient profile that makes use of technology and digital platforms such as Google, to consult medical issues, it is the new center of attention not only of the company that he directs. Sundar Pichaialso from firms such as the most valuable in the technology sector: Apple, a crucial statement is confirmed: digital has become a kind of waiting room, where the search for results and the use of technology for medical purposes is relevant.
GOOGLE, A VERY DISCREET WAITING ROOM
Waiting rooms are spaces that immediately refer us to health centers where we go to attend to medical issues and that is what it has become Google, in a space where you have a first approach to ailments or very specific interests such as undergoing an abortion or keeping a weight check. The weight that Google has in the privacy of people related to health is very important, therefore it is the first to reveal their medical condition or interests in treating illnesses or conditions.
To size it, Eurostat study that we advanced at the beginning, verified that in markets with a great medical tradition such as Europe (England is the forerunner of modern medical care), the use of Google to search for medical topics is brutal.
Within the study, users turned into patients were contemplated, due to the interest of their searches, between 16 and 74 years of age.
Finland, for example, went from having 58 percent of this population doing medical-related searches in 2011 to 80 percent.
Denmark went from 54 percent to 75 percent in the same period and Spain, which is the Hispanic country that makes the most sense to Mexico because of the shared culture, went from 38 percent to 69 percent in the same comparative range.
Given this context that gives us a global dimension, seeing the changes such as the update in Google's privacy policies, specifically that related to the location history that is recorded in the profiles of this platform, confirms the weight that its ecosystem of apps of search and location has in our daily habits.
There is no doubt that technology has become a great ally of common habits such as seeking medical attention or obtaining a health diagnosis. The latest measures announced by Google patent the weight that this powerful company has in related data, it also joins other powerful companies such as Apple, which unashamedly announce their commitment to the health market, with services such as reminders in the consumption of medicine or technology like an Apple Watch capable of measuring oxygen levels or alerting 911 in emergency situations.
Now read: