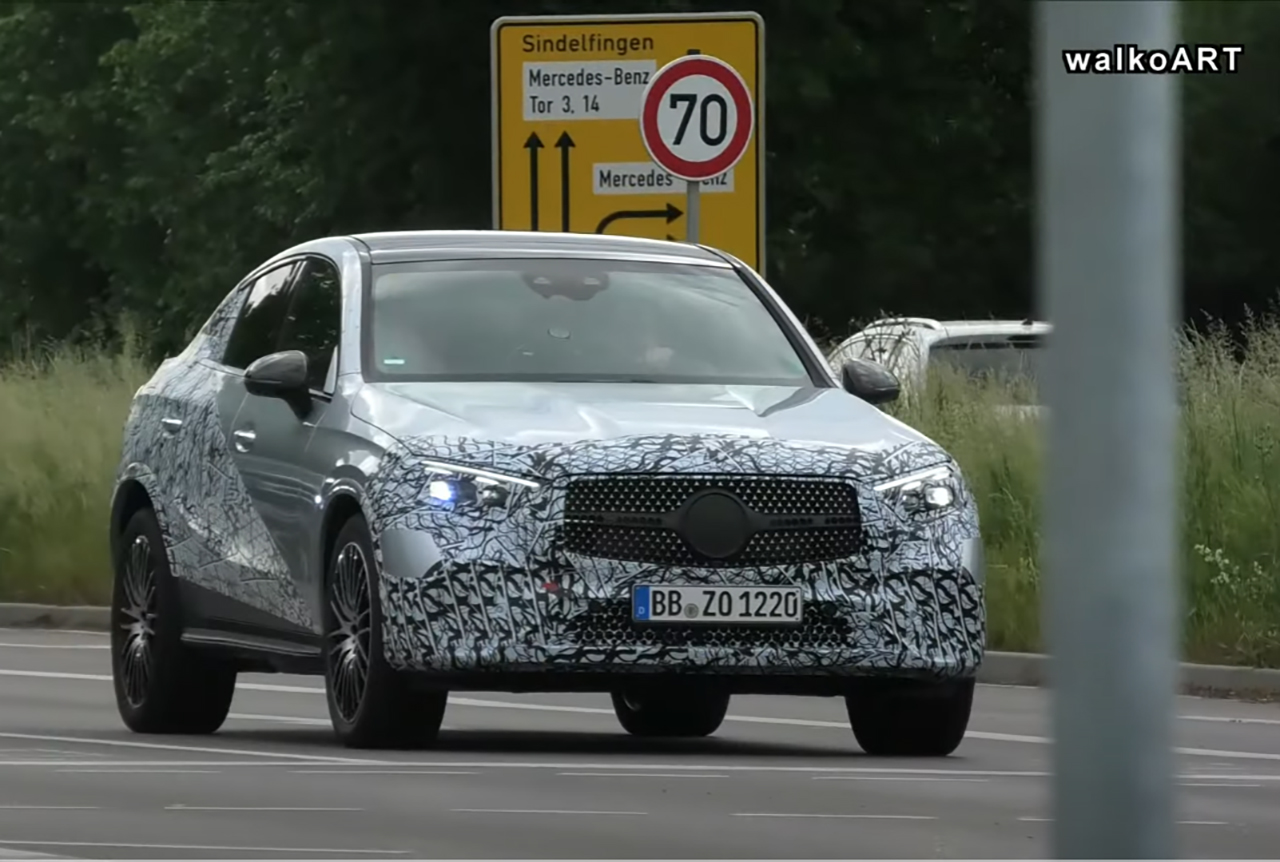 Just a few days before the world presentation of the new Mercedes GLC, the new Mercedes GLC Coupé 2023, the sportiest body variant, makes an appearance near the headquarters of the star brand. A real discovery that you can see in its first tests in an interesting spy video.
It was taking longer than usual to be seen, and it was one of the most anticipated sightings. In just over a week, the new Mercedes GLC will be presented at a world-class eventbeing more than expected the second body variant, the sportiest of the new Mercedes GLC Coupe 2023. And, finally, it has made an appearance, being spotted near the development headquarters of the new models, on one of the usual test routes.
Of course, there is no doubt that it is this model, in view of the shapes of the bodywork. Also, the star mark It has not taken much care to camouflage this second generation of the GLC Coupé, which barely sports vinyl on the front and rear. The front will be common with that of the more familiar model about to debut, with the sharp headlights and mini-star-studded grille, but the rear will once again have its own personality. This is the reason why it appears more covered in this spy video.
The prototype of the new Mercedes GLC Coupé 2023 is in an advanced state of development
First seen prototype of the new Mercedes GLC Coupé 2023
In it video on these lines you can see how its proportions are different compared to the model currently on sale, being longer and with a roof line that now descends softer than progressive towards the back. The sighting shows a more stylized silhouettea new design of the light signature of the pilots and a marked spoiler on the edge of the tailgate sill.
Known internally as "C254", will not vary the interior design that will inherit the digitized dashboard of the new GLC and the C-Class, with the large touch screen in the center console, also using the arsenal of technology in all areas. From a more advanced MBUX multimedia system to sophisticated driving aids, passing through the battery of chassis control systems with active steering of the rear axle, 4.5º or 10º in option with the Airmatic pneumatic suspension, among others.
Nor will there be differences in the mechanical section, since all the versions that arrive at the new GLC will be transferred to this Coupé, all with 9-speed automatic transmission and 4MATIC all-wheel drive. Gasoline and diesel blocks with 48 Volt MHEV technology and the plug-in hybrids with a larger capacity battery and up to 100 kilometers of autonomy in 100% electric mode. The new Mercedes GLC Coupé will be one of the great novelties at the end of the first half of 2023, with its market launch scheduled for the second halfone year after the new GLC.