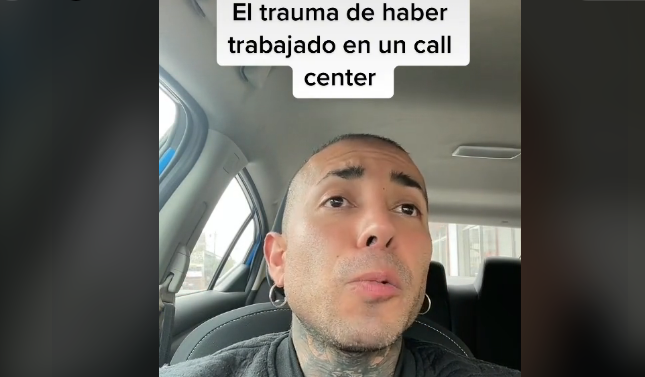 A former Call Center worker has exposed one of his worst traumas caused by being employed by the company.

The video has a large number of views and has achieved more than 150 thousand "likes".
A TikTok user shared the alleged traumas of having worked for a Call Center in Tijuana.
This fact joins many of the stories shared on the Chinese social network, which has become one of the favorites of users to make complaints to companies.
TikTok has become one of the favorite social networks for users, not only to promote products or talk about a specific trend. Sometimes, some users use the impulse of this network to share their life experiences.
In fact, according to Statista, Mexico is considered in 2022 the second country in Latin America that registers the most internet users per day, with 96 million online users during the day to day.
In short, it has been revealed that, at present, there are nearly five billion people connected to the Internet and, of course, to social networks, of which it is Facebook the one that leads the market with just over three billion registered users so far.
Other platforms, such as YouTube, Instagram or TikTok have also reported significant growth, but it is the Chinese social network that has attracted the most attention during the last couple of years (2020 and 2021).
Since the arrival of the pandemic, the name of TikTok began to appear in the main trends in several countries, to such an extent that, in 2021, the platform created by ByteDance has already exceeded one billion active users in just five years since its foundation.
For this reason, many users begin to migrate to the short video platform, since they have considered that it is ideal for sharing direct and effective messages that are also considerably easier to make than, possibly, a video of the same quality on YouTube, whose duration is usually extended.
Former Call Center worker exposes the traumas of his profession
A user who is dedicated to sharing stories about his life experiences, recently shared what it was like for him to have worked for a Call Center in Tijuana.
When you work on a bilingual campaign, the stress is doubled because you get a lot of racist clients who don't like that you have an accent. If you say a wrong word to them, they get upset, or even when you say hello and they detect your accent, many shout "I want to speak to someone in America, someone who speaks real English".
Likewise, the headline highlighted that during heavy campaigns, the stress is so great that sometimes there is no break between calls:
After each call all I had was 30 seconds between calls and no way to stop the start of the other call. You can't hang up on the customer and if you manage to do it they can fire you for customer misstreat and they fire you justifiably.
The response from his followers was quite empathetic, as some recognized that despite all the positive things it offers, there are many sad stories about what it takes to work in this field.
Here are some of the featured comments:
"An old lady called me just to tell me to have a merry Christmas, she was alone and just wanted a greeting back", Stephanie Molina

"The gringos: You don't speak English well. The British: Oils", Lhennae Blackye

"I am a doctor but as a student I worked 4 months in a Call Center and I can say that it caused me more stress than the entire degree, as incredible as it may seem", KarenMichi
Now read:
In which cities in Mexico can you order Uber Moto and what advantages does it have?
Funny sketch tells the story of Netflix and the end of Blockbuster
This Is The Frappuccino Recipe Starbucks Doesn't Want You To Know
#SaveDaredevil initiative works and Marvel confirms new Daredevil series