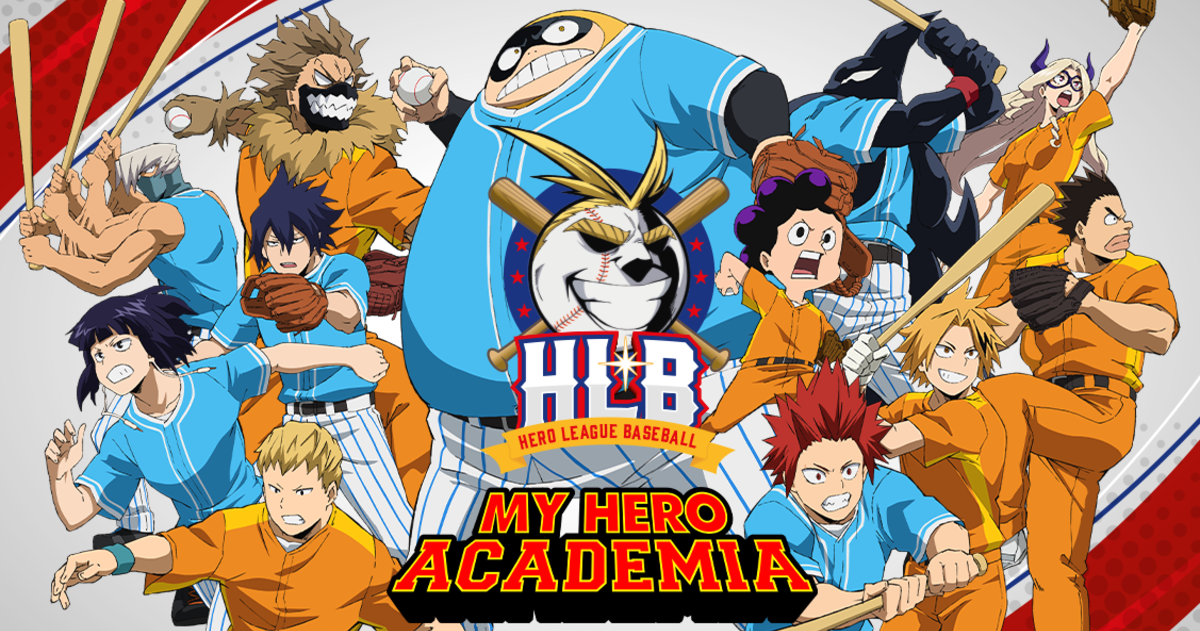 Share
My Hero Academia HLB will be one of the My Hero Academia OVAs to hit Crunchyroll, but it won't be the only one.
Japan's ANIME EXPO 2022 is one of the events During Crunchyroll's Industry Panel, held on Sunday, July 3, a host of electrifying news was released to whet fans' appetites for some highly anticipated productions that will arrive on your streaming platform. Since the arrival of a new egg of My Hero Academia up to the new season of the classic anime Trigun.
In a press release from Crunchyroll, announced that on August 1 will premiere in Mexico, Spain and Latin America the two new OVAs for season 5 of My Hero Academia, "HLB" and "Laugh! As if you are in hell". HLB (Hero League Baseball) is a spin-off showcasing a hero baseball league championship. On the one hand, there is Gang Orca who founded the team of "Las Orcas"; and on the other, there is Shishido, who founded "Los Leones".
To make it more interesting, in this league of heroes everyone can use their gifts or 'quirks'. For its part, "Laugh! As if you are in hell" takes us to a professional internship starring Deku, Bakugo and Todoroki at Endeavor's agency. If you are a fan of the saga, surely you have to remember this as one of the favorite arcs of the manga.
In this case, one of his tasks these days is to find a villain named Smiley who draws doodles in the city. As they see that it is not so serious, they do not take the fact with much priority… until a doodle is drawn on Endeavor's house. This event angers Endeavor, making it a maxim of pyroirity to capture Smiley. Although, it won't be easy. It is worth mentioning that these OVAs will be subtitled and dubbed into Spanish.
But, these were not the only announcements made by the company. In addition to the arrival of Dragon Ball OVA's, there are also series like Solo Leveling and the new season of OVERLORD. Although, it may the biggest surprise of the night was TRIGUN STAMPEDE, the continuation of the classic anime TRIGUN. Alongside him will be the second season of To Your Eternity and Mushoku Tensei: Jobless Reincarnation.
TRIGUN STAMPEDE, another great announcement from Crunchyroll together with the OVA's of My Hero Academia
As we mentioned, in addition to the OVA's of My Hero Academia, in the Lock & Load Panel of TRIGUN STAMPEDE on Saturday, July 2, attendees were shown the first trailer featuring footage of a young Vash and his twin brother Knives, as well as Rem trying to get the brothers to safety. Time flies, and we see Vash, grown up to be a wanted man with a $60 billion bounty on his head. He also debuted a new image of Vash the Stampede for the recently announced anime series reboot that will stream on Crunchyroll in 2023. So it looks like this will be a sequel and not a soft reboot as some people speculated.
In addition to the change of animation to a 3D shade shading style, the confirmation of the Japanese voices was made, which include Yoshitsugu Matsuoka as Vash Stampede, Junya Ikeda as Knives Millions, Tomoyo Kurosawa as Young Vash, Yumiri Hanamori as Young Knives, and Maaya Sakamoto as Rem Saverem. It was also announced that Kenji Muto will direct the series. Panelists included Yasuhiro Nightow (Author), Kouji Tajima (Concept Artist), Kiyotaka Waki ​​(Producer, Orange), Yoshihiro Watanabe (Producer, Orange), and Katsuhiro Takei (Producer, Toho).
For fans of the manhwa, an announcement as or more important than that of My Hero Academia was that of Solo Leveling, this beloved Korean play written by Chugong and illustrated by DUBU (REDICE Studio), will be adapted into an anime by A-1 Pictures and simulcast on Crunchyroll worldwide outside of Asia. It may be that, like other works from the Asian country such as Tower of God, it will become one of the favorites of anime fans.
If you don't know Solo Leveling, his story is as follows: "More than a decade has passed since the sudden appearance of the doors; roads that connect our world with a different dimension. Since then, some humans have awakened supernatural powers. These individuals are known as hunters. Hunters make a living by using their powers to take over dungeons within gates. In this world of tough customers, the low-ranking hunter Jinwoo Sung is known as the weakest hunter in all of mankind.. One day, Jinwoo is fatally injured when he comes across high-ranked double dungeons hidden within a low-ranked one. Just then, a mysterious search window appears in front of him. On the verge of death, Jinwoo decides to accept the quest and starts leveling up… while the others don't."
In addition to these series, Saint Seiya: Knights of the Zodiac – Battle for Sanctuary – is also coming to the anime streaming service. It seems that this could be one of the best seasons for fans of this medium.
Related topics: My Hero Academia
Share
We are on Google News! To follow