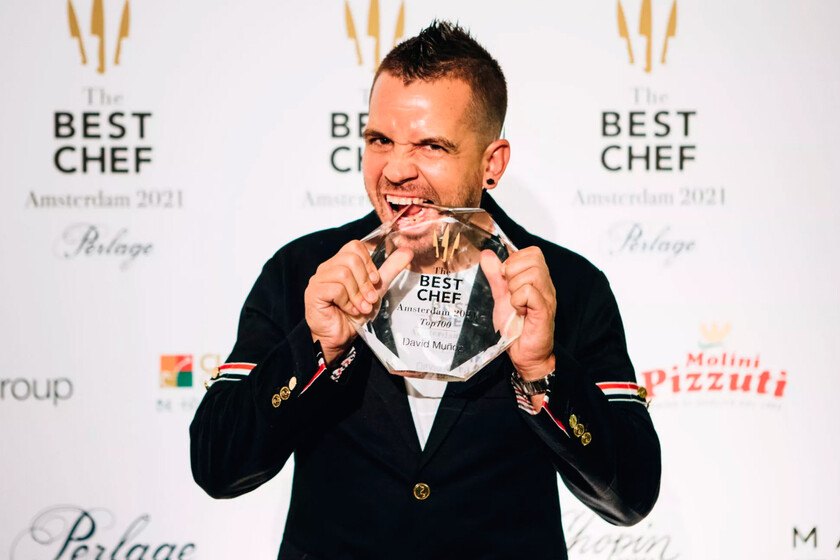 At a gala held last night from Amsterdam, the media Dabiz Munoz DiverXo has received the award that raises the Madrid as the 'best chef in the world', by getting the first place in the top 100 of 'The Best Chef Awards'in its 2021 edition. The Swede Björn Frantzén has repeated as second best, and the Spanish Andoni Luis Aduriz He has completed the podium, climbing to third position from his previous 45th spot.
This contest, which has been held since 2017, aims to recognize the work of chefs by focusing on in his most individual work and not so much in the value of the restaurant they represent, as inspiring figures for the new generations and as agents of change in today's gastronomy.
With little female presence In the complete list of 100 world chefs, these are very recent awards that will still have time to see if they age well with time or if they acquire the prestige of other awards.
Under the -little humble- name of 'The Best Chef'This organization with the appearance of a private club was launched, founded by the Polish neuroscientist Joanna Slusarczyk and the Italian gourmet Cristian Gadau in 2015. With the aim of creating a "vibrant foodie community", was born as a project dedicated to praising the "numerous talented chefs who create the best gastronomic experiences around the world", seeking to create a "global family of like-minded people who share the same culinary concerns".
The Best Chef Top100 awards put all their focus on the personal and professional figure of the chef, in a vote whose jury remains anonymousBut he is supposed to have traveled and tasted enough of the world's cuisines to be able to make an informed judgment and appraisal. These experts include journalists, bloggers, critics and photographers, theoretically linked to the world of gastronomy.
After a first selection of 200 names, including all the present in the top 100 of the previous year, the jury must vote to draw up the complete list of the best 100 of the new edition. The nominated chefs themselves participate in this vote, without being able to vote for themselves.
There are no special criteria to be eligible for this top, although it is supposed to be a way of discovering new talents and highlighting the work of "modern chefs, leaders, capable of elevating food through technology and science, or who leave an impact positive in society with his cooking. "
The complete list
1. Dabiz Muñoz. Spain
Björn Frantzen. Sweden
3. Andoni Luiz Aduriz. Spain
4. Joan Roca. Spain
Rene Redzepi. Denmark
6. Enjoy. Spain
Ana Ros. Slovenia

Alex Atala. Brazil

Vladimir Mukhin. Russia

Mauro Colagreco. Argentina

Virgilio Martinez. Peru

Rasmus Kofoed. Denmark

Jonnie Boer. The Netherlands

Grant Achatz. USES

Anne-Sophie Pic. France

Massimo Bottura. Italy

Julien Royer. France

Daniel Humm. Swiss

Andreas Caminada. Swiss

Mauro Uliassi. Italy

Manu Buffara. Brazil

Dan Barber. USES

Dominique Crenn. France

Alain Passard. France

Pía León. Peru

Enrico Crippa. Italy

Clare Smyth. UK
28. Martin Berasategui. Spain
Rasmus Munk. Denmark

Christian Bau. Germany
31. Eneko Atxa. Spain
Sven Elverfeld. Germany

Gaggan Anand. Thailand

Yannick Alleno. France

Niko Romito. Italy

Heston Blumenthal. UK

Paolo Casagrande. Italy

Henrique Sá Pessoa. Portugal

Antonia Klugmann. Italy

Nick Bril. The Netherlands

Yoshihiro Narisawa. Japan

Rodolfo Guzman. chili

Peter Goossens. Belgium

Jose Avillez. Portugal
45. Paco Roncero. Spain
Joris Bijdendijk. The Netherlands

Jorge Vallejo. Mexico
48. Angel León. Spain
Vicky Lau. Hong Kong

Hans Neuner. Austria

Corey Lee. South Korea

Norbert Niederkofler. Italy

Eric Vildgaard. Denmark
54. Paco Morales. Spain
Agustin Balbi. Argentina

Arnaud Donckele. France
57. Quique Dacosta. Spain
Soenil Bahadoer. The Netherlands
59. Jordi Cruz. Spain
Vicky Cheng. Hong Kong

Massimiliano Alajmo. Italy

Ivan & Sergey Berezutskiy. Russia

Hiroyasu Kawate. Japan

Dennis Huwaë. The Netherlands

Tristin Farmer. UK

Syrco Bakker. The Netherlands

Jacob Jan Boerma. Austria

Nino Di Costanzo. Italy

Floriano Pellegrino. Italy

Jaime Pesaque. Peru

Emma Bengtsson. Sweden

Marco Müller. Germany

Thomas and Mathias Suhring. Germany

Michelangelo Mammoliti. Italy

Himanshu Saini. India

Alexandre Couillon. France

Gregoire Berger. France

Arnaud Lallement. France

Daniel Calvert. UK

Sidney Schutte. The Netherlands

Adam Dahlberg & Albin Wessman. Sweden

Yusuke Takada. Japan

Helena Rizzo. Brazil

Mory Sacko. France

Karime Lopez. Mexico

Dave Pynt. Australia
87. Antonio Romero. Spain
Przemysław Klima. Poland
89. Diego Guerrero. Spain
Anatoly Kazakov. Russia

Guillaume Galliot. France

Jefferson Rueda. Brazil

Selassie Atadika. Ghana

Dieuveil Malonga. Congo

Jonathan Zandbergen. The Netherlands

Rafa Costa e Silva. Brazil

Gert De Mangeleer. Belgium

Leonor Espinosa. Colombia

Jan Sobecki. The Netherlands

Elena Reygadas. Mexico
Images | The Best Chef Awards
Directly to the Palate | Chef José Andrés and the NGO World Central Kitchen receive the 2021 Princess of Asturias Award for Concord
Directly to the Palate | The National Gastronomy Awards this year have only one award: gastronomy itself, which "is not for celebrations", for its solidarity