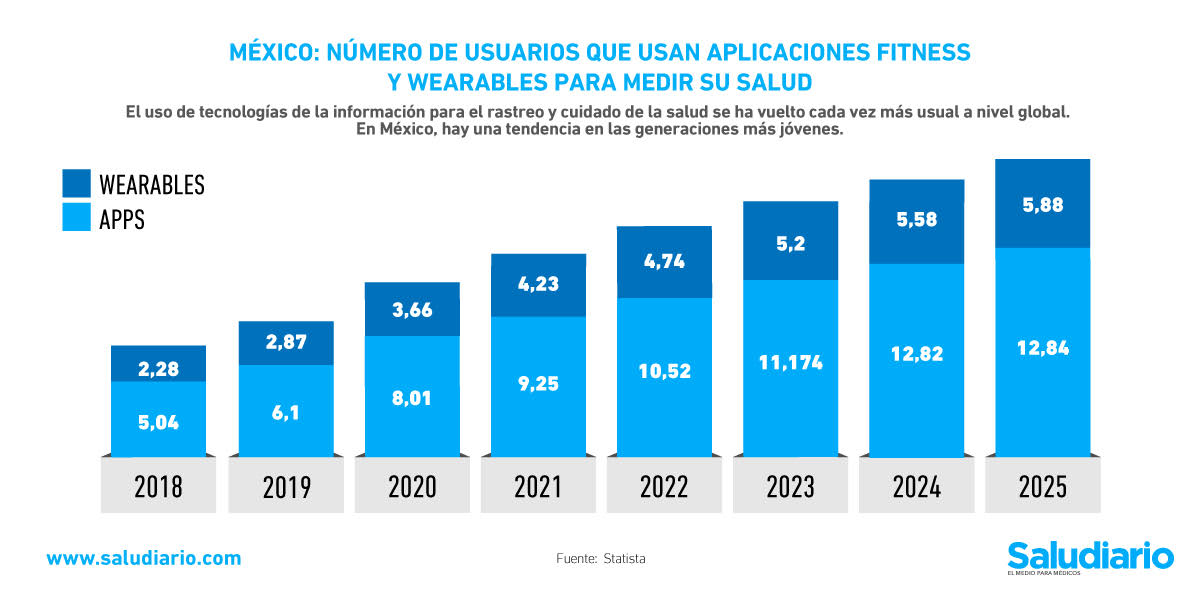 The use of information technologies such as; fitness apps and wearables for tracking and health care has become increasingly common globally. In Mexico, a similar trend is observed, especially in the younger generations.
It was estimated that by 2025the number of fitness app users in the country would amount to 13.8 millionwhile the number of wearable users would reach about six million people.
Chart of the Day: Number of users in Mexico who use fitness applications and wearables to measure their health
The "Boom" of fitness and wearable applications
The appetite for fitness apps and wearables is growing. Stacey Harris, author of 'Introduction to Human Resource Technologies', has seen continued adoption of technology in the wellness industry over the past five years.
"As these have become a multi-billion dollar industry, they have moved on from traditional exercise programs and health assessments. To what you see today with very personalized tools that provide many options and without much commitment".
The 'wearables' business, on the other hand, has not just taken off. Some companies, like Nike with its FuelBand bracelet. They chose to abandon the development of these devices and focus their efforts on creation of software and apps for 'smartphones'. What, for now, are working better among consumers. The On World study estimates that Within four years the global number of downloads of this type of application will be 1,400 million.
On the other hand, a study of AdColony about consumption habits and use of mobile applications to exercise or take care of health. It reveals that the number of people who use them has increased by 25% since the Covid-19 crisis began.
The most frequently consulted activity of these apps is the monitoring of progress.
Between the main findings of the studywhich has been based on a survey of more than 600 people between the ages of 14-75, highlights the following:
More than half of those surveyed (55%) indicate that their goal for this year is eat healthy. Starting an exercise routine or maintaining it ranks second. And then try a new exercise.
During the coronavirus health crisis, the number of people who use the mobile as a tool to help them in their fitness goals and nutrition. This increase means reaching the total share of 75%.
The smartphone (54%) is the most used deviceor to track progress. This is followed by the smartwatch (26%) and the tablet (7%).
While tracking the training that has been done, 20% of users are engaged in mobile entertainment activity. Another 19% visit social networks. And 18% to read books or news.
42% of people indicate that fitness and health apps they are part of their daily routine, and they use them at least once a day. And 10% of them use them on a recurring basis.
More than half of people (57%) they consider the use of their smartphones while exercising important. In addition, 46% consider that apps are moderately or very effective in achieving their health goals.
The most common activity for which apps are used is to do progress tracking (71%). Along with this, 41% do it to find training routines. And 28% to search for healthy recipes.
The study concludes by pointing out the great possibilities offered to advertisers by the widespread use of this type of apps, in which most users are predisposed to be advised. And it highlights that it offers a possibility for brands to reach consumers in a friendlier way and close through personal trainers, individual or community challenges. As well as products that make it easier for users to achieve their goals.
Related Notes:
What did José Alfredo Jiménez die of? The fatal disease that ended his life
Does your medical specialty match your zodiac sign?
5 medical innovations that seem like science fiction