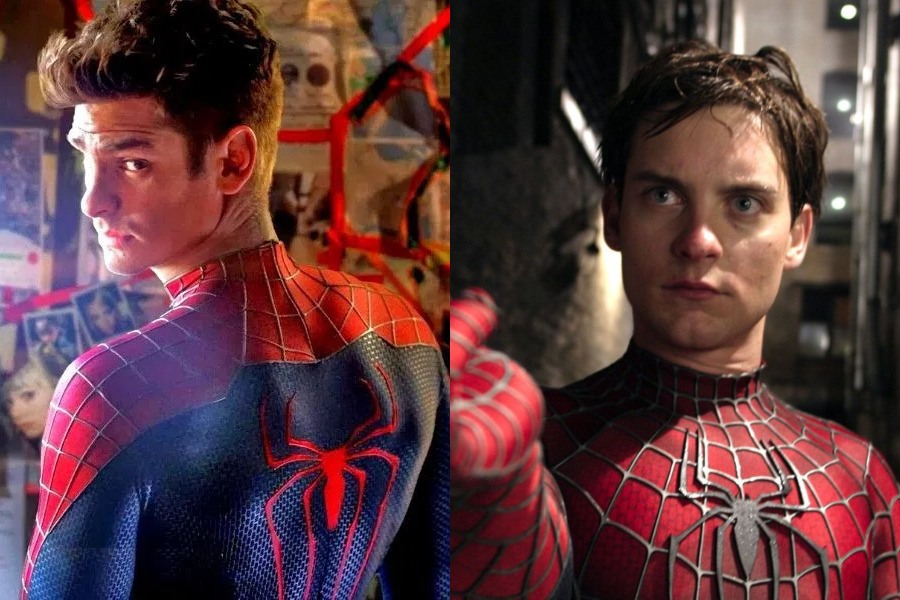 With the premiere of Spider-Man: No Way Home, it was inevitable that two actors who played the wall-crawler in the movies, Tobey Maguire and Andrew Garfield, would be part of the premiere of this film.
Almost a month after the premiere of Spider-Man: No Way Home, one of the moments that has caused a furor in the film's plot is the appearance of Andrew Garfield and Tobey Maguire, both reprising their role as the wall-crawler.
Don't Miss: Andrew Garfield Breaks Silence On His Return In Spider-Man: No Way Home
In social networks, a photograph has been released in which Tobey Maguire, Andrew Garfield and director Jon Watts appear, who attended one of the first functions of Spider-Man: No Way Home.
Ladies and gentlemen! Here is the pic of Tobey and Andrew the night they snuck in to watch the reactions!

Originally they had just stayed to see the reactions to their entrance, but ended up staying for the whole film lmao. #SpiderManNoWayHome pic.twitter.com/OVXOtYqjrq

– Sƿɿ ძ ૯ ylɿf૯ (@SpideylifeOne) January 8, 2022
The actors came in a way that they could not be easily recognized, to enjoy the film, as well as to witness the reaction of the public to their scenes.
Andrew Garfield himself confirmed how he and Tobey Maguire went to the premiere of the third Spider-Man film in the MCU, accompanied by director Jon Watts.
"I still can't believe it happened… I sneaked into a movie theater on opening night and just looked in my baseball cap and mask. In fact, I was also with Tobey. Tobey and I sneaked into a movie theater together and no one knew we were there. It was something really beautiful to share together.".
You can also read: The Marvel moments that defined 2021
Sources: Twitter / Variety
Catch great Spider-Man stories in the Smash-Luxe
On these dates do not miss the opportunity to make yourself a collector's item. Personalize your passion with the Smash Luxe Collection: Spider-Man, a numbered deluxe box that, in addition to your name, contains:
Spider-Men: The Complete Collection
Spider-Man / Deadpool
Ultimate Spider-Man: Power and Responsibility
You will receive these volumes in a metallic box and in your name, or in the name of whoever you wish to give this collector's item as a gift.
It is also being read
Captain America's musical theater play was almost a reality!
Tony Dalton starts filming Hawkeye in the Marvel Universe
The lessons of the first Hawkeye trailer
How did Jeremy Renner get here?
Vincent D'Onofrio would return as Kingpin for Hawkeye