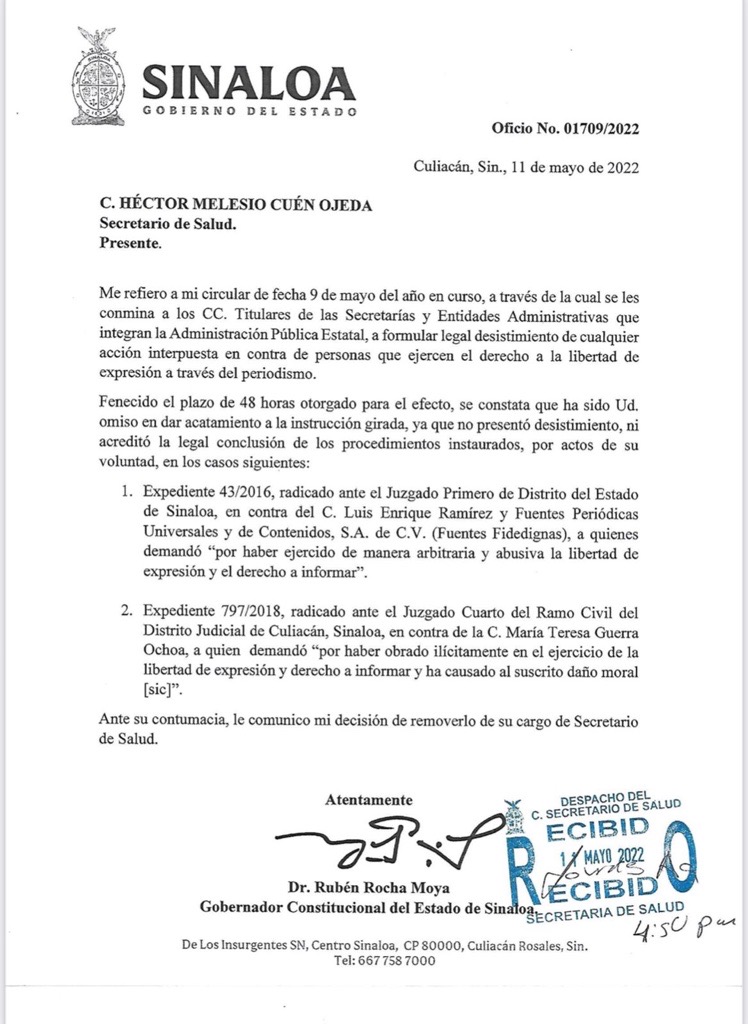 By default, the governor Ruben Rocha Moyadismissed the Secretary of Health in the state, Héctor Melesio Cuén Ojeda this Wednesday.
WHAT IS THE REASON?
This, after in the Week of this May 9, the governor warned that nnone of its officials should have any legal process against journalistsconsidering that they are blocking freedom and the right to expression.
In an official letter with number 01709/2022, he refers that after the call made to his entire cabinet to desist from any action filed against the communicators, it was found that Cuén had active demands and the action was taken to dismiss him. .
"After the 48-hour period granted for this purpose has expired, it is found that you have failed to comply with the instruction issued, since you did not submit a withdrawal, nor did you prove the legal conclusion of the procedures established," reads the official letter .
What was it based on?
According to this official letter, dated May 11, registered two files that are still in legal processthe first, with number 43/2016 filed before the First District Court of the State of Sinaloa, against C. Luis Enrique Ramírez and Reliable and Content Sources.
The following demand comes with the file 797/2018filed before the Fourth Court of the Civil Branch of the Judicial District of Culiacán, Sinaloa, against C. María Teresa Guerra Ochoa, whom she sued "for having acted illicitly in the exercise of freedom of expression and the right to inform and has caused the undersigned moral damage."
The journalist and columnist, Luis Enrique Ramírez, was murdered on May 6, in the municipality of Culiacán, this caused mobility in the country due to the attacks and murders of journalists that have occurred in recent days.
Who is the new secretary?
Through the network of social comunicationit was reported that the new Secretary of Health is Cuitláhuac González Galindo, who has already been protested.
Related Notes:
#BREAKING: Nurse murdered in Puebla
Science ADVANCES! Possible cause of crib death identified
The double jobs of health personnel; manicurist is one of them