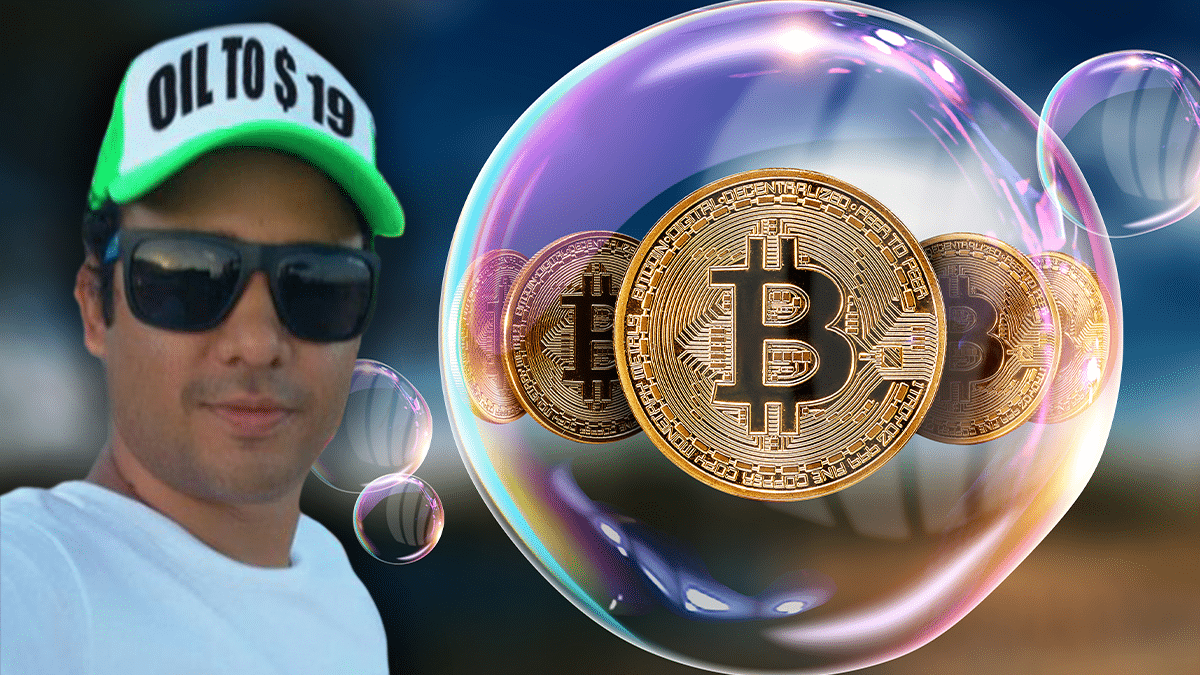 Exclusively with CriptoNoticias, financial analyst Alberto Cárdenas revealed his projections for the future of bitcoin (BTC), which is trading today at USD 30,500. He also shared with us what is "the global bubble" that is currently affecting its price and some tips for investors.
Right now, bitcoin is worth 55% less than the all-time high it hit six months ago at $67,800. Given this reduction, Cárdenas explained that BTC investors should not be surprised by its current volatility. He argued that the cryptocurrency is undergoing an adjustment that is in line with the nature of the asset itself.
"Bitcoin has had at least nine intense boom and bust cycles in 2012, 2014, 2015 and 2018 (with an 80% depreciation). So (you have to) understand that this is how it moves, this is how it works, that significant falls, in the long term, are a buying opportunity », he maintained.
In this sense, he clarified that it is key to understand that cycles have a duration and there is no need to worry, go crazy, or leverage. But rather considers it convenient to make a programmed process of bitcoin accumulation taking advantage of the low prices that occur in the adjustments.
Cárdenas maintains bullish projection for bitcoin in the long term
The investment specialist commented that sees bitcoin as a technology that has gained a lot of ground and will continue to do so over time. "My perspective is bullish in the long term, but in the very short term I think that bitcoin can fall more," he revealed.
Specifically, he estimated that in the near future it may be trading below USD 20,000, which he maintained will mean a buying opportunity in the long term. Of course, speculating that its value will rise later, a projection that is in tune with many of those shared in CriptoNoticias recently.
As a recommendation, it warns that, If an investor is highly leveraged and is concerned with their position because of volatility, then it is best to reduce it. So you can wait for better conditions to re-enter a more favorable situation.
But if the vision is to store bitcoin for the long term, he advises staying calm, not being leveraged, trying not to have the funds in an exchange, but in cold wallets. Also, understand that we are experiencing a situation that is part of the typical adjustment structures and cycles within the cryptocurrency space.
"Now there has been an adjustment in the regulated markets that cryptocurrencies had not experienced and that will probably make this cycle especially intense and painful in some cases," he said. But he did point out that if you look at the downside on the upside, it's going to be a very interesting buying opportunity. "Not at this moment because the cycle is barely a third of development, but it is what is going to come later," he added.
There is a global bubble that impacts bitcoin and all markets, according to Cárdenas
The interviewee explained that for him what is happening in crypto assets is simply the impact that comes from another market. Precisely from the general regulated market for stocks and raw materials, which indicates that it is much larger in size than that of cryptocurrencies. He believes that they are all interconnected with each other and cannot be viewed in isolation.
Along these lines, he adds that there is also the US dollar, which has appreciated since the beginning of 2022. According to his perspective, because the central banks generated a ball of liquidity with unprecedented stimuli and extremely low rates for a long time after the 2008 crisis. . Namely, they motivated a lot of money to go to the financial markets, especially to speculative assets.
This wave he believes has increased demand for many tech stocks and companies with little foundation, as well as good and bad crypto asset projects. Such buying force caused its prices to rise sharply, but consider that this was broken later, as we are seeing now.
Cárdenas understands that now the tide is turning, which has generated record global inflation and that raw materials have risen dramatically in price, such as oil and natural gas. Such a situation, added to the war between Ukraine and Russia, also means that there are problems with the food supply.
The investment bubble in speculation assets is bursting, which affects BTC
"The mechanism that central banks have to deal with inflation is by reducing stimulus, contracting liquidity and raising interest rates. That is what is happening in this 2022″, specified
As an example, he mentioned that the United States Federal Reserve (Fed) has made a second rate hike, which he estimates had not happened since 2002. He also argued that he has proposed to reduce what they call his balance sheet, which he explains is nothing more than collecting liquidity from the market.
"That has consequences for leveraged assets. Rates are beginning to rise and assets that have been supported by debt, cheap money and a huge stream of liquidity are now beginning to rise. So we are having liquidity problems and that is what we are seeing reflected in all the markets including the topic of crypto assets », he declared.
In this way, he highlighted that this contractionary adjustment process, or that bubble created by the central banks, is underway and will probably continue throughout 2022. So he considers that we are going to continue to see a lot of volatility and price declines for many assets, including cryptocurrencies.
As an example, he says that bonds are falling, which are very safe assets, so of course more speculative assets such as the cryptocurrency area are going to fall. That is what he says that we have seen in these last days with the important drops in bitcoin, the Ethereum market and the liquidity gaps in the entire ecosystem.
Likewise, he warns that this generates issues such as what happened with LUNA and TERRA USD, as well as surely involving other types of complications because liquidity is already beginning to be a problem. "When there is no liquidity in the market, projects that may be vulnerable, that do not have enough support, burst." This affects currencies that, in his opinion, are anti-fragile, such as bitcoin, causing them to fall in price.
In conclusion, Cárdenas summarized that this process is not typical of crypto assets, but is part of the systemic risk of the entire market. In this sense, he warns that bitcoin, as well as other cryptocurrencies, are going to adjust and face liquidity throughout 2022, after the bursting of the bubble, which would imply further price falls.