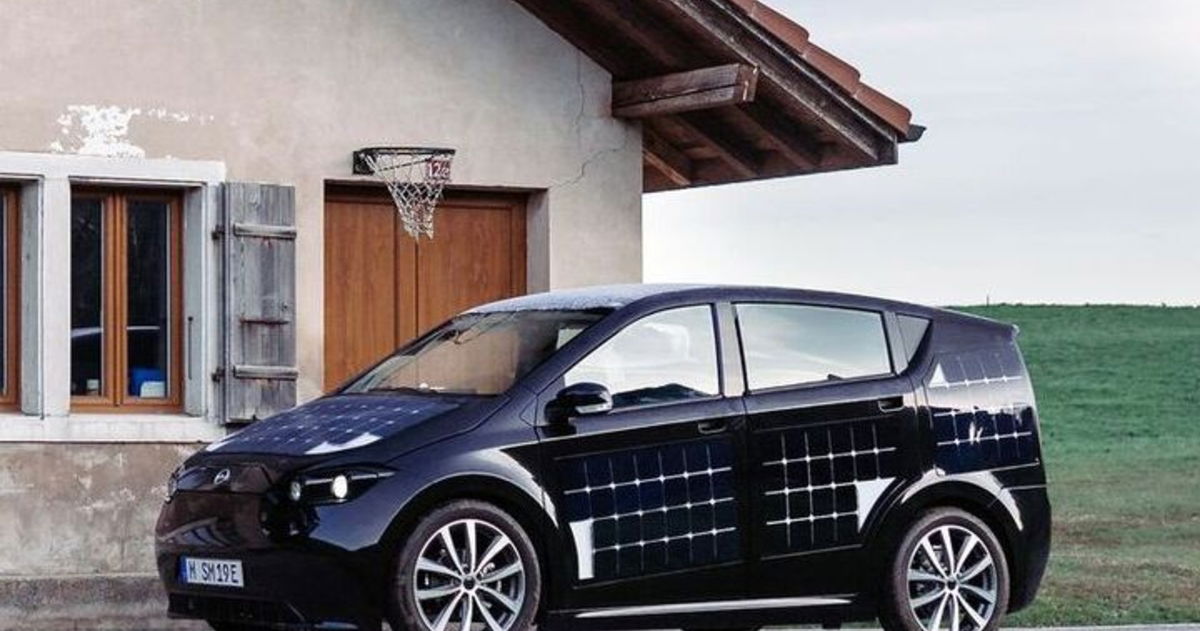 Sono Motor already has a delivery date for the first units of the Sion to be subject to homologation tests. At what stage is the project?
A few years ago, a company called Sono Motors entered the scene by introducing a revolutionary concept to the market. The differential approach of this company's product based its differentiation on the incorporation of solar panels in different spaces of the bodywork. The objective of this proposal was to incorporate a whole series of additional solutions to extend the autonomy of electric cars.
With a simple design, but adapted to the new needs of the market, aspects of development and, of course, *ionization have been added. Over time, various developments have been announced that have had as a differential element the incorporation of solar panels of different caliber. It is not the first time that a technology of these characteristics has been observed, but it is for a product intended for the general market.
The Sono Sion, despite all the advances introduced, must still face a litmus test, since this electrical product must have the correct certification. The installation of solar panels may seem, as far as it goes, simple to apply with the right elements, but another aspect is to make this innovation fit for the bodies that are in charge of homologating cars. It has just been learned that the firm is already producing its first validation models.
In relation to this section, Sono Motors is already producing up to 37 units which will serve as test models. The key to this type of test will be to find out if it meets the safety and quality standards necessary to be able to market this product in Germany and, in the future, in other areas of the European continent. This is a prior requirement that any vehicle must meet prior to its registration.
Let's see, therefore, what are the qualities of this particular model, why we are faced with a model that is very close to the production chain and, of course, what are the most striking qualities of its technology. Here are some of its main keys.
The Sono Sion, a model halfway between minivan and compact
Sono Motors has long since opened its list of advance reservations. Due to this, it has been showing continuous advances, which has allowed knowing what are some of its main secrets. After all this time, it is known that it will have an aesthetic that does not particularly attract attention, but that it will be a differential element due to the solutions it offers in terms of gaining autonomy. Well, at what stage is the project?
It has been confirmed that you have a 54 kWh lithium iron phosphate battery liquid cooled. This is powered through an external energy source and, in addition, thanks to 458 photovoltaic half cells integrated in the hood, roof, sides and rear of the vehicle. As you can see, it could be said, always with nuances, that we are facing a completely alternative vehicle in terms of its ability to function.
Well, what is the role of photovoltaic cells? As can be read in the specialized portal New Atlasyou will enjoy until 245 additional kilometers on average a week with this technology. This is an incentive to extend the use of a vehicle that can encourage the marketing of this type of proposal over the coming years. Even so, it is still early to guarantee its commercial success despite having registered up to a total of 15,000 orders.
A homologation on somewhat reduced performance
Among the characteristics of this technology, it is striking to see how it has a 120 kW motorization. Thanks to it, the vehicle reaches a maximum speed of 140 km/h. It is a proposal that, possibly, passes some other difficulty in the Autobahn, but the truth is that its performance is not the basis of its differentiation. In fact, it could be said that its only advantage over any other electric model lies in the incorporation of panelling.
To carry out the crash tests and other homologation tests, the initial print run of vehicles has already begun to take place. If it is possible to pass the validation, a period will open in which it will be essential to adapt the production chain to start with the manufacture of the first units. This step is expected to take place early next year, being able to meet the first orders in the first quarter of 2023.
The current price of the vehicle is about 28,000 euros, good proof of what the incorporation of solar panel technology in the final product means. We will have to wait a while to see if the supply crisis or the current problem related to Ukraine can affect its cost or, of course, delivery times.
Related topics: Motor
Sign up for Disney + for 8.99 euros and without permanence Subscribe to Disney+!