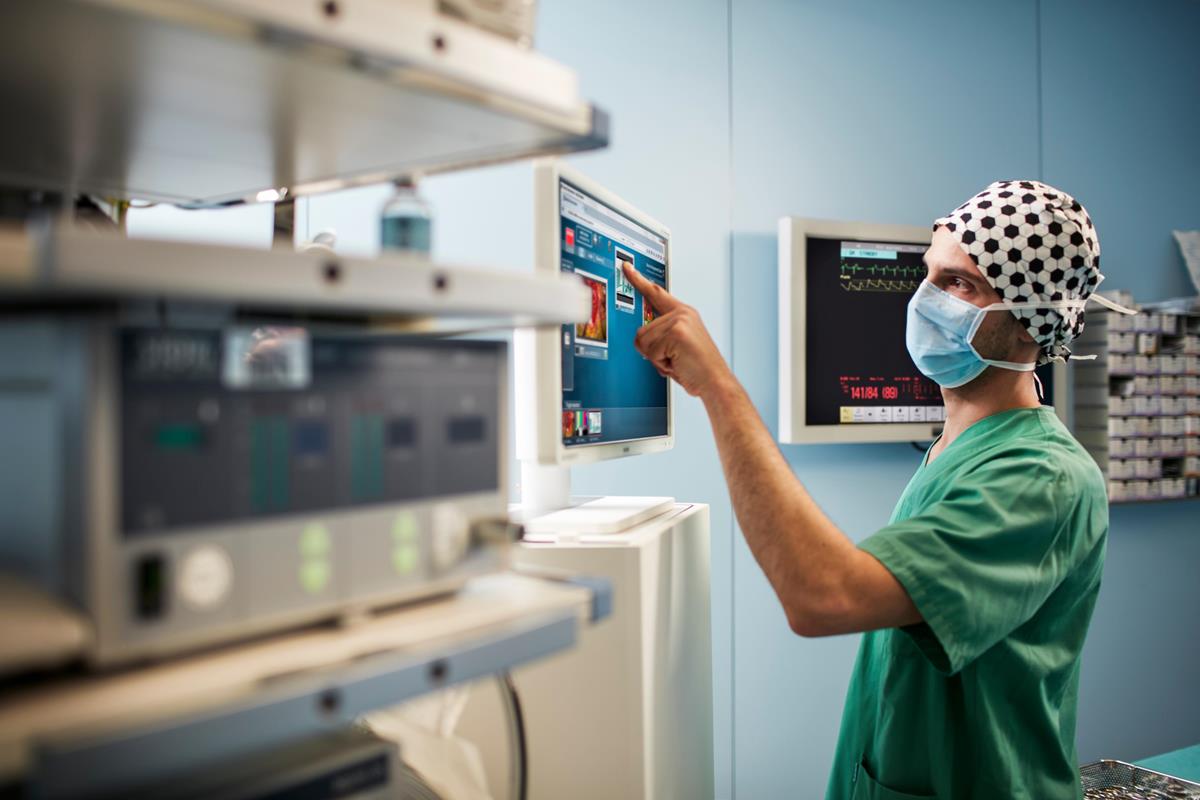 New technologies together with the 5G internet network have allowed the emergence of remote surgeries.
Now it is possible to operate on a patient without having to be in the same physical space.
Technology now allows the creation of three new areas: telecare, teleconference and telementoring.
Technologies for operating rooms are a key element in the consolidation of smarter spaces for specialists in the health sector. The objective of maintaining competitive hospital services is essential to provide a service focused on the needs of the patient, as well as those of the experts. For this reason the remote surgeries are the new trend that is becoming more frequent.
In 2021, Barco established a Surgical Advisory Council with the aim of creating closer contact with the people who use OR solutions every day. This rapprochement with specialists has made it possible to discover the scope of technology in operating rooms, and how surgeons benefit from a greater number of possibilities.
In this regard, Francisco Fandiño, Managing Director Latin America at Barco, mentioned that the first member was Dr. Nick Maynard, from Oxford University Hospitals, whom they welcomed in September. In less than a year the board has now been expanded by Belgian Dr. Mathieu D'Hondt, a surgeon at the AZ Groeninge hospital in Kortrijk, Belgium.
"Operating rooms are spaces where the high degree of complexity has generated new requirements for clinical spaces. In this sense, technologies such as NexxisLive They work based on the three pillars for specialists in surgery: telecare, teleconference and telementoring, allowing greater scope in the operating room in a virtual and safe way".
passion for innovation
For Dr. Mathieu D'Hondt, the adoption of new technologies allows greater involvement of the participants inside and outside the operating room. The specialist mentions that he is in favor of innovation in the field of remote surgeries.
"Early in my career, I moved pretty quickly from open to laparoscopic surgery, specializing in liver and pancreatic surgery. After that, I have taken the step to robotic surgery, which to this day I am very passionate about."
Medical images are a fundamental part for surgeons and operating room staff, as having access to more realistic content allows for improved efficiency of interventions and rapid adaptation to future technologies, including remote surgical collaboration.
Benefits in the adoption of new technologies
Today the remote surgeries are a reality and multiple benefits are obtained through this practice for surgeons themselves and their staff, students, surgical experts, assistants, sales and service personnel from integrators or medtech sales organizations. In this regard, Francisco Fandiño mentions the growth opportunities represented by the use of technology in modern medicine:
Collaborate efficiently with experts through teleconferences.
Immerse students in medical practice through telementoring.
Manage procedures and equipment in a simple way through telemonitoring and teleassistance.
Show surgeries to a worldwide audience.
Pass on knowledge and experience
The scopes of the Remote surgeries not only host multiple possibilities for specialists within a hospital, but also for their collaborators that are miles away, in this regard Dr. Mathieu D'Hondt mentions that "in liver surgery, there are an infinite number of possible resections, and which one is obtained can be unpredictable. However, visiting surgeons often want to see a very specific type of liver resection. As a result, they sometimes spend time and money traveling to see a procedure that turns out not to be what they were looking for. Remote technological innovation can help avoid situations like these."
In conclusion, collaborating in a smarter way in the OR is possible thanks to digital transformation, where new practices in surgery offer an immersive experience for everyone, even those who are not physically present in the OR.