Keeping you informed of the most important news that occurs in the industry and in all the economic sectors that make it up is essential, especially when it comes to decisions that directly impact the pocket, reputation or experience of brands and their consumers; therefore, Merca2.0 allows you to obtain the best information to always be one step ahead.
---
MEXICO
OXIO strengthens its executive team with two key appointments. OXIUMthe first Telecom-as-a-Service (TaaS) platform, with a fully customizable B2B solution to enable brands with telecom operation services, announced to Ivan Betancourt as your new Marketing Director already Hector Herrera as Director of Sales Operations for Mexico. These appointments strengthen OXIO's national presence and are part of its goal of sustained growth, considering Mexico's great potential in terms of connectivity and economic growth. The company, which raised $40 million in series B financing in March this year, has shown particular interest in expanding its operations in the Mexican market. With a vision focused on democratizing connectivity at the national level and promoting the commercial capabilities of brands, from retail to banking, OXIO allows its clients to provide a greater number of services and generate a fully personalized mobile experience. "OXIO not only brings benefits in connectivity, through a low-cost mobile option, but also strengthens the value proposition of brands, enabling hyper-personalized business experiences," Betancourt highlighted, "key industries for Mexico's economic progress, such as retail, can now obtain more information about the preferences of their consumers and generate better offers that optimize their income in the short term." Both have in common a long history in digital service providers and high-growth startups, such as the travel services giant, Uber. Herrera brings his operations and logistics expertise to the company to support customer-centric process automation and optimization efforts. For his part, Betancourt will strengthen the commercial proposal with almost 20 years of experience in the technology sector, to strengthen the company's position in the Mexican market.
Steren takes technology to another level: it inaugurates its smart apartment. The leading Mexican multinational in offering the best technology solutions inaugurates its Apartment Smarta space that is part of its business strategy. This initiative was created to provide its partners, allies, clients, brand ambassadors and the media with the unique experience offered by its extensive ecosystem of Smart Home line products. Steren bets on the development of this space since its The objective is to strengthen the relationship and communication with its clients.publicize first-hand the benefits of automating homes, in addition to continuing its position in the market as a leading technology and electronics brand. "The best way to publicize what we have available in the Smart Home line is to show how the products work, explain how easy it is to install, configure and automate them; show how this can make your life more comfortable and make being at home feel even more at home" he claimed Manuel Stengel Marketing Director of Steren. Steren's Depa Smart is made up of three large rooms; the main bedroom, the baby room and the gamer room are all equipped with wifi engines to automate the blinds, with led lights to create different types of environments, multi contact strips and Wi-Fi LED strips to choose desired colors, tint and shades. Count on universal-remote controls to control the TV intelligently. The living room, dining room and kitchen shine with products such as the Wi-Fi aroma diffuser and a robot vacuum cleaner that takes care of the cleaning. They are equipped with Wi-Fi LED strips to decorate the table and a Wi-Fi consumption meter to keep track of how much light the appliances consume. On the terrace there are two security cameras installed with Wi-Fi technology whose operation is to monitor the environment from the cell phone, and to automate the lighting or some electrical equipment, it has Wi-Fi contacts for outdoors. In every corner of the Depa Smart there is an Alexa of a different generation. They are compatible with Steren's extensive Smart Home ecosystem that by linking them and with simple voice commands, daily routines are automated, providing comfort and peace of mind. It is very easy to start enjoying the benefits of turning your house into a smart home, since the company has everything necessary to give Mexican families a comfortable and safe home, it also has its own Steren Home app available to configure, program and create routines to improve people's lives through technology solutions.
---
UNITED STATES
McCann Worldgroup, the World's Most Effective Network. McCann Worldgroup was positioned as the Most Effective Network in the World in the Effie Index for the fourth consecutive year, a ranking in which clients in Latin America such as Entel and Chevrolet led the list of brands, while McCann Lima ranked in the Top 3 in the region and eighth in world level. This Global Effie Index version considered more than 4,000 Effie winners and finalists around the world announced between January 1 and December 31, 2021, constituting the most prestigious list of effectiveness in the field of marketing due to the rigorous evaluation of results conducted by juried industry experts. Luis Machorro, Managing Director of McCann Worldgroup Hispanoamérica, highlighted that "we are very proud of the success achieved by our clients and teams thanks to a transversal quality work throughout the region, where the diversity and capabilities of our talent have once again reflected their level. I appreciate the commitment shown by each member of our network to help our brands gain a meaningful role in people's lives." For Josafat Solís, Chief Strategy Officer, "our permanent goal is to be irrefutable leaders in creativity that deliver results for our clients. It fills us with great satisfaction to see two of our brands, Entel and Chevrolet, occupying the top positions at a regional and global level in their categories. Our commitment is to continue working daily in each market in an integrated manner for all the brands we serve". The results achieved by the MW network in Latin America also include: the most effective in the Automotive, Internet and Telecommunications, Entertainment, News and Sports categories; Top 2 in Furniture and Appliances; and Top 3 in Food and Beverages, Housewares, Retail.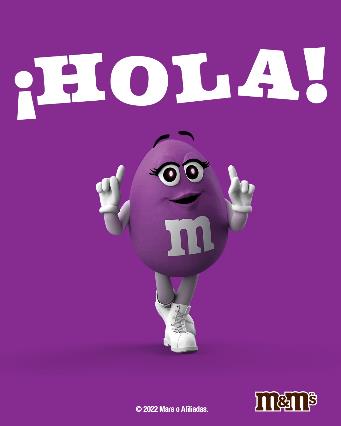 M&M's welcomes a new character. Mars, in its quest to create a world that promotes acceptance and inclusion, for the first time in a decade, welcomes a new member to the iconic m&m's characters: Purple. "Purple was designed to represent self-awareness, authenticity and confidence and reminds us that celebrating what makes us unique allows us to promote spaces where we all feel proud to belong. There is so much about her that we can all relate to, including her willingness to embrace her true self," said Jane Hwang, global vice president of Mars Wrigley. "Our story of purpose is just beginning and the introduction of our new M&M's member is the next chapter. Her charm, her quirky nature and her relatable quality all add to the purpose of the M&M's characters, as the brand continues to deliver fun in a way only this brand can." . Art and entertainment are powerful ways to inspire connection and fun. That's why Morado will use the power of music to showcase his individuality with the release of his first music single and video, titled "I Just Gonna Be Me," which features the extraordinary talents of saxophonist Grace Kelly, the masters of dance and choreography Devin Santiago and Colo Cag, the famous opera singer Anthony Roth Costanzo, and special appearances by the rest of the characters from M&M's.
---
ECUADOR
Will Smith partners with National Geographic. The actor arrived in the South American country to make a documentary for National Geographic. This alliance would have been announced since last August 31, when the North American caused a stir among the population of Alausí, located in the Andes of Ecuador, whose inhabitants were surprised to see him walk through its streets; now it is confirmed that it is a documentary in progress. What is known so far is that Smith is in full recording near the three that crosses the town, where the protagonist of "Soy Leyenda" has taken photos and interacted with the citizens of Yasuní, the most biodiverse jungle in Ecuador. The so-called "Prince of Rap" has spent the last four days with the production of National Geographic in. a corner of the community of Bameno, where cultural curiosities are known to be filmed and are scheduled to see the light of day next year.
Ecuador 🤝 Will Smith #ZapateandoJuyayay 🤭 pic.twitter.com/41rvmz7eAB

— Adriana 🌸 (@Adriana_1723) September 28, 2022
---
PERU
Natura implements sustainable trailers. Driven only by women, the Brazilian manufacturer and marketer of beauty and personal care products installed six natural gas and biomethane vehicles in its logistics operation. With this new strategy, the company expects a 16% reduction in the emission of polluting gases. this september nature begins operations with sets powered by Natural Gas Vehicles (NGV) in São Paulo, where the brand's products will be transported with a biofuel supply in the country. The initiative has the collaboration of Coopercarga, a transport company that provides services to the company, with which the state highways of Bandeirantes, Anhanguera and Dom Gabriel are established as the main route.