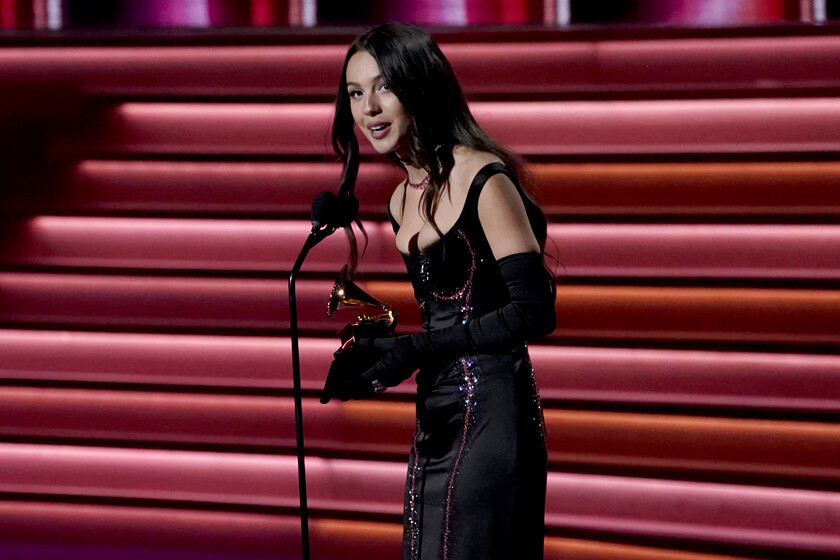 The song Driver License and the disk Sour They marked 2021, so it is not surprising that Olivia Rodrigo has been the great female protagonist of the 64th edition of what are the most important awards in the music industry. The artist has not only left us knocked out on the red carpet with a 90s design by Vivienne Westwood and she has been the talk of the town when a BTS has whispered something in her ear… The Californian has taken home three of the seven Grammys to which he opted in a delivery that has been widely distributed and in which great favorites like Billie Eilish have left empty.
He is 19 years old, has an album and three Grammy Awards. Olivia Rodrigo has been one of the first artists to step on the stage of the MGM Grand Garden Arena in Las Vegas this morning to interpret her famous heartbreak ballad, with a car included. He has already done it with a golden jukebox in the lockerobtained in the previous ceremony, where most of the categories are announced (bear in mind that the US Recording Academy awards 86 awards in total).
However, we have not seen her pick up the first Grammy (second of her career) until Dua Lipa and rapper Megan Thee Stallion gave her the award for best new artist, and Billie Eilish applauded him so enthusiastically among the public:
Billie Eilish, Finneas and Claudia applauding Olivia Rodrigo for her victory as "Best New Artist" at the #GRAMMYs
pic.twitter.com/ftDPXSZAle

– Billie Eilish Official Argentina (@BiIlieEilishARG) April 4, 2022
The singer, her eyes shining with tears of suppressed emotion, he has dedicated the award to his best friends "Iris [Apatow]Maddy and Conan", to whom she has also dedicated an "I love you guys". Let us remember that, with the first, she has recently had a joint tattoo and always shows publicly how important friendship is to her.
olivia rodrigo thanking conan in her acceptance speech for best new artist at the #GRAMMYs! (3/3)

"thank you to my best friends iris, maddy and conan, i love you guys" pic.twitter.com/WilsiuYg6d

— conan gray updates (@conanupdating) April 4, 2022
The last time Rodrigo took the stage was to collect the Grammy for best pop album for Sour. The artist then focused on thanking her parents for always supporting her in her dreams, no matter how unattainable they seem:
"When I was nine years old I told my parents she was going to be an olympic gymnast I can barely do a cartwheel, though." The following week, little Olivia announced that she would one day win a Grammy, and even then, when it all seemed like "a girl's impossible dream," her parents encouraged and believed in her. So she has thanked them for always being proud of her, whether it was winning a Grammy or having learned how to do an acrobatic maneuver back in the day.
Photos | gtres