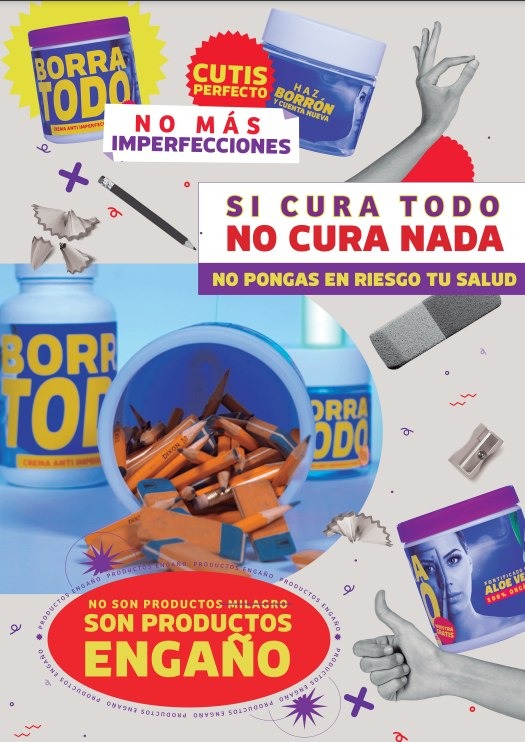 These products are fraudulent and are often advertised as drugs even though they are not.
Its consumption puts people at risk because it generates a false sense of protection and can lead to deadly consequences.
Informational capsules will be published through Canal Once to avoid its consumption.
Caring for the health of all Mexicans is one of the objectives of the Federal Commission for the Protection against Sanitary Risks (Cofepris) and therefore decided to adopt the new term "cheating products". This classification will be used for names that were previously known as "miraculous products" and the objective is to prevent their consumption among the population.
Within your work with patients it is common to see that some fall for scams. They often buy drugs or treatments that are supposed to easily cure some disease. The problem is that they lack a health registry because there is no scientific evidence to support them.
This type of products are fraudulent and are often advertised as drugs even though they are not. To disguise their lack of recognition as drugs, their manufacturers claim that they are nutritional products with health properties. In the end it is a scam to deceive people.
This situation is more serious than many may believe. Its consumption not only generates a false sense of security but can lead to fatal consequences. In fact, deaths are frequently reported in people who consume these types of products instead of formal medications.
New informative campaign of Cofepris
Based on all of the above, Cofepris will not only call them "deception products" but also announced a new campaign. To reach a greater number of people, it confirmed an alliance with Canal Once to broadcast information capsules during regular programming.
In this campaign, eliminates the use of the miracle products concept, to prevent people from falling into deception and misinformation or being made to perceive that they are products with benefits that are lacking.
The change in the way of naming these misleading products complies with the instruction of the Secretary of Health, Jorge Carlos Alcocer Varela, and aims to strengthen the fight against misinformation that promotes false therapeutic qualities of irregular supplies that were previously lent to interpretations of possibly miraculous or healing qualities.
When presenting the announcement, the head of the agency, Alejandro Svarch Pérez, explained that "deception products do not have any miraculous quality, they promise a lot and do not cure anything; there is no traceability of its substances or excipients and they result in a very high risk to people's health".
The campaign was planned during the First National Week against Sanitary Risks, held from April 30 to May 6 in Acapulco, Guerrero. There, health authorities and public media discussed strategies, as well as the importance of promoting a new culture of informed consumption among people of all ages based on scientific evidence.
In the panel "Renaming miracle products to deception products", the general director of El Once, Carlos Brito Lavalle, highlighted the vital importance of these types of campaigns reaching the entire society, since these products not only cannot fulfill their promises , but can cause serious injury or even death.
"As a federal public media outlet, we are committed to effectively and expeditiously reporting the risks that could affect the Mexican population; It is one of the convictions that we have adopted, because what we do is to provide a service to society, and I think that this campaign is a reflection of that".
What is the function of Cofepris?
It was on July 5, 2001 when the decree with which Cofepris was constituted. From the beginning it was established that it would be a decentralized administrative body of the Ministry of Health (SSa), with technical, administrative and operational autonomy. Its main task is to be the governing body in terms of health control and regulation throughout the country.
Importance of your work
In this way, Cofepris is in charge of analyzing and authorizing the operation of all products, devices and establishments related to health. It ranges from pharmaceutical laboratories, medicines, pharmacies and clinics of all kinds. In sum, all of them are equivalent to almost 10 percent of the Gross Domestic Product (GDP).
According to current calculations, Cofepris regulates 44 cents of every peso spent by households in Mexico. The figure is obtained through three sectors that it regulates: food, beverages and tobacco; health care articles; and personal care items.