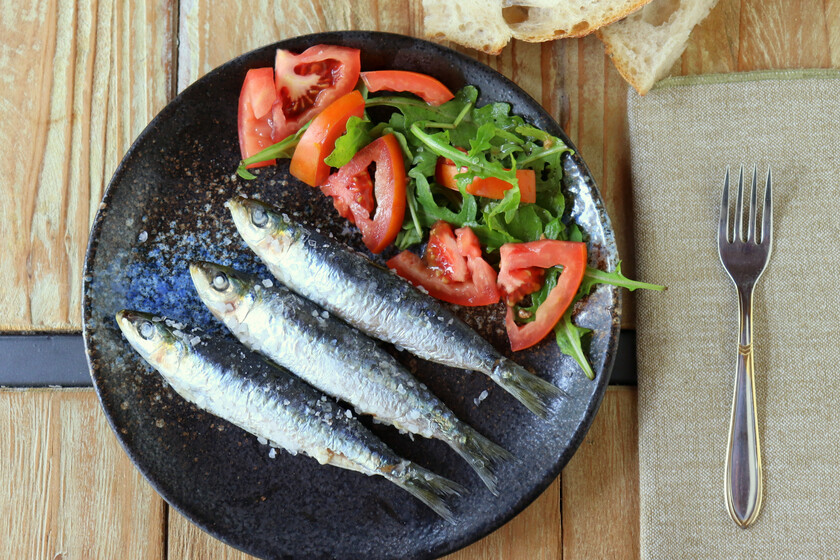 Today we are going to prepare roasted sardines in the microwave, a very simple recipe ready in 1 minute that among other advantages, does not leave us smells of fritanga nor bog down the kitchen for hours. In full season of this fish, it is worth trying this technique, I assure you.
The sardines remain tender and juicy, its meat comes off the spine without difficulty and we do not stain more than the plate where we are going to make them. Trust me and do not stop trying this technique or trick to cook them quickly.
It is true that they are not as rich as when sardines are cooked on a spit, since here the touch of the embers is lost, but with this trick I saw on the Twitter account from @polloasaoconesalad, I guarantee that they are delicious.
We bought very very fresh and medium or small size sardines that are tastier. In a dish that we can put in the microwave, we put a bed of coarse salt from the one used to bake fish in salt, approximately two or three millimeters thick.
On the layer of salt, we place the sardines, one next to another and cover them with another layer of salt, leaving out the heads and tails of the sardines. We squeeze a little by hand so that the coverage is compact.
We program one minute at maximum power -It can be 1 minute ten seconds if the sardines are larger- and we remove the plate from the microwave, removing the layer of salt with a silicone brush. We do them in batches of four at a time and we adjust the time depending on the size of the sardines and the power of our microwave.
With what to accompany the sardines roasted in the microwave
I am very panero so I recommend that when you do these roasted sardines in the microwave, you have at least a couple of slices of good homemade bread to accompany them. As a garnish, a refreshing arugula and tomato salad is enough to round out the dish.
Directly to the Palate | Smoked sardines with tomato and its jelly, appetizer recipe
Directly to the Palate | Hot Gildas. Appetizer recipe