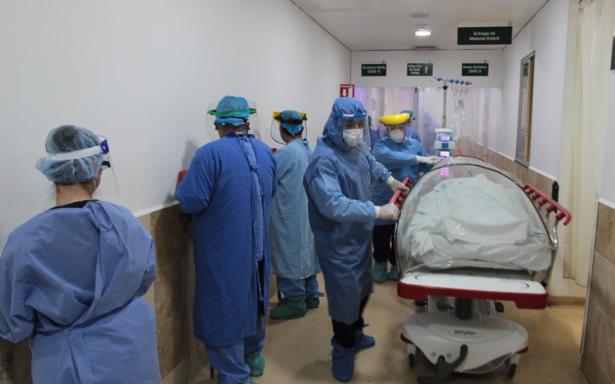 Since the pandemic, Mexico has identified the need to integrate health care services at home: consultations, check-ups and medical exams. Hence; Prevent provided home health care to more than 8,000 Covid-19 infected patients in Mexico City. Serving 600 patients simultaneously, exceeding hospital capacity.
In addition, he has done more than 40,000 home tests for the detection of the Covid-19 virus.
The pandemic showed the need for more services to provide medical care
Mexico has a medical infrastructure Importantly, around 10,000 hospitals and health clinics, and more than 10,000 clinical analysis laboratories distributed among general and specialty hospitals, pharmacies, and general laboratories. However the population growth and the Covid-19 pandemic revealed critical points within the health system.
The pandemic showed the need to have More services to provide medical attention, consultations and offer medical tests necessary to know the diagnosis and health status of people.
Preventa Mexican company with 18 years of experience specializing in health services, identified the need for offer help to the volume of patients who required attention and care, and who for reasons of hospital saturation and/or budget did not have access to a hospital.
Since 2014, the Mexican company has served more than 80,000 people monthly in more than 400 offices; 250,000 Check Up's have been carried out and medical monitoring has been provided to more than 5,000 people monthly.
During the most critical stage, it treated 600 patients simultaneously
In addition, during the pandemic, the Mexican company has provided home health care to more than 8,000 patients infected with Covid-19 in Mexico City. During the most critical stage attended 600 patients simultaneously, thus exceeding the hospital capacity of our country, becoming a support center for private and public hospitals such as the INSABI, IMSS, ISSSTE, among others.
It is important to highlight that the company identified that during the stages of higher hospital occupancy, two weeks of treatment at home was equal to 20 times less savings than care within a health institution.
As part of the services Preventthe company has carried out more than 40,000 home tests for the detection of covid-19 virus so far in the pandemic.
About Previta
Previta, with 18 years of experience, is a Mexican company specialized in disease prevention and professional health care through preventive medicine, monitoring of patients with chronic diseases and family health with or without medical devices. Founded by the brothers Morgan and Christian Guerra Gea Morett in 2004, they serve around 25,000 patients monthly in their more than 200 offices, have performed 250,000 Check Ups and have provided medical monitoring to more than 8,000 people. It is an Endeavor company and fellow Ashoka. She has been recognized by the Technology Innovation Fund, host Joslin Diabetes Center and Ernst & Young Entrepreneur Of The Year finalist.
Related Notes:
#BREAKING Scientists discover that ants can sniff out cancer!
Newly graduated doctor fulfills his promise: he gives FREE consultations and medicine to his people
Health Day 2022: Management of chronic ailments through healthy eating…