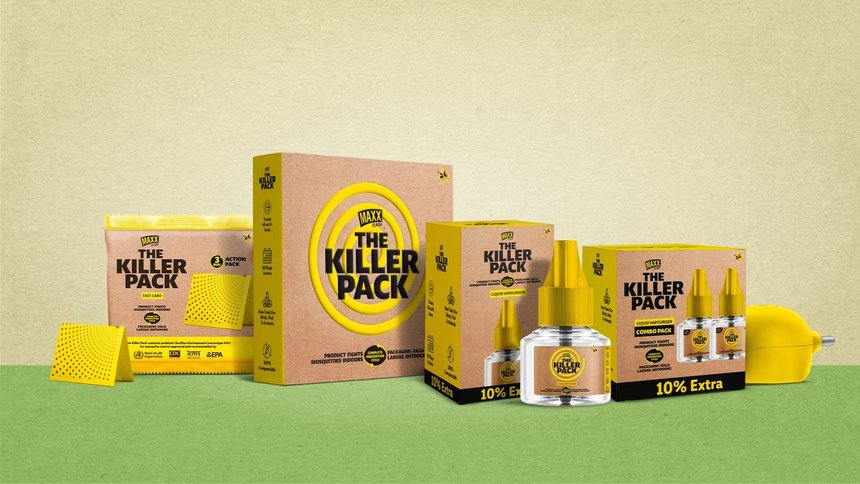 VMLY&R Mumbai won a Grand Prize for Health and Well-being at the Cannes Lions International Festival of Creativity for their work in developing an innovative solution for 100% biodegradable packaging designed to kill mosquito larvae.
The packaging, when disposed of in landfills or standing water, can help fight diseases like malaria and dengue fever in India.
The campaign, called 'The Killer Pack'was created for the brand of mosquito repellent Max Flash. In a featured ad for the campaigna narrator explains that India now sees an estimated 400 million dengue cases a year, a 30-fold increase from 50 years ago.
And while many Indian households use mosquito repellent coils inside their homes to ward off mosquito-borne diseases, the culprit is often found in garbage collection points and areas with standing waterwhere mosquitoes lay eggs in shallow water.
To combat the problem, VMLY&R Mumbai worked with Maxx Flash
To combat the problem, VMLY&R Mumbai I work with Max Flash to develop a new type of packaging for mosquito repellent coils.
The biodegradable cardboard packaging is coated with the bacillus thuringiensis probiotic, or sereotype H14, a group of bacteria safe for humans that can kill mosquito larvae. While the non-toxic coils inside the package can be used to repel mosquitoes indoors, the package itself can be disposed of and will then work to control the mosquito population within a 45-foot radius.
the packaging itself will disintegrate in water or wet environments such as dumpsters, storm drains, standing water and more. It is harmless to animalsincluding dogs and birds.
"It works as an automated process," said Jignesh Mathur, an entomologist at the National Center for Vector-Borne Disease Control in India, in THE lead VIDEO of the campaign.
The packaging has received WHO approval and was awarded at the Cannes Lions Festival
The container has received the approval of the WHOas well as of the US Centers for Disease Control and Prevention., the US Environmental Protection Agency, and the Indian Council for Medical Research.
Initially, the package was available in mosquito-borne disease hotspots across Indiaincluding Odisha, West Bengal, Maharashtra and other regions.
'The Killer Pack' is the second campaign to win a Grand Prize for VMLY&R on Monday; the agency also won the Pharma Grand Prix for its 'I Will Always Be Me' campaign for Intel and Dell Technologies.
"We are so happy and honored to kick off the week with a bang and land our first Grand Prix in these important categories," said Debbie Vandeven, VMLY&R Global Creative Director.
The Cannes Lions Festival is back after a two-year hiatus caused by the pandemic. It will run until June 24.
Related Notes:
Poblanos denounce walking 3 hours to find specialist doctors
Zoé Robledo: Oaxaca lacks 5,623 health professionals to serve in two…
ALL Side Effects of Pfizer and Moderna's COVID-19 Vaccine…