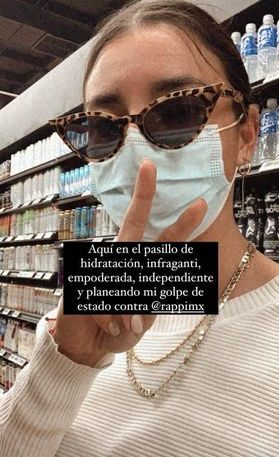 Since the confinement by Covid-19, the wide variety of platforms that offer services of delivery Food companies such as Rappi, Uber Eats, DiDi Food, among others, have become excellent allies due to their flexibility and delivery without the need to leave home. However, the discontent of a client and Instagram user It showed that this is not always the case. through their storys exposed the disloyalty and theft of one of the Rappi delivery men by not returning a change in cash, and accused that on more than one occasion they do not prioritize the shopping experience despite indicating the form of payment and the amount with which It will be paid.
The growth of apps in Mexico
Statista data estimates that during 2021, the industry of the delivery billed 2.1 billion dollars, becoming a pillar of the Mexican economy.
Without a doubt, the pandemic positioned the perfect scenario for the growth of eCommerce in the country. According to data from the "Online Sales 2021" Report, prepared by the Mexican Association of Online Sales (AMVO), electronic commerce reached a figure of 316 billion pesos during 2020, a fact that represents a growth of 81 percent compared to 2019.
Also, the AMVO estimates that the eCommerce it will double this year, with an economic impact of 18 billion dollars.
Rappi does not fulfill its value offer; delivery men take out customer to look for change
Today, the app consumer does not want unsatisfactory shopping experiences, they are demanding and want excellence, and brands that do not meet their needs will be banned.
Through his stories, A user on Instagram exposed the bad shopping experiences she has had with Rappi delivery men at the time her orders arrive and accused one of stealing change from a ticket.
"The last time I trusted the delivery man to change the ticket and he never came back, I reported it and I never had an answer," he comments on his social network.
The user told Merca 2.0 that the date, time, name of the delivery person was included in the complaint report: "I had everything so they could do something about it and they did nothing."
And he asserted that the delivery men do not prioritize their needs as a customer, because when they make the order they do their part by paying and notifying that they will need change.
"If I'm not leaving my house to buy food or whatever, it's because I can't or because I don't want to, We customers do not have to accommodate ourselves to the needs of the delivery men (…) I do not have to go out looking for change".
With this, Rappi fails to fulfill its brand promise of simplifying people's lives, it shows that some of its couriers are not loyal to the company, and therefore do not care about damaging its reputation: where is the loyalty?
Not responding to a theft report leaves a lot to say about Rappi's customer service. 86 percent of customers leave a relationship with a company as a result of poor service, according to Impact Report by Harris Interactive.
The situation not only caused the consumer to declare that she hated the brand, but she also decided to go to a retailer as a "coup d'état" against Rappi.
See more: