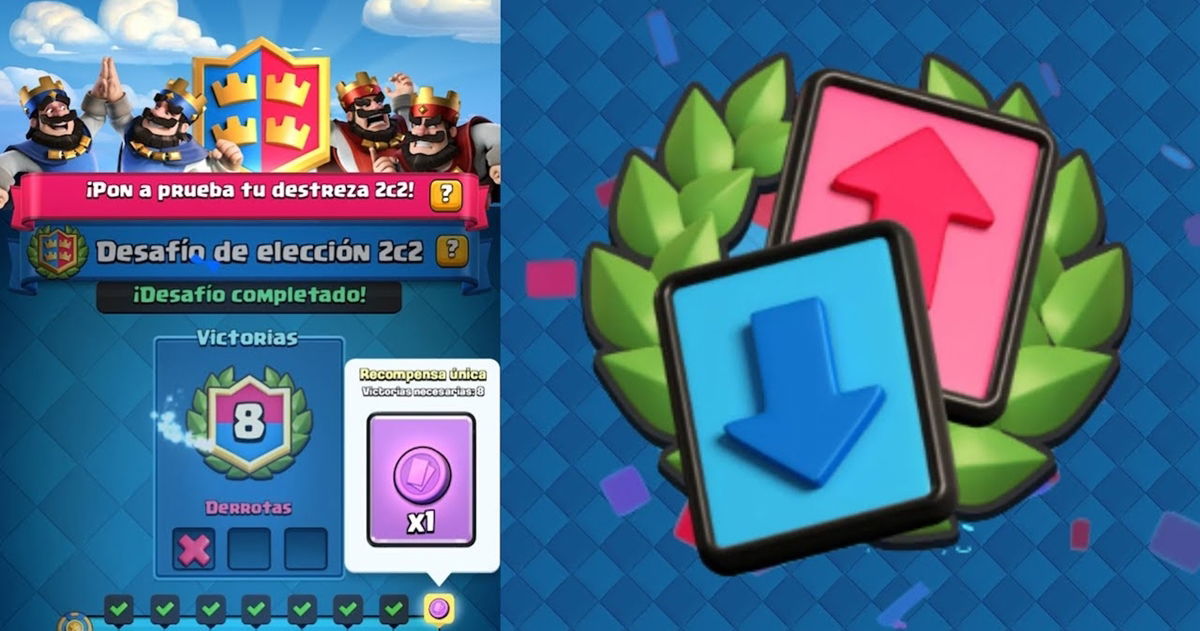 These are the best tricks to win in the Choice Challenge mode of Clash Royale.
Challenge of Choice is one of the most played modalities due to the style of combat that is carried out. It consists of starting a game by selecting random cards that appear on screen, the ones you select are added to your deck and the ones left over go into the opponent's deck, the same goes for the opponent's actions.
This definitely makes things more complicated because the characteristics of the deck vary, so either one of them could win depending on the cards they have. Although this is difficult, there are some tricks that are undoubtedly perfect for Obtain victory in the Choice Challenge. In our complete Clash Royale guide we show you the things you need to take into account to achieve it.
How to create or join a Tournament in Clash Royale
Cards that usually work well for the deck
The choice of cards varies a lot and you have to be smart when choosing go through this stage. In this mode, things work differently and there may be some cards that are excellent for this style, so try to select them if you have the possibility and be careful with the offensive of these troops if the enemy chooses them:
Montacarneros.
Goblin Barrel.
Graveyard.
Infernal dragon.
sparks.
Elite Barbarians.
Skeleton Army.
Witch.
Princess.
Bombastic Globe.
universal cards
There are several cards that they work in any deck this way, you can choose them to complete your deck if you are undecided:
Mega Knight.
PEKKA
Hell Tower.
Electric Wizard.
Twister.
Valkyrie.
The prince.
Rock Thrower.
Royal Recruits.
Hunter.
cards for towers
One of the most important factors in the Choice Challenge is to always have at least one card that directly attack the enemy's tower. In this way, at crucial moments of the game you can achieve victory by surprising your opponent. Some of these letters are:
Goblin Barrel.
Graveyard.
Bombastic Globe.
Miner.
Golem.
Giant.
Ride pigs.
Royal Giant.
Lava Hound.
Elite Barbarians.
Trio of Musketeers.
spells
The little details make the difference in this modality, and the spells are those attacks that can give you advantage when you need it most. Ideally, you should use the direct ones that can cause elimination, such as the following:
Rocket.
Ball of fire.
Poison.
Lightning.
Choose counter cards
When it's time to select, analyze the cards that appear on screen and see if one of those can counter the other. Always choose the counter attack to better carry your elixir. For example:
Arrows: counters Skeleton Army, Minions, Minion Horde, Bats, and others.
Ball of fire: counters the same from Arrows and stronger units.
Trunk: Counters same ground units as Arrows, Princess, Wizard and more
And so on with all the other available cards that appear for the election.
Think of a balanced deck
Be very careful when choosing letters that we recommend in the previous advice They are good and they will help you build a good deck, but it is useless for you to choose them if you do not maintain a balanced elixir average. Always keep this in mind, equip strong troops, counterattacks, spells, and so on in the most balanced way possible, and in this way, you will get more chances of winning the Choice Challenge.
Be careful when choosing
Being aware of the elixir is not enough, you should also be careful about the cards you are giving to your opponent, if you see that your choice is beneficial to him, select another card to prevent him from building a good deck and win you In the same way, with this tactic you have to be careful because it is not good that your decisions negatively influence your choice.
use the defensive
The Choice Challenge is very unpredictable, you have to know your enemy's movements first to know how to respond. For this reason, it is better stay defensive and wait for the enemy to always strike the first blow. Although it may not seem like it, this will give you an advantage over the game because you can find out what cards your opponent has and what tactics they are thinking.
Take the enemy by surprise
Sometimes you're going to be unlucky when building your deck, and things can get messy when you're in the middle of a game. When this happens, try drastically change your strategy, one of the most effective is to distract the enemy on the other side while trying to take down a specific tower.
If you don't win, don't give yourself a bad life, the Choice Challenge is a difficult mode, but little by little you will be using these tricks to improve your experience. Similarly, we recommend you see the best Clash Royale tips to win in any mode.
How to stop the PEKKA in Clash Royale
Related Guides
Subscribe to Disney+ for only €8.99! to subscribe
3 months of Amazon Audible FREE! Access over 90,000 original audiobooks and podcasts get them here