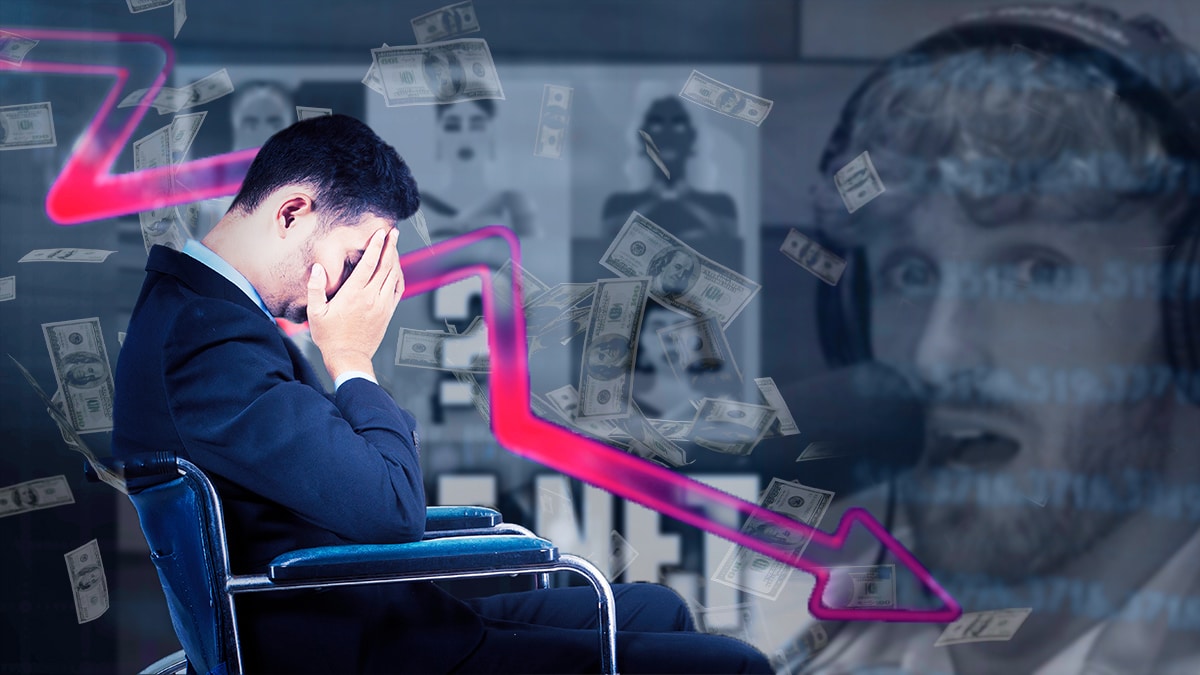 Key facts:
Dallas Liam claims to have been deceived by well-known internet personalities.

Real or not, the story warns about the importance of investigating before investing.
"I invested $750,000 in influencer-recommended non-fungible token (NFT) projects and lost 95% of my money." With this crude story, Dallas Liam assures that he has been deceived by following investment advice on the Internet that, in reality, was disguised advertising.
Dallas Liam is a Twitter user who says he lives in Texas, United States, and makes a living from investing in the purchase of private prisons. Nevertheless, there are those who question his identity and they assure that it is an invented character who makes false posts on various social networks and even uses a photo created with artificial intelligence.
Beyond this suspicion about the veracity of the story, the case serves as a trigger to talk about situations that could well be real and affect many people. Effectively, there are influencers and celebrities who openly recommend projects that are considered scams or Ponzi schemes by experts in the field.
In its publication, the user in question ensures that he had not realized that the recommendations of the famous personalities of the web that he was following were paid advertisements. "After losing my money, I realized that 90% of these influencers received money to tweet and talk about these projects. None of them clarified that they were advertisements! », She wrote.
Later, he stated that will initiate legal action against these influencerswhom at first he did not want to identify "on the recommendation of his lawyers," according to his account.
In his message, the American investor invited all the people affected by this kind of ads to join the lawsuit in social networks. "If you promoted NFT projects in the past few years, your name will be on this lawsuit," she warned.
He also added that "an OpenSea guy" went to prison for insider trading, referring to a former Ethereum NFT marketplace employee who was jailed for taking advantage of his position to trade insider NFTs. "These influencers could sit in the same cell," says the alleged victim of these covert advertisements, of which he did not specify content, date or any other detail.
Logan Paul and another influencer, the targeted
On Friday, June 24, Dallas Liam appears to have regretted keeping the secret and tagged two of the influencers allegedly involved. One of them is the renowned youtuber Logan Paulwho on his Twitter account —with more than 6.4 million followers— presents himself as the creator and co-founder of the OriginalsDAO and Liquid Market PL projects, both related to NFTs.
A few days ago Liam had commented one of Paul's posts promoting one of his ventures. "I lost everything with the NFTs you promoted," he told her.
The other targeted in Liam's posts is the influencer Hello I'm Morgan, founder and host of the Twitter Space OnChainTV, which deals with issues related to the world of cryptocurrencies. In her presentation on that social network, Morgan clarifies that her publications are NFA (that is, they are not financial advice) and not promotional, which contradicts the versions of the alleged complainant.
Do not trust, always verify
Two of the mottos of the world of cryptocurrencies, "Don't trust, verify" ("do not trust, verify") and "Do your own research" ("do your own research"), are not in vain. Especially when it comes to investment advice, We must know that there are many scams going around the internet.
Most influencers are people who have become famous for things that have nothing to do with the world of cryptocurrencies. Therefore, their advice should be taken with great caution.
This "business" has grown so much throughout the world that there are even international organizations that recommend to the authorities of the countries monitor and regulate these advertisements on networksas reported by CriptoNoticias.