The usual thing is sometimes what always works and this is the case of the utensil that concerns us today, the cast iron pots now better known as cocottes (pot in French) or also, Dutch oven, thanks to firms that have put it back at the top of the wishlist of kitchens such as Le Creuset.
The success of this type of pans It is based on the fact that its design, elaborated in the traditional way, resists the passage of time, that is why, although it is an important investment, it is worth it if your grandchildren will inherit it; Furthermore, they are perfect for preparing traditional stews as they resist high temperatures and distribute heat evenly.
In Amazon we can find several examples of this type of pot not only from the popular French brand that we mentioned before, but also from others such as Staub, also very well known in this field; These are some of our favorites:
AMAZON GO We visit the store of the FUTURE
Le Creuset Evolution
The first of our options comes from Le Ceuset, a round cast iron pot for preparing stews, meats or vegetables, which can also be used to make soups and even bake bread. The traditional design includes two handles to hold it and one on the lid to lift it.
The interior has a clear enamel and is dishwasher safe. The pot itself has a Caribbean blue hue and up to a 30-year warranty. We find it for sale on Amazon where it has an average rating of 4.7 stars for 226 euros.
Le Creuset Cocotte Evolution in cast iron with lid, Ø 24 cm, Round, All heat sources incl. induction, 4.2 l, Caribbean Blue
Staub
The second most popular brand in the manufacture of this type of pots is Staub and on Amazon we find this model in matt enamelled cast iron with a capacity of 3.8 liters that is suitable for all types of cookers (including induction).
The design available in various colors to choose from, has two handles on the sides and one on the lid, capable of resisting temperatures that reach up to 250ºC. The brand also promises us energy savings thanks to the high temperature conservation of the pot for longer. We found it on Amazon today for 219 176.21 euros.
Staub Cocotte Round Pot, Cast Iron, Matte Black, 24 cm
Lätt Home
With a design in pastel tones like this light blue color we have this enameled cast iron pot from Lät Home, a proposal that adapts to all types of kitchens and that promises even heat distribution, thus saving energy.
In addition, the lid comes with a rain effect that makes the condensation produced when cooking fall back in the form of drops on the preparation, enhancing the flavor of it. It is also one of the cheapest options and we find it on Amazon from 44.95 euros.
Lätt Home Cocotte Cast Iron (Sky Blue, 22 cm)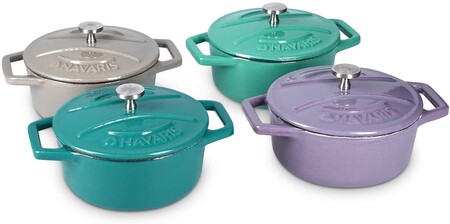 If you want to surprise your guests by serving delicious casseroles in enameled cast iron mini pots for individual use, take a look at this four-pack from Navaris.
A color pack with 10.5-centimeter pans that we can put in the oven or in any type of kitchen since they support a temperature of up to 260ºC. In addition, once used we can clean them in the dishwasher. We find them today on Amazon for 54.99 46.99 euros (the set of four in total).
Navaris 4X Cast Iron Cocotte – Mini 10.5 CM Enamel Casserole with Lid – Dishwasher Safe Pans Set Oven – Cap. 290 ML
Le Creuset Mini Cocotte Set
With the same idea as the previous set but betting on the traditional house, that is, Le Creuset, we have this set of four mini round cocottes of 200 ml each (with measures of 10×5 centimeters). Of course, in this case they are made of stoneware ceramics, so they are not suitable for direct fire but for oven, microwave and other non-direct heat sources.
As for the purpose of this pot, it is the same as the previous ones, preparing traditional stews with a correct and uniform heat distribution. It is a good option if we have to give a gift to a lover of the kitchen for only 56.81 euros.
Le Creuset Set of mini cocottes, 4 units, Round, 200 ml each, 10 x 5 cm, Stoneware ceramic, Volcanic
Shipping & Returns
Shipping on Amazon is free as long as your order reaches the minimum amount of 29 euros or you are subscribed to Prime (you can try it for free for a month)
Some of the links posted here are from affiliates. Despite this, none of the articles mentioned have been proposed by either the brands or the stores, their introduction being a unique decision of the team of editors.
Directly to the Palate | Dutch oven or cocotte, the casserole that every kitchen should have: how to choose it, how to take care of it and 23 recipes to release it
Directly to the Palate | We tested the cast iron HearthStone Cookware, made in Cantabria and with a lifetime guarantee