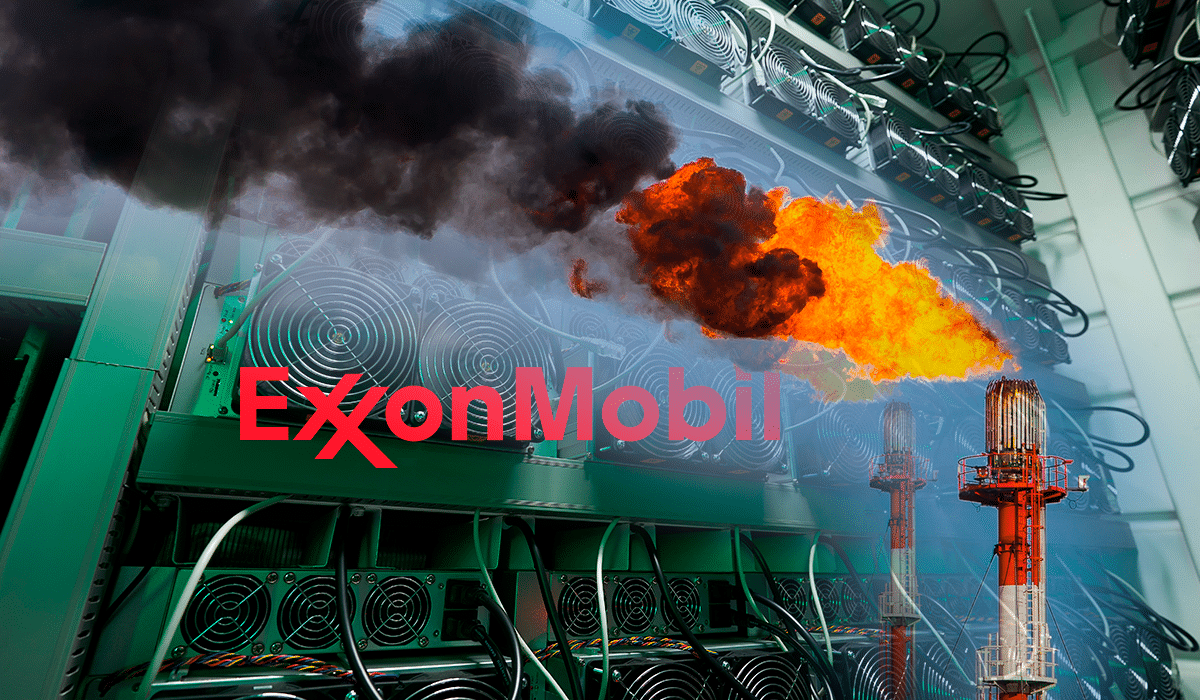 The American oil giant ExxonMobil is carrying out a program that is based on the use of surplus natural gas, produced in North Dakota oil wells, to feed Bitcoin (BTC) mining farms, in what is a pilot plan. that they propose to take to about four countries.
According to information from people familiar with the matter and who were subpoenaed by the agency BloombergExxon closed agreements with the energy firm Crusoe Energy Systems to take natural gas directly from an oil well platform, more precisely those that are located in the shale basins that are in the Bakken formation.
Bakken is a geological formation providing hydrocarbons, such as oil and gas, which is located underground. Much of the basin is in North Dakota and is one of the largest oil fields in the United States.
As they explained, this gas is used to feed, via energy, Bitcoin miners who use ASICs and who currently have a presence in that state of the United States. Interesting is that they use at least 18 million cubic feet of gas per month, which would have been wasted if they had not been taken to make money.
The use of these energy surpluses makes sense if one takes into account that shale oil produces a lot of gas that, in the end, is released into the air or burned, which pollutes the environment. This gas is generally composed of methane, an agent that does more damage to the atmosphere than carbon dioxide itself.
In addition, and in the face of constant pressure from regulators for oil and gas producers to minimize their carbon footprints, oil companies are seeking to reduce the amount of gas burned. This comes in handy for miners, who seek to invest in this fossil product to boost their activities.
Expansion to four countries
The pilot plan is already more than a year in the making. It started in January 2021 and was later expanded in July. Apparently, it has been successful and that is why there are ongoing talks to take the project to other latitudes, such as Nigeria, Argentina, Guyana and Germany, where ExxonMobil has a stake.
Alaska also appears, where Exxon also has a presence, and which would allow the project to spread even more in that North American country, which in the end could be replicated by other similar companies.
In fact, the agency points out that, in February, ConocoPhillips, another US oil company, reported that was supplying gas from the Bakken formation to a gas company bitcoin mining.
According to ExxonMobil Financial Communications Advisor Sarah Nordin, the company is constantly evaluating emerging technologies "aimed at reducing flaring volumes in our operations." She said this herself in an email to Bloomberg, without directly mentioning the pilot plan in question.
Surplus gas to feed farms: something old-fashioned
While using gas to fuel Bitcoin mining farms is important because ExxonMobil is part of that project, It is something that has already been seen in the United States and that CriptoNoticias has reported.
For example, in March 2021, the similar project installed in the city of Casper, in Wyoming, United States, was reviewed. There, the company Highwire Energy Partners used the excess natural gas to power a Bitcoin mining operation. In addition, it used the surplus to supply facilities and other equipment that was not being used for mining.
Similar situations arose in Texas, in the southern United States. As published in this newspaper in September 2021, several operators met to explore the benefits of this state, which has significant potential to mine Bitcoin with clean energy.
In that place, there are also oil wells that expel natural gas in excess and that can be taken by miners to operate and make money with a resource that is wastedwhile caring for the environment.
The fact that ExxonMobil joins the movement and uses surpluses to provide energy to mining farms, suggests that, in effect, mining activity is taking shape in the United States as an industry. Apparently, the right steps are being taken so that mining continues to develop in that country, through a combination of industries with considerable potential.