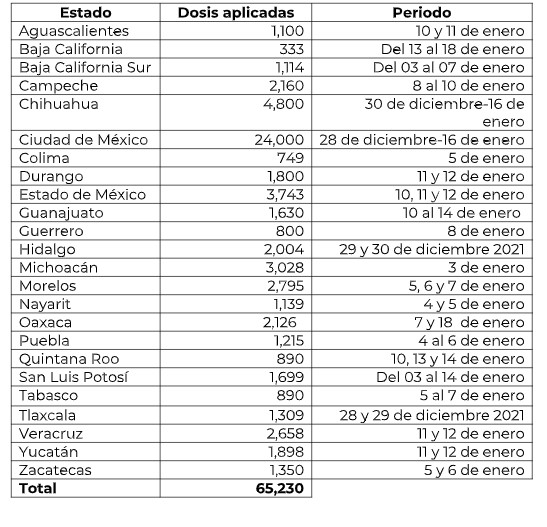 It was just over a year ago when vaccination against Covid-19 began in our country. The first to have the possibility of obtaining this protection against the disease were the health professionals. The decision was made because of the risk they face every day when carrying out their work. That is why it was also authorized that medical personnel have priority for the booster dose. So far those who have started this process have been the Institute of Security and Social Services for State Workers (ISSSTE) and the Mexican Institute of Social Security (IMSS).
Those who have already received
In the case of the first institution, on December 28, 2021, the campaign began with hospitals in Mexico City. Since then, some hospitals from other entities have been added. As a result, so far around 65 thousand workers have already obtained the biological. Although the truth is that there are still many who are on the waiting list.
Due to the above, the general director, Pedro Zenteno Santaella, announced that the immunization campaign will be resumed to protect all medical personnel. In all cases, the AstraZeneca vaccine has been applied and will continue to do so.
"For the institute, it is a priority that all administrative, medical and nursing staff, as well as those who provide care to the pandemic in clinics and hospitals, are protected and in a position to ensure the right to health of all people."
The official thanked the Correcaminos brigades made up of Servants of the Nation from the Ministry of Welfare, as well as elements from the Ministry of National Defense (Sedena), the Secretary of the Navy (Semar) and the National Guard for their support in continuing the process carried out with order and respect for sanitary measures.
He indicated that the vaccine avoids the risk of serious illness or death from COVID-19. He invited the entire population to apply the corresponding reinforcement. At the moment only those over 60 years of age have received it and now it is the turn of people between 50 and 59 years of age.
"We are at a crucial moment to prevent the spread of the virus on a larger scale. Therefore, it is necessary to maximize the use of face masks, avoid crowds and practice constant hand washing.
Those who remain to receive the third injection
Vaccination sessions for Issste health and administrative personnel in the entities are carried out based on the schedule established in different locations. This allows meeting the goals in each of them. The reinforcement application against Covid-19 will continue for the next few days to protect those who, for some reason, have not yet received the biological.
For now, below we share the report with the 65 thousand 230 doses that have been applied from the booster dose to ISSSTE medical personnel. While the calendar also appears with the dates by state for workers who have yet to receive the third injection.