Although Microsoft has already announced with hype and saucer how its new Xbox looks – as well as some of its specifications -, Sony has been more hermetic, because it has only shared certain details of the PlayStation 5 (such as those you can see in the video of below), but so far we do not know the appearance of the console.
But it seems that Sony has already scheduled a date to present to the world its next-generation console, or at least that was what David Jaffe communicated , better placed for being the creator of God of War and the director of Twisted Metal .
It all started when Jaffe shared a video of himself on Twitter explaining why not going to E3 is a great Sony decision . The creative accompanied the tweet with the text "I know you love E3. Hell, I used to love him too. But come on, friend: if you're really honest with you, you know that Sony's absence in E3 is the best for PlayStation . Acceptance is the first step to healing. You'll thank me later . "
That tweet was answered by a user who said "I really don't know if it's good or bad, but my problem is that it would be nice if, in addition to saying it won't be (Sony), at least announce something else to keep an eye on , because for me Microsoft is dominating the conversation of the next generation . "
https://twitter.com/davidscottjaffe/status/1217784681652842496
Jaffe responded to the user by telling him that the revelation of the PlayStation 5 will be in less than four weeks and that Microsoft's domain in the conversation is easy to change.
" The revelation of the PS5 will be in less than four weeks . Sony knows that hardcore gamers are subject to every piece of information and knows that although Microsoft dominates the conversation at the moment, that is easy to change when it is ready to reveal (assuming the revelation will be good), " reads the answer .
I don't know if it's good or bad honestly, but my problem with it is that it would have been nice when confirming they are not going to at least also announce something else to look for, my PERSONAL take is right Now Microsoft is dominating the next gen conversation

— Hoy Te Hablo De ❤️💙💚💛 (@hoytehablode) January 16, 2020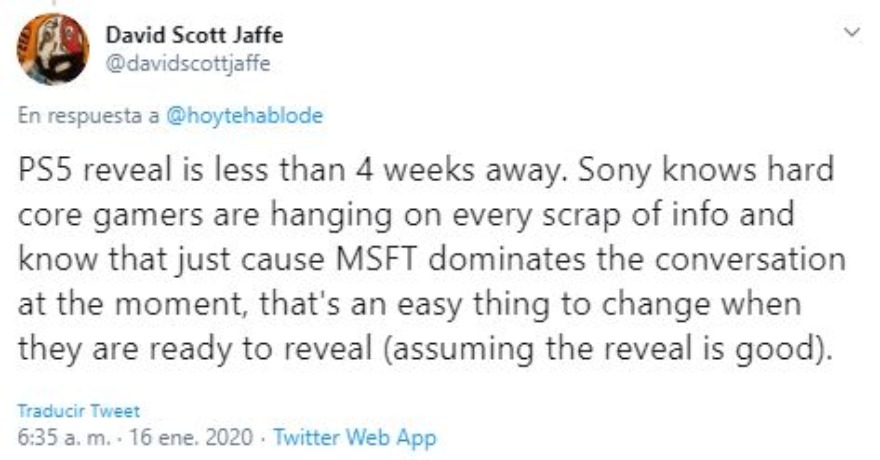 Jaffe's words are spliced ​​with several suspicions that Sony will officially present the PlayStation 5 on February 12 . We'll see if those rumors are true.