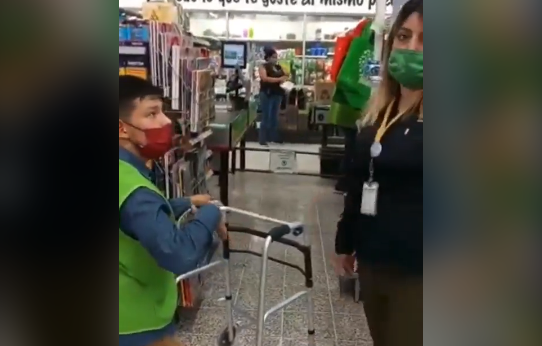 Bodega Aurrerá won the palms of consumers by sharing a video that is committed to inclusion.

Bodega Aurrerá is one of the most important retail chains in Mexico.

The video has already been seen through different platforms and has shown the importance of working with equal rights.
A video shared by internet users has gone around because it shows a new step for Bodega Aurrerá in favor of inclusion.
The work, according to the position of the company, should not discriminate against anyone due to their conditions or influence the final choice when hiring a worker.
However, some users have called this action exploited so that the company "looks good" with Internet users.
Bodega Aurrerá takes the cake and is committed to inclusion
A video that has already been able to go through the accounts of different users and that has been shared on LinkedIn has shown the commitment with which Bodega Aurrerá has taken the cake.
This shows how a differently abled employee named Gerardo begins his first day of work in the cash register area for the company.
said video has managed to be shared and applauded by users of the work social network, this because it has been considered an act of true change in favor of inclusion and respect.
The new worker of the company goes to his job, demonstrating that there should be no barrier that prevents workers from being employed in companies or in any other job.
In fact, according to specialized data provided by the organization Zero Impunityin Mexico, only 39.1 percent of people with disabilities have a stable job, however, they earn 33.5 percent less than the rest performing the same function.
However, and although a large number of comments are positive, some considered that this was just another attempt to exhibit a case in which people, far from feeling empathy and identification, feel pity, for which they advised "get more information and understand what is a 'true inclusion'".
These are some of the comments that have been read about it:
"Great post, we need more #inclusionAnd we all deserve a chance. very good for #walmart and Gerard. Thanks for sharing",

"Exhibition is not inclusion. Inclusion is making a person feel totally normal and having the conditions to develop, not an exhibition where what is sought is that the company looks good. We have to inform ourselves and really be inclusive, if that is really what we are looking for", Uriel Campoy

"Gerardo, you inspire us! This is #inclusion! It's My #Walmart! That pride!", Gloria Rodriguez Natareno

"Good job, congratulations, there is no disability that stops those who want to, as a company opportunities must be generated, planned and validated to understand the type of disability and offer the correct position according to it", Rafael Velazquez Garcia

"Not at all, they only do it to make people feel sorry for them and for the media to see. I'm telling you from experience, I was fired for having a disability at Sam's corporate. The inclusion policy is rubbish." Erik Tavira Garcia
And what do you think about this? Do you think it is a success of the company or not?
Now read:
He goes to Bodega Aurrerá for some pants and discovers that "he was shopping at Gucci"
He accuses the employee of Bodega Aurrerá of discrimination and thus exhibits her on Twitter
"We are not a wholesale store": CM from Bodega Aurrerá saves the brand amid egg shortages
Bodega Aurrerá improves its offer and already sells Michael Kors, Coach and Cartier