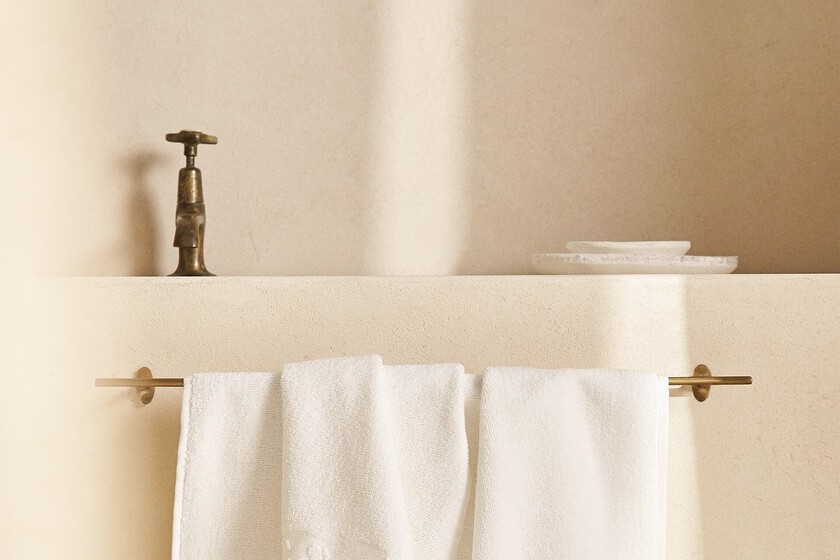 That the great and dazzling editorials of Zara Home do not blind us and prevent us from being attentive to the Special Prices section. A premise that we follow closely in Decoesfera so as not to lose sight of the permanent sales section of Zara Home.
A section that quickly changes content and we never know based on what criteria apply one or another furniture or accessories. The normal thing would be to think that the basics of the home will not enjoy these discounts. However, from time to time they surprise us (-as on this occasion-), with discounts on towel sets, home perfumes and wicker baskets. One of those that never have enough to keep cabinets and shelves always tidy.
At home with Juana Pepa @madamejuanapepa
In addition to these basics, among the pieces with discounts are a precious white minimalist flexo, the black umbrella stand (it is a beautiful and practical piece) or the towel bench. A very versatile piece that will work well in dressing rooms, bedrooms or large bathrooms.
The best basics for the home from Zara Home with Special Prices
This oval basket with natural fiber is ideal for storing the blanket, the sofa cushions, or the bed when going to sleep. Of 60 cm in diameter, its normal price is €99.99 and now for 74.99 euros
Baskets with handles in natural color made with banana leaf. In two sizes, the small goes from €59.99 at 44.99 euros and the large one (in the form of an ideal tray for clean clothes) from 79.99 now 59.99 euros.
Available in three sizes, these boxes are perfect for shelves or open shelving. With a lid and metal structure, it is covered with resistant paper, they have a rectangular base with an inner linen and cotton fabric. Its inner cover is removable and washable. Of 17, 20 or 23 cm on each side, their prices used to range between €7.99 – €12.99 and now 5.99 euros and 9.74 euros
Only Zara Home could make leopard print something elegant. Cotton towel with leopard animal print jacquard design in soft tones. They are only available in sink and vanity size. prices before €3.99 – €7.99 and now 2.99 euros and 5.99 euros
Cotton towel with contrasting linen border detail available in all sizes (bathroom 90 x 150 cm, sink 50 x 90 cm and dressing table 30 x 50 cm) and prices before €5.99 and now €4.49; before €12.99 and now €9.74 and before €29.99 and now €22.49
In white, the solid color cotton towel set with matching border and floral jacquard detail. Available in three sizes (bathroom, sink and vanity) with prices between €3.99 – €22.99 and now 2.99 euros and 17.24 euros
Poppy Fields Flavors. A scent that is created from the fresh notes of bergamot and the spicy touch provided by pink pepper. The heart of the fragrance offers a magnificent aroma captured by the essence of rose and ylang ylang. The roundness of the vanilla and the powdery notes provide a timeless sensuality. 185 ml, diffuser sticks before €25.99 and now 19.49 euros; the 85 ml diffuser before €17.99 and now 13.49 euros and the aromatic candle of 260 grams before €12.99 and now 9.74 euros
The warmth and smoky touch of patchouli give rise to the Oriente Light fragrance inspired by the farthest East. His notes invite calm, relaxation and disconnection. In diffuser format and 185 ml price before €25.99 and now 19.49 euros; the 400 gr candle price before €17.99 and now €13.49; and the 200 gram candle price before €12.99 and now €9.74
Spray diffuser to easily scent any room quickly with Pure Gardenia aroma that includes olfactory notes of gardenia, tuberose, orange blossom 200 ml normal price €17.99 and now 13.49 euros
The most special pieces of Zara Home with Special Prices
The best expression of minimalism in this metal lamp with a rubberized finish and LED bulb. normal price of €79.99 and now 59.99 euros
The design of this black iron umbrella stand will add strength to any entrance, but its small size (30 cm high by 45 cm and 15 cm) is also perfect for inside cabinets. price before €59.99 and now 44.99 euros
For the entrance, the dressing room, the bathroom or the bedroom, the towel rail chair with a natural-colored ash wood structure is functional and elegant. In the different heights of the backrest you can hang towels, the next day's clothes. Normal price €159.00 and now 119.25 euros
In Decosphere | Furnish your terrace or garden by taking advantage of these discounts on outdoor sets, sun loungers, parasols, terrace protectors…
Zara Home's Special Prices or a good opportunity to renew home textiles