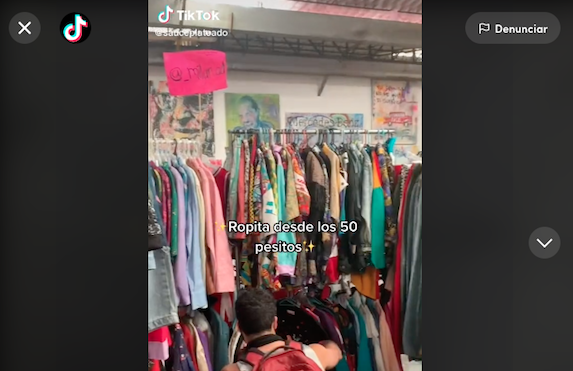 How much can you spend in alternative bazaars? A tiktoker gives an idea of ​​the prices that are around in these spaces.

In her video, the content creator visits one of the bazaars that take place in Colonia Roma, in CDMX.

In a previous video, the same tiktoker reveals how much you can spend buying clothes at the bale stalls of the tianguis.
A video posted on TikTok is displayed, on average, how much can a person spend in the alternative bazaars of Colonia Roma, in CDMX.
In recent years, the trend of alternative bazaars has been positioning itself in the taste of consumers who are increasingly looking for new forms of consumption that are more responsible with the environment.
The second-hand market, to mention an example, has been showing a significant boom and popularity, where platforms such as Mercado Libre, eBay, Linio, among others, have been gaining more ground every day.
In fact, according to information released in the study Statista Global Consumer SurveyMexico is one of the countries that has most opted for this purchasing model, only below the United States, since, as revealed by said report, 50 percent of the people who were surveyed stated that they had purchased at least least one second-hand item in the last year.
On the other hand, a survey carried out between March and April of last year, detailed that 42 percent of the so-called Generation Z population (ages 18-24) and Millennials (ages 25-37) He claimed to have made purchases of second-hand clothing, footwear and other accessories during 2020.
Today, in addition to the well-known marketplaces, one of the ways to find this type of item is through the so-called alternative bazaars, which have been well received by consumers for years.
This is how the alternative bazaars are in Colonia Roma, in CDMX
Mexico City is, right now, one of the places where this type of merchandise moves the most and that is what a tiktoker tries to demonstrate in one of her most recent videos, in which she shares her experience visiting the bazaars of the Colonia Roma, in the capital of the country.
His video barely exceeds 20 seconds in length, but in it he reveals a little about the prices that are around in these places, which, in general, are open to the public.
"Clothes from 50 pesos"; "little sweaters from 200 pesos"; "jeans from 300 pesos", in addition to live music and other offers is part of what is inhabited in this type of spaceaccording to what said content creator reveals.
Although it is true that these types of initiatives have become more popular today, the reality is that it is a practice that has been carried out for several years, therefore, in the end, the consumer seeks, above all, the best prices.
Similarly, these are times when the consumer is looking for different shopping experiences, especially those that cause so much damage to the environment, reducing the amount of waste and promoting the development of the circular economy, thus allowing other people recover a part of the value of their used goods before disposing of them.
Even the same tiktoker reveals how much was spent going to the flea market clothesgenerating a conversation that shows how this type of purchasing practice belongs to a generation of consumers who, above all, seek not to waste.
Now read: