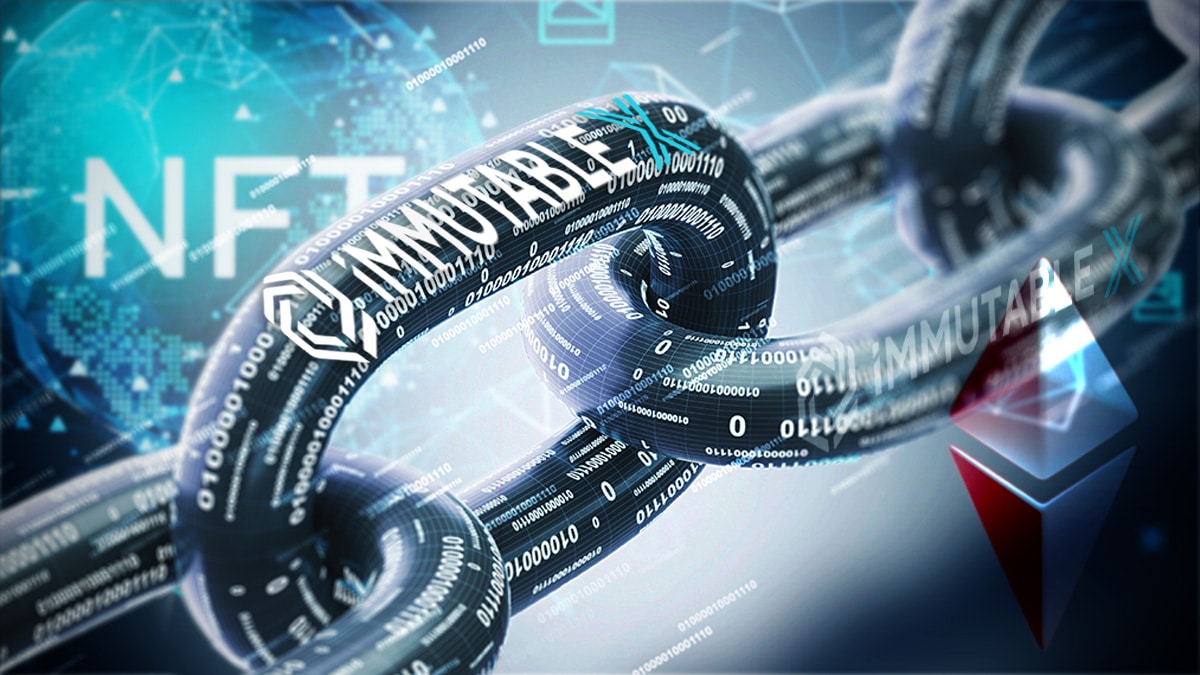 The second layer solutions in the Ethereum network represent a solution, at least partial, to the problems of network scalability. Thanks to them, it is possible to avoid the "flight" of assets such as non-fungible tokens (NFT) to other networks, scared away by the high fees and congestion in Ethereum.
For users, L2 or second layer solutions bring the advantage of paying less commissions when operating and doing so with greater speed, even in decentralized finance (DeFi) protocols or when using non-fungible tokens.
An example of this type of solution is ImmutableX, a roll-up ZK-type (zero knowledge or "zero knowledge") decentralized and "high speed" for the creation and trading of non-fungible tokens.
As the developer company Immutable itself explained in a release in 2021, its main goal is to promote the mass adoption of NFT offering the possibility to mint and trade these tokens peer-to-peer without gas costs, that is, the commissions of the Ethereum network. In addition, seeking to allow instant transactions without compromising user security was another objective.
All this without leaving the Ethereum ecosystem and the advantages offered by your network, especially in terms of security, development and scalability. like themselves explain on their website, they consider Ethereum "the network that best represents the philosophy of decentralized and non-trust-based asset ownership."
What exactly is ImmutableX?
To comply with these premises, Immutable developed a ZK rollup together with the Ethereum scalability solutions company StarkWare, but with some peculiarities. Among these, it stands out that the user is given the option to choose this ZK rollup or another test called Validium.
The rollup "wraps" transactions to then deposit them in the main layer of Ethereum all together. The fact that it is of type ZK —and not optimistic, the other category of rollup— implies that cryptographic operations must be carried out to verify the validity of the information they contain.
Meanwhile, as explains Matter Labs in his blog, Validium is a scalability solution that also uses this method to verify transactions, but with the difference that it is not "zero knowledge", but the information is stored off chain, that is, outside the chain. Thus, it remains available in case it is necessary to consult it.
On the other hand, ImmutableX proposes "a simple user experience for self-custody for developers and consumers". Regarding developers, they could find here a friendly environment to build tools that would be very difficult in the Ethereum mainnet due to the costs involved, such as free distributions of tokens and rewards, mergers, voting, auctions, among others. .
The alpha version of this solution was published on Ethereum Layer 1 on April 8, 2021. At the time, ImmutableX co-founder and president Robbie Ferguson said that prior to this solution, "developers had few alternatives" and had to move to other blockchains or side blockchains (sidechains).
In this way, Polygon is one of the preferred sidechains to avoid the operational complexities of Ethereum, as reported by CriptoNoticias. Although this network offers more speed and lower costs for transactions, it does not have the security that Ethereum does provide. Even so, this network has achieved the milestone of having more active addresses than Ethereum on several occasions since September 2021, as can be seen in the data explorers of polygonal and ethereum.
However, as explained before, ImmutableX's intention was never to abandon Ethereum, but to develop solutions on this blockchain that allow it to overcome its limitations.
Other features of ImmutableX
NFT related transactions can be done instantly on ImmutableXdetails the developer company, thanks to the ability to carry out more than 9,000 transactions per second offered by the rollup.
The storage model for crypto assets proposed by ImmutableX is self-custody. This means that it is the user himself who keeps the private keys to access them, without the company keeping any data.
Another of the peculiarities of ImmutableX, according to its Official site, is the fact that it is "completely carbon neutral". This statement is based on the fact that you buy credits to compensate for the gas (energy) that is consumed.
ImmutableX and an auspicious financing round for your future
Although it takes some time to develop, the name ImmutableX resonated days ago. On March 7, the Australian company Immutable, developer of ImmutableX, ad raised $2.5 billion in a funding round spearheaded by the Singaporean firm Temasek. In addition, other investors such as Mirae Asset, ParaFi Capital, Declaration Partners and Tencent Holdings also contributed to the financing for the development of the project.
ImmutableX's roadmap includes a first phase in which players of the Play-to-Earn Gods Unchained video game will have access to the marketplace to exchange and trade NFTs. Other firms, such as video game retailer GameStop, they have associated with ImmutableX to leverage their platform to trade NFTs.
In the later stages of this roadmap, detailed Robbie Ferguson, integration with other exchanges and decentralized applications (Dapps), metaverses and multiverses will be included.