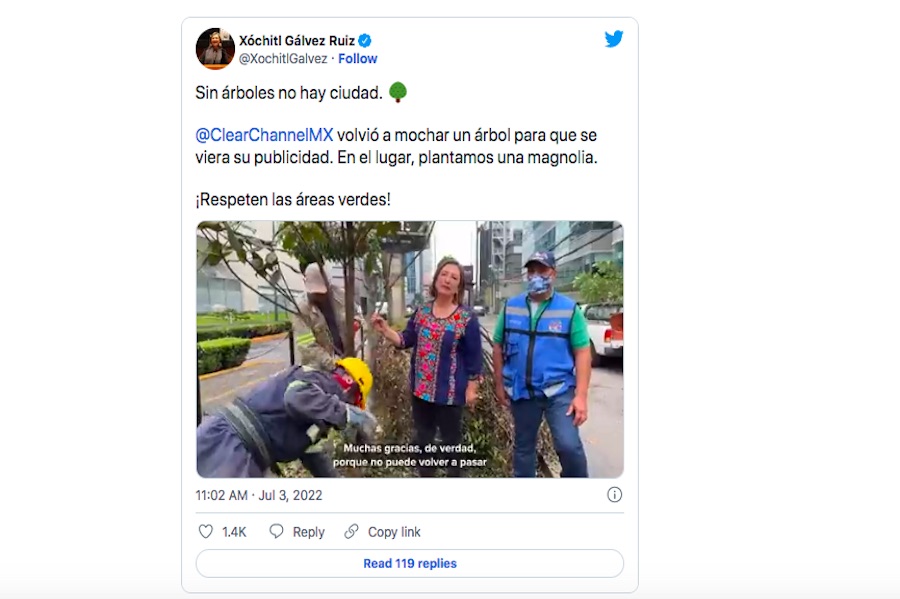 Xóchitl Gálvez is a well-known PAN official who recently announced that she would seek to be a candidate for head of government.

The measure undertaken by Xóchitl Gálvez achieved what a common citizen cannot respond to deforestation with a plant that is hardly allowed to be planted in public green areas.

The incident denounced by Xóchitl Gálvez occurs this Sunday, when there is little pedestrian traffic in the area where the tree was planted.
Xochitl Galvez demonstrated a very important point this Sunday, when he showed how he planted a magnolia, as an activism against the pruning of trees of which he accused ClearChannelto show off a mupi that Miguel Hidalgo installed in the mayor's office.
The senator's point is that the leading agencies of the outdoor advertising industry are not here to confront bad practices, on the contrary, they have the obligation to strengthen themselves in the face of new regulations and instead of being exhibited for trimming trees, do activism where operate, to consolidate their advertising spaces.
Without trees there is no city. 🌳@ClearChannelMX He cut down a tree again so that his advertising could be seen. On the spot, we planted a magnolia.

Respect the green areas! pic.twitter.com/7ri9c1zcMd

– Xochitl Gálvez Ruiz (@XochitlGalvez) July 3, 2022
The bad practices attributed to outdoor advertising agencies in Mexico leave a terrible precedent for the actors of this medium, while they face extra regulation with new policies imposed on their activity.
Outdoor advertising continues to be a relevant channel in the country for the guidelines that brands think in this segment, demonstrating the effectiveness with which they continue to trigger the creativity of brands.
In a esteemed Magnablogal It is noted that the OOH in Mexico is the third advertising medium to increase the investment entrusted to it and to achieve this in the middle of 2021, where digital leads as a promise of sales for businesses, it really is a good time to avoid bad practices that added to a Excessive regulation will be counterproductive.
Within the study, the estimates of growth in investment were in 26 percent for the digital medium, 25 percent for advertising in movie theaters and 17 percent for the OOH.
OOH WITH PURPOSE
The outdoor advertising agencies and media that manage these spaces have a very important task and that is to adapt to overregulation, with policies such as the one recently presented in the Mexico City congress and respond with activism, as we have advanced in the previous paragraph. .
There are very important cases of how outdoor advertising becomes an environmental activist with its outdoor furniture. We saw the case with the Mediabrands Rapport agency, when it activated the initiative Rapport Beyondwhich consists of covering your outdoor advertisements with a layer of Titanium Dioxide, so that this chemical compound removes elements such as carbon emissions in the places where they are installed.
This proves that there are creative solutions that can alternate a practice like trimming a tree so that a mupi is visible. You can bet on sustainability with new furniture and even formulas that cover advertisements, without the need for more technology than covering canvases or activations with chemicals that purify the air.
Now read: