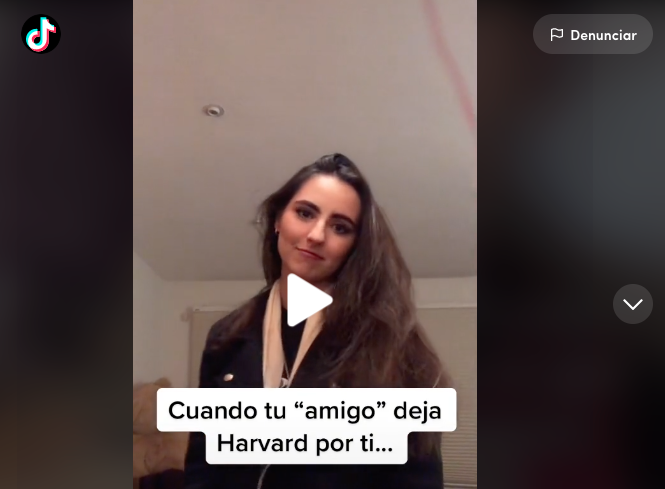 Yesterday the video of a tiktoker went viral where he tells that he dropped out of Harvard for the love of a woman; today, she has appeared to tell her version.
We cannot deny that, today, social networks have great functionality for ordinary users. We are not referring, for now, to those Internet users who make a living by making content on their platforms, but to those who use their networks as an instrument to meet people or to share their stories.
And it is that, in that sense, social networks have a particular ingredient, which is the fact that everything that is shared can remain registered forever; Some say that "the internet is not written in pencil, it is written in ink", and social networks are a clear example of this.
Every day, stories are uploaded that, in one way or another, manage to capture the attention of thousands or millions of users; love stories, dramatic, sad, etcetera. Many of them go viral and, in general, tend to generate an interesting thread of conversations.
This is what happened yesterday with the story of a tiktoker who, through a video, made known his decision to abandon his studies at Harvard for the love of a woman who, in the end, rejected him.
Of course, the video went viral and was filled with all kinds of comments, many of them questioning the tiktoker, because, on the one hand, it had taken him a lot of work to be accepted at Harvard and, on the other hand, the sacrifice they would have made his parents to send him to study at such an institution was nothing minor.
In addition, there were those who even questioned the veracity of the story, ensuring that it was a video to gain popularity and clicks.
Regardless of whether it was real or not, the truth is that every story has more than one version and, now, also on TikTok, the woman in question appeared, the one for whom the tiktoker, supposedly, left his studies at Harvard.
The response of the user @ daniaustin37, once again, went viral again, in addition to the fact that in the description of her video she wrote "without regrets" and some red flags, which, in the slang of social networks, are warning signs about a person who is classified as "toxic".
TikTok is, we know, one of the most popular social networks of the moment, the favorite of Generation Z and, without a doubt, one of the fastest growing during the pandemic.
Today, the Chinese social network has added more than a billion users from around the world, an achievement that it achieved in just five years since its foundation and, as if this were not enough, its numbers continue to increase.
For brands and content creators, TikTok has become a great platform to make themselves known, thanks to the enormous reach that this social network has today.
That is why it is no longer surprising to see that every day an indiscriminate number of videos go viral, because, in that sense, TikTok has a much broader community and we could say that it is more open to receiving all kinds of content.
Now read: