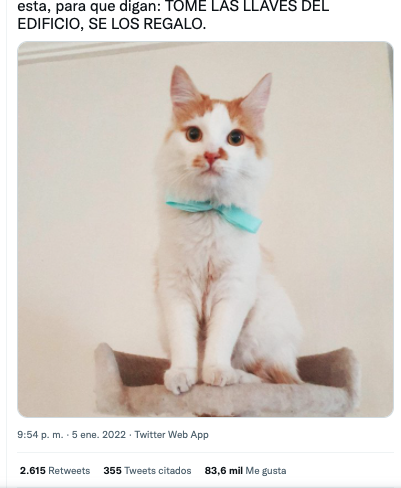 For many Mexicans, pets are another member of the family, but they carry a lot of responsibility when it comes to renting or buying a property. Before renting, it is essential to check with the landlord if they allow animals. Taking this as a premise, in recent days, a Twitter user commented that she saw an apartment that she loved, but the landlords do not accept pets and to convince them, the real estate agent asked her for a photograph of her "michi".
Landlords have the right to prohibit pets in the rental as long as it is stated in the contract, but if you are a tenant and there are no specifications in the contract, by law a pet can be brought into the house.
But, in this story, the landlords had specified to the real estate agent that they did not want pets, but the Twitter user, Abril Romero, considered that asking for permission would be an option so that they would let her live in that house with her kitten, which she carries for name "Phosphorus".
The complicated thing about finding a space to live with pets
April's story shows that finding an ideal space to rent is not easy, especially if you have a pet.
Today, pets have gained great ground as part of Mexican families, a Mudafy report ensures that a pet lives in 7 out of 10 households and with the millennial generation, the trend is accentuated.
For the choice of space, it is necessary to consider whether the space is suitable for the animal and that the property adapts to the lifestyle and needs of both.
"If you are looking for a home and you have or plan to live with a pet, it is necessary to consider these characteristics so that the property becomes the ideal home for all inhabitants," Mudafy points out.
And in the case of cats they do not usually demand a large space and their activities are focused on sleeping, climbing and sharpening their claws; and they are tidy and clean in their toilet, highlights the real estate agency.
Convince landlords with a photo of a "michi"; a happy ending
Through Twitter, the user Abril Romero published that she saw an apartment that she loved, but they did not accept pets.
"The real estate agency asked me for a photo of the kitten, to see if it convinces the landlords and send it to me so they can tell me: TAKE THE KEYS TO THE BUILDING, I WILL GIVE THEM A GIFT", he comments in a tweet and adds a photograph of his kitten "Fósforo" .
I saw an apartment for rent that I loved, but they do not accept pets. The real estate agent asked me for a photo of the kitten, to see if it convinces the tenants and I sent this one, so that they say: TAKE THE KEYS TO THE BUILDING, I WILL GIVE THEM TO YOU. pic.twitter.com/9YTeHp5Vh9

– April Romero (@romerodeabril) January 6, 2022
The story went viral on the social network and gave rise to multiple responses from debates about how animals are considered in the civil code, criticism of landlords, pets, and users sharing photos of their faithful companions – dogs and cats.
Regarding the fact that the landlords did not want to accept pets, the Industrial Engineer and author of the book BRILAB Inspection System, Rudy Francisco Puyosa, said in response to the thread of tweets that "it is a normal policy, like any other that can be established: Couple without children, student, man / woman alone. In the end, each owner has in mind the type of use or user of the home".
Yesterday, Abril Romero posted on his Twitter account that Fósforo managed to win the hearts of the landlords and would sign the contract. Now, all that remains is to fulfill her obligations as a tenant and in the event that her "michi" causes any damage, she must always pay for repair and maintenance damages.
See more: