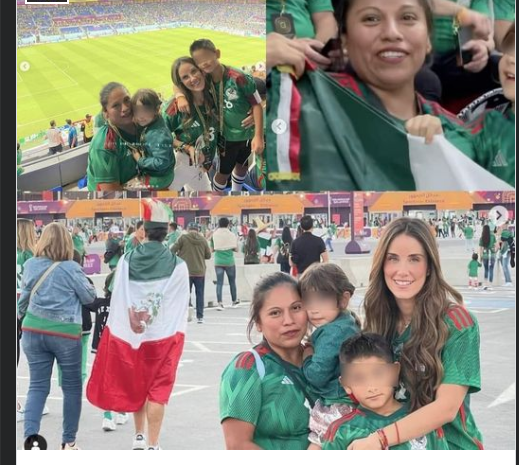 It is estimated that within Mexico City there are just over 369 thousand 310 people who are dedicated to paid domestic work.

It is estimated that only in the Capital there are more than 337 thousand 167 women working as domestic employees.

Although there is the job of babysitting, domestic employees sometimes perform double duty.
Within the digital conversation, the wife of the Mexican player Andrés Guardado has become a trend, who, during his stay in Qatar, has shared some images in which he sees himself enjoying the World Cup party with his family and his maid, an act that has generated diverse reactions, since for many this situation has been classified as an act of "classism", while others Internet users have begun to defend Sandra de la Vega's act, because far from generating criticism, they point out what the Mexican couple did as a good gesture.
Within Mexico City, it is estimated that there are just over 369 thousand 310 people who are dedicated to paid domestic work, of which it is estimated that just over 32 thousand 143 are men and about 337 thousand 167 are women, this in accordance with what was indicated by the National Survey of Occupation and Employment for the fourth quarter carried out by the National Institute of Statistics and Geography (INEGI).
However, although the babysitting profession exists as such, many domestic workers perform the double function of caring for minors and at home, so for many these people become an important part of the day to day and your life in general.
Andrés Guardado's wife takes her nanny to the World Cup and generates debate
In the last few hours Sandra de la Vega, wife of Andrés Guardado, has become a trend in the digital conversationWell, for many, the fact that he attended the World Cup party in the company of his nanny is "an act of classism"; However, within the conversation generated on the networks, Internet users have come to their defense, considering that far from being a negative act, this is a show of affection for those who help them on a daily basis.
"Excellent gesture… It means that he is part of the family!!! And besides she sees the love that the children have for her, I see that they are having a hard time! Great human beings." Omar Renault

"Envy disguised as empathy with the girl "Mari" and "Mari" enjoying the World Cup with everything paid for and with people who appreciate her as a vdd".

Magaly Miranda Therapist

"I also want those jobs. That they pay you for the all-inclusive trip and that they pay you to take care of the children".

Karla Cano
As can be read, within some comments, Sandra is attentive to her employee, "because at no time is the woman being delegated or belittled, on the contrary, she is seen as part of the family" can be read in Some comments; However, this case is not the only one that has generated debate.because many Internet users have begun to negatively point out what happened hours ago when a group of Mexicans staged a pitched fight against a group of Argentine fans.
💥 THE CAMPAL BATTLE IS ARMED 🥊 MEXICANS 🇲🇽 AGAINST ARGENTINIANS 🇦🇷
A few days after the Mexico 🇲🇽 vs Argentina 🇦🇷 game, the spirits are starting to heat up…🔥 pic.twitter.com/bI8hwOPH6B

– Omar Niño News (@OmarNNoticias) November 23, 2022
It is thanks to the digital conversation that people can demonstrate their points of view, on issues that can sometimes go unnoticed, if it were not for the time that virality is given to them on social networks.
Now read:
"One Love" bracelets: this country urges its team to express itself in Qatar
Mexican and Argentine fans fight in the streets of Qatar
Mexican tries to bring binocular-shaped canteen into Qatar stadium
Japanese go viral for cleaning stadium after game against Germany in Qatar