Have you or the person you were with ever had a sudden, involuntary "night kick" while on the couch or in bed? It was a muscle spasm, and it is very common for it to occur in any muscle in the body. They are usually not a cause for concern, but in this article we explain why do these sudden contractions appear in the middle of the night or at any time of the day.
Why do muscle spasms appear?
Muscle spasms can occur in any muscle, although usually They usually occur in the extremities and abdomen. In the arms and legs is where it is most noticeable since when contracting we usually move that extremity. When it happens in a leg we can kick without reason, or a shake of the arm when it happens in this part.
Causes of muscle spasms
The main causes are muscle pain, fatigue and overuse of the affected muscles. It may be the case of the appearance of muscle spasms in the face caused by stress and anxiety. The back can also undergo these spasms due to nerve entrapment.
Not warming up well before physical exercise It is another of the most common causes that produce muscle spasms. The muscles should be under normal tension, so if we don't stretch regularly and that muscle is over-tensioned, muscle spasms will be more likely to appear.
In hot weather it is more common for muscle spasms to occur both due to temperature and humidity. dehydration caused by overheating.
When we do not recover electrolytes (mineral salts such as potassium, magnesium and calcium) it is also common for these muscle cramps to appear. Sustained standing and sitting positions are also causes of these spasms.
People more prone to muscle spasms
The athletes and sportsmen often have muscle spasms often because they meet several of the causes that produce these sudden contractions: fatigue, muscle pain and dehydration.
Special populations such as older adults, pregnant women and people with obesity They are also more likely to have muscle weakness. The main cause is its thermoregulation capacity, which increases the risk of dehydration and simulates stages of greater heat.
Should we worry about muscle spasms?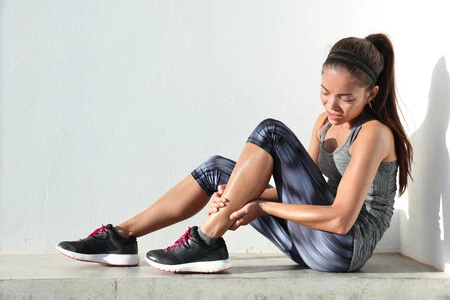 muscle spasms need not be a cause for concernbut in a few cases these sudden contractions may be due to a neurological issue that affects the part of the brain responsible for making muscles move.
It is not common, so if we are among the special population that increases the probability of suffering muscle spasms, or we have been training regularly, that will be the reason why that involuntary movement appears.
In the event that the muscle spasm is due to a condition of neurological health we can know because it will be accompanied by other symptoms such as: back, neck or head pain; muscular weakness; tremor and paralysis; poor coordination; double vision; slow movements and others that will require contacting a doctor.
What happens when a muscle spasm appears, how to prevent and treat them
Muscle spasms are a type of cramp that occurs when the muscle contracts involuntarily and uncontrollably. They may involve part or all of the muscle, or multiple muscle groups. In most cases they are mild contractions that pass without further ado, but in some cases they can cause intense pain.
How to prevent muscle spasms from appearing?
We must avoid everything that we have mentioned in the section on the causes that produce muscle spasm. An overwork of the muscles will cause fatigue and muscle pain, so we must stimulate the muscles without overdoing it.
Warm up well before training or sports event to prepare the muscles well. Hydrate properly before, during and after training, especially in hotter weather. In addition to water, consume electrolytes if your resistance training is long.
Stress and anxiety can also cause muscle spasms, especially in the face. Meditate and avoid excess stress or anxiety as far as possible. You can use flexibility sessions to avoid muscle spasms both on a muscular level and on a mental level.
If you are overweight or obese, try remove excess fat. General health will benefit from this change, and the likelihood of muscle spasms will decrease.
What to do when muscle cramp occurs?
It usually appears and stops quickly and on its own. In cases that are prolonged or painful, we must Gently massage the muscle where it has happened and stretch it. Normally the spasm usually occurs once the sports activity is over, but muscle ramps or cramps also occur during training or testing.
Rising cufflinks are a clear example of this. In that case we must stop the activity that has led to that cramp and do what has been mentioned: stretch and massage. At home we will use a heating pad to relax tense muscles or ice to calm sore muscles from training.
In Vitonica | Stretch before or after playing sports: when to do it and what are the recommended stretches
Images | istock