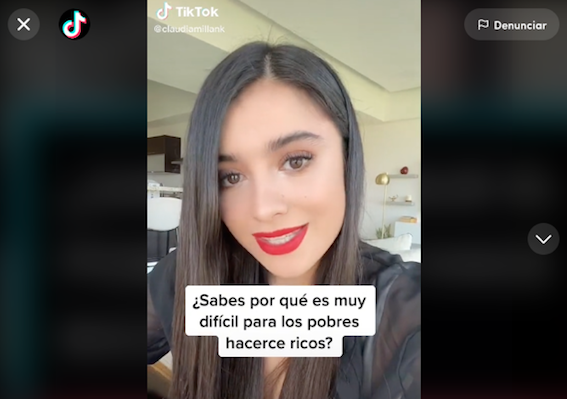 "Why don't the poor get rich?" is the video of a tiktoker that is causing a lot of comments against her, but it's not the first time.
Her name, according to what she says on the platform, is Claudia Millán and a few weeks ago one of her videos went viral on social networks; a video in which she explained her theory of why the poor are poorer and the rich are richer.
That time, the criticism did not stop and came from many fronts: TikTok, Facebook, Twitter, among other platforms where the clip was shared.
If we talk about viralization and social networks, TikTok is the platform that has earned the most users in this regard; The arrival of the pandemic was, without a doubt, the springboard that ByteDance was looking for to position its social network and bring it to the largest number of Internet users.
For a while now, it has been clear that the power of TikTok is vast; a social network that has a reach of one billion users and that, however, continues to grow day by day.
And it is that, both 2020 and 2021 have been, without a doubt, the most important for TikTok, a social network that managed to capture the attention of users thanks to the ease with which a video can go viral, as long as there is good content or creative content involved.
Tiktoker answers the question: Why don't the poor get rich?
Returning to the case of Claudia Millán, we are talking about a woman, a tiktoker, who uses her platform to offer some financial advice, among which we can highlight the one where she explains why invest in NFTs and other related ones.
However, there are several of his videos that have caused a stir among Internet users, especially those where he differentiates between "rich" and "poor", terms that he uses from his perspective.
Today has not been the exception and, for this reason, he shared a new video in which he answers the question -his question-: "Why does the poor not get rich?" According to Claudia Millán, this happens because:
"Because they spend their whole lives working for money to spend on the weekend, while the rich use the money to their advantage, manage it and even reinvest 50 percent of what they earn."
"How do you tell a worker who earns the minimum of around 1,200 to only spend 600 and invest the rest?"; "How can I invest my 1,200 he earned a week? what is your advice?"; "Where do I get the money to get rich?"; are some of the reactions deposited in the comment box.
The relationship of users with social networks has changed over the years. At first, it was about platforms to socialize and create bonds of friendships, mainly; however, today, we are talking about extremely powerful content platforms through which users can communicate with each other.
Now read: