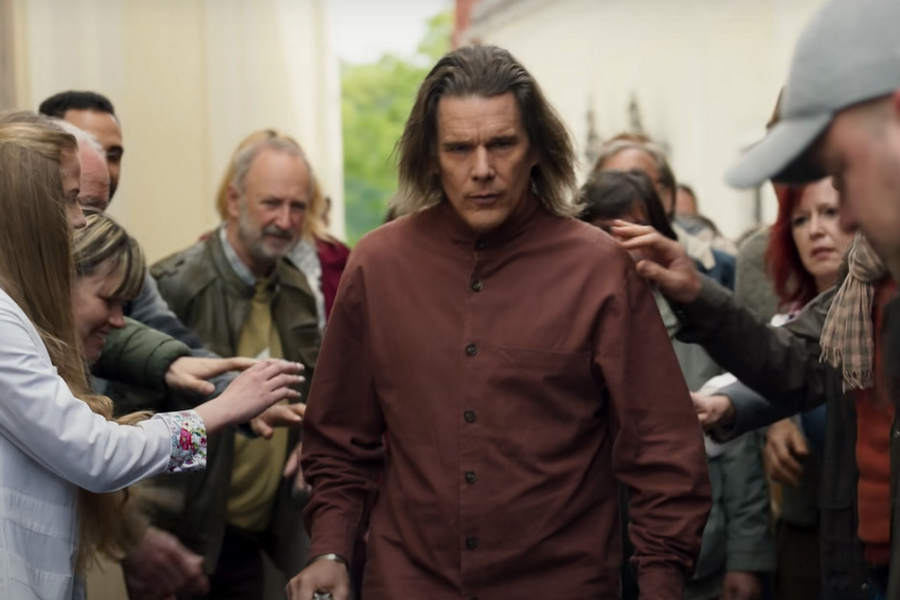 With Steven Grant/Marc Spector reclaiming the mantle of Moon Knight, threats could come to this series with a villain with very dark intentions.
After several months of waiting, the first trailer for Moon Knight was finally released, and with it came the question of the identity of the villain Marc Spector will face.
Do not miss: Moon Knight is presented in his first trailer!
As SMASH reported it to you at the time, Ethan Hawke joined the production of Moon Knight as the villain of the first season.
Although it was mentioned on some websites that Hawke would play Bushman, the first trailer for the series revealed the name of the antagonist, who could have a darker background.
In the version with detailed subtitles of the trailer it is appreciated that the name of this character of Arthur Harrow, who only appeared in the pages of Moon Knight: Fist of Khonshu #2 (July, 1985).
Harrow is a scientist who worked in the field of pain, but his experiments on humans, as well as his background with Nazi experiments in World War II, ruled him out for the Nobel Prize.
This villain managed to create an army of beings similar to zombies, which fought Moon Knight, who managed to defeat them. Harrow escaped and was never heard from again.
In the preview, this version of Arthur Harrow is seen with an entourage of followers, which could be the subjects with whom he experiments, although this facade could be the ideal one to hide Bushman's identity.
Multiple personality and mind games
The series follows Steven Grant (Oscar Isaac), a gift shop clerk who suffers from memory impairments, blanking out or bringing back memories of another life.
Steven discovers that he has dissociative identity disorder, and that he shares a body with mercenary Marc Spector. As they face off against their enemies, Steven/Marc must navigate their complex identities. As they plunge into a deadly mystery among the mighty gods of Egypt.
Moon Knight stars Oscar Isaac, Ethan Hawke, and May Calamawy. Mohamed Diab and the team of Justin Benson and Aaron Moorhead directed all six episodes. Jeremy Slater is the writer of the first season
The first episodes of Moon Knight will air on March 30 on the Disney+ digital platform.
It may interest you: New Moon Knight poster confirms its release date
Source: Marvel Studios
The Era of Khonshu has begun in SMASH and Marvel Comics Mexico
Earth's mightiest villains unite against a common threat: the Avengers! And as the heroes face an uprising like no other, they are attacked by one of their own! The mummies rise from their graves. From K'un-Lun, to Wakanda, to Greenwich Village, secret armies march under the moonlight.
A dark god invades Asgard and Moon Knight springs into action like never before! Thus begins the era of Khonshu, and the fall of the Avengers.
SMASH and Marvel Comics Mexico brings you Marvel Basics – Avengers: The Age of Khonshu, a story by Jason Aaron that you cannot miss

Also being read:
Everything you need to know about the arrival of Disney + Date, content and presale!
Disneyland: The world's first amusement park
All Disney+ content revealed
The luxurious suite that hides the Disneyland castle
Hugh Jackman's Butt Survives Disney+ Censorship